After an exciting and unpredictable tournament that saw Turkey earning a berth to the Tokyo 2020 Olympics, we present our top players at each position for the Dream Team. Note that for the women's team, the MVP is not included.
Setter: Joanna Wolosz 
Wolosz immediately stands out at the setter position because she is capable of making sets that others wouldn't even attempt look routine.  She has a sixth-sense for finding the middle even when the pass is off the net, increasing the effectiveness of attacks from middles Agnieszka Kakolewska & Klaudia Alagierska. She can also go behind her to positions 2 and 4 more comfortably and faster than any other setter. And in this tournament, her blocking helped frustrate opposing outside attackers who usually have a shorter and weaker block to contend with.  
Outside Hitter. Hanna Orthmann
One of the two fangs of Germany's potent offense (along with Louisa Lippmann) during the tournament, the 21-year-old Orthmann was a mismatch nightmare with her versatility and athleticism. She was the second highest scorer of the tournament behind Lippman, and despite opponents keying in on her during any out of system play, she still found ways to score efficiently. While not on the level of teammates Jennifer Geerties and Anna Pogany in terms of reception, Orthmann could still hold her own and ensured a tight German passing line until the finals. And perhaps her best asset is a whirlwind jump serve that scored 12 aces in the tournament and caused issues every time she was at the service line. 
Outside Hitter. Magdalena Stysiak
The youngest player on this list is Polish outside hitter Magdalena Stysiak. Born in 2000, she turned 19 in December just a couple weeks before the tournament. You wouldn't be able to tell her age by the way she plays though. At 202cm, she towers over most outside hitters, and hits a heavy ball both on crosscourt attacks and jump serves. And despite being tall and young, she has the ball skill to receive when her team needs her to. And that payed off in the CEV Tokyo Volleyball European Qualification, Poland's deadly 1-2 punch of Stysiak and Malwina Smarzek-Godek was too much firepower for most teams to deal with.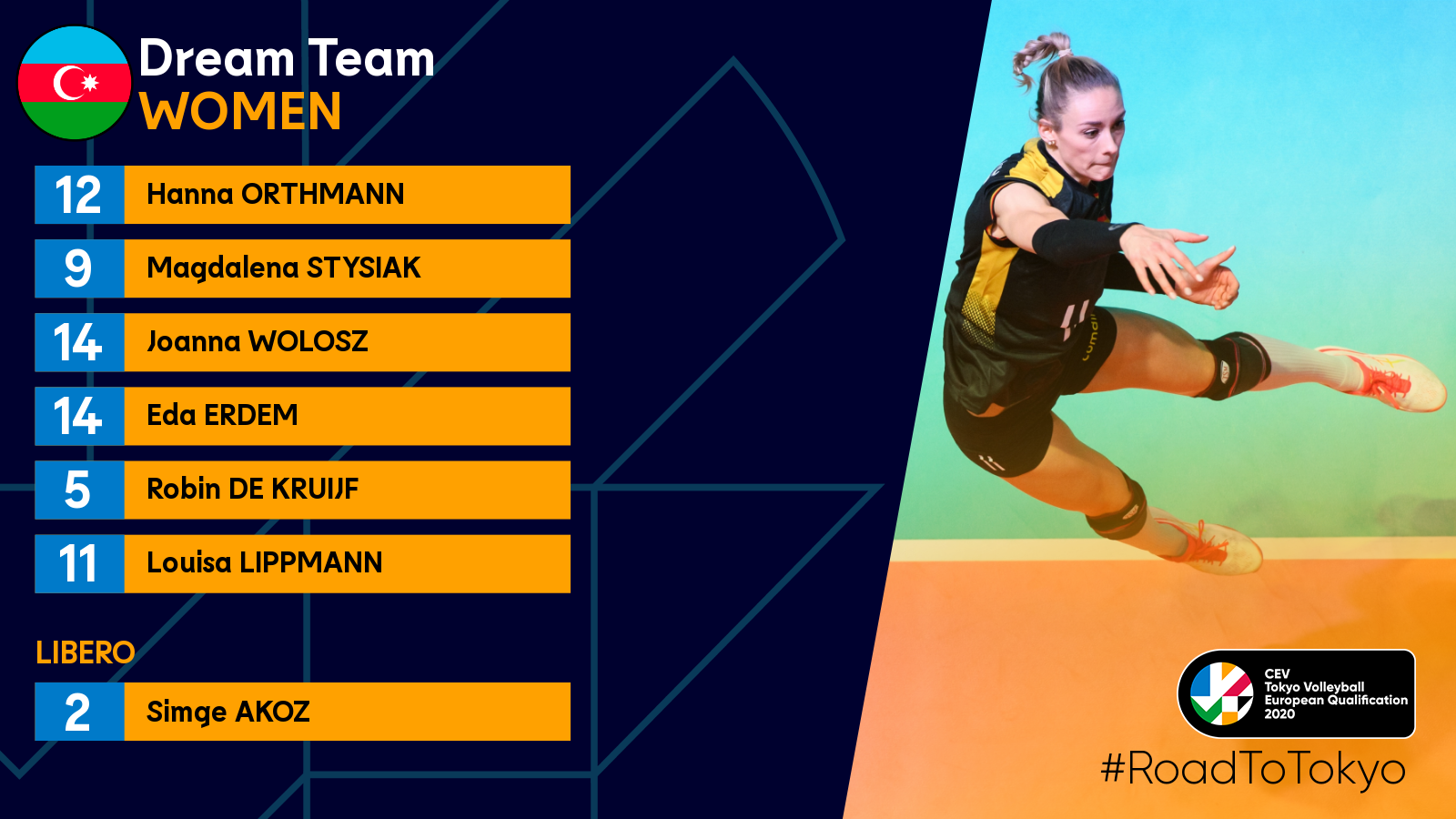 Middle Blocker: Eda Erdem
When the stakes of the tournament were at their highest, there was no middle blocker more reliable than Turkish captain Eda Erdem. Her 10 blocks in the semifinal match against Poland will go down as one of the most impressive defensive performances of her career. Most of those blocks came near the end of the match too, as Eda's excellent conditioning allowed her to improve her level of play while others were starting to falter. And in the final against Germany, she came alive on the offensive end, scoring 14 points on 9/16 hitting with 3 aces. And perhaps most importantly, she was a leadership presence for Turkey when their back was against the wall several times in the tournament. 
Middle Blocker: Robin De Kruijf
4 years later, Robin de Kruijf repeats as one of the best middle blockers of the European Olympic Qualification. Despite the Netherlands disappointing results relative to their expectations, De Kruijf impressed with her pinpoint attacking and ability to read opposing setters to complete blocks. She was a major part of the Dutch offense, with 21 spikes and only 2 errors among those. Establishing De Kruijf as a threat both on quicks and on the slide opens up a lot more space for outside hitters, but it was tough for the Netherlands to fully utilise this because of poor reception. 
Opposite: Louisa Lippmann
The athletically gifted Lippmann was only one-point shy of making 100 points in the tournament, an unbelievable feat considering how few sets she played. When you watch Lippmann play though, it is not a surprise that she was such a prolific scorer. Most of the time, the block is basically non-existent as her 191cm height and ridiculous vertical jump allow her to score to all areas of the court. She was the 4th-most efficient scorer of the tournament at 35.64%, a testament to the fact that she rarely got blocked.
Libero: Simge Akoz 
Turkish libero Simge Akoz might not have had the single-game standout performances of teammates Meryem Boz & Eda Erdem, but her solid reception and ability to extend points were just as important for Turkey's winning effort. There was no ball that Akoz was scared of diving into the stands for, which was a catalyst for Turkey's team defense that allowed them to save important match points against Poland. Position 5 was a no-go zone for opposing attackers which made things more predictable for the rest of the team.