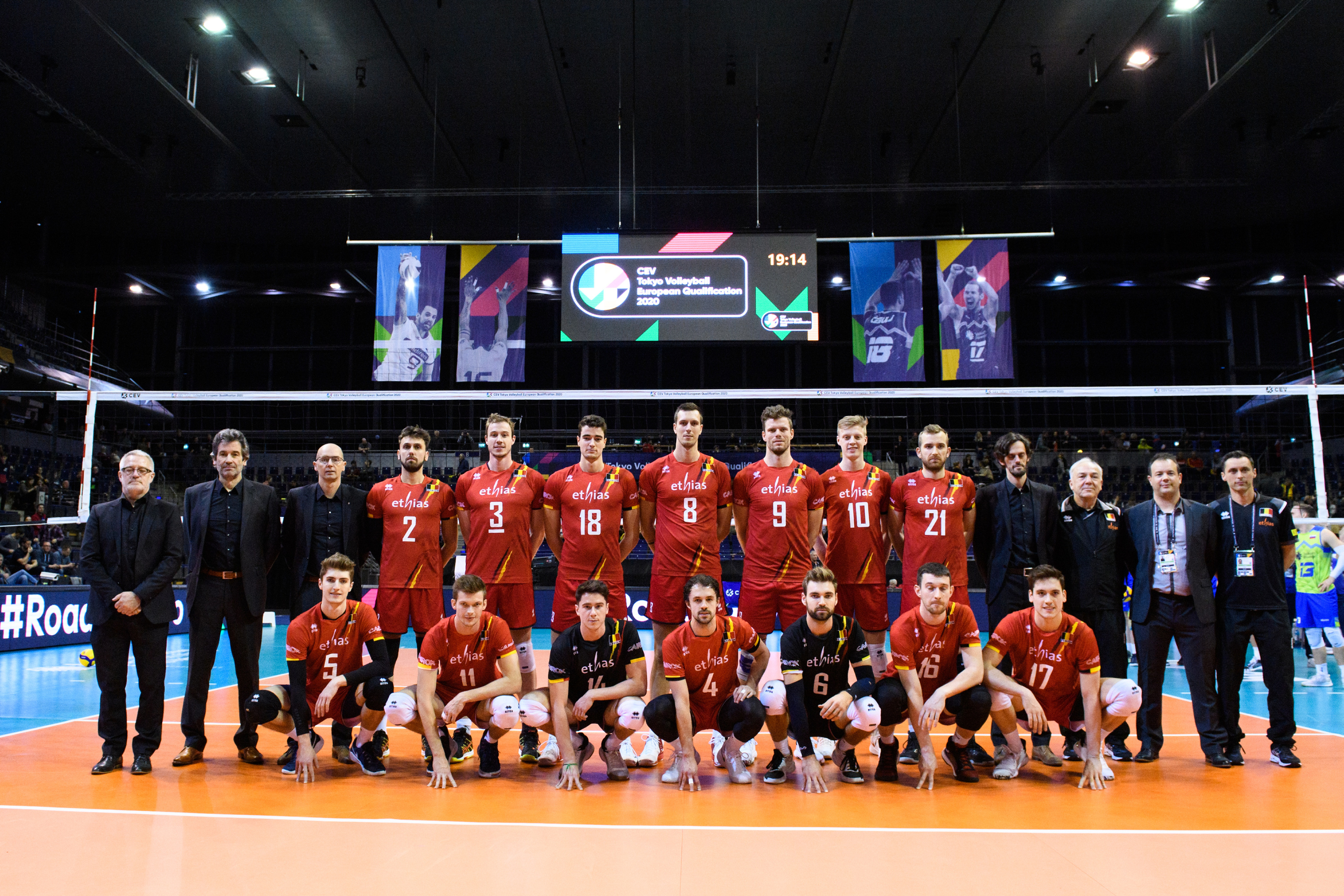 Official Team Photo
"It is obvious that we are not the favourites at this tournament featuring very strong teams. Despite this, I highly value the chances of my team. We travel to Berlin with the mind-set that we can challenge every opponent to difficult games. We must be ready to take every chance we get, even though we also want to create our own ones. The Olympic qualifier is a difficult mission but not an unrealistic one."
Dominique Baeyens
Coach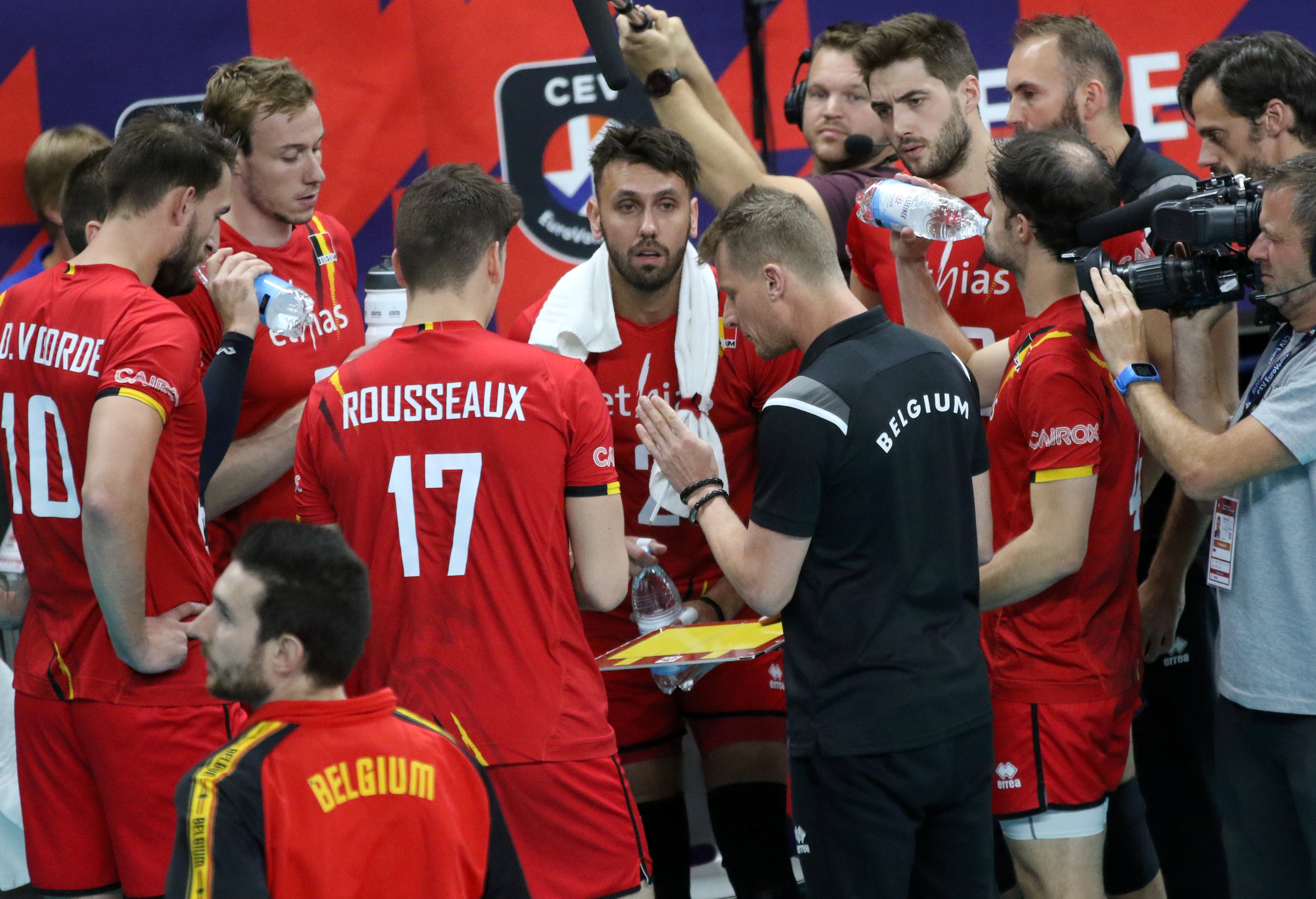 The 'Red Dragons' rise to the international elite has been truly impressive. Belgium finished fourth at EuroVolley 2017 – to account for their best result ever in any major competition. They continued their development with a 10th place at the 2018 World Championship co-hosted by Italy and Bulgaria but they suffered a little setback at the last EuroVolley when they lost to the real sensation of the tournament – Ukraine – in the 8th Finals.
Belgium can count on a group of players who have been sticking together for quite a while – and this can be an additional asset for the team captained by Sam Deroo.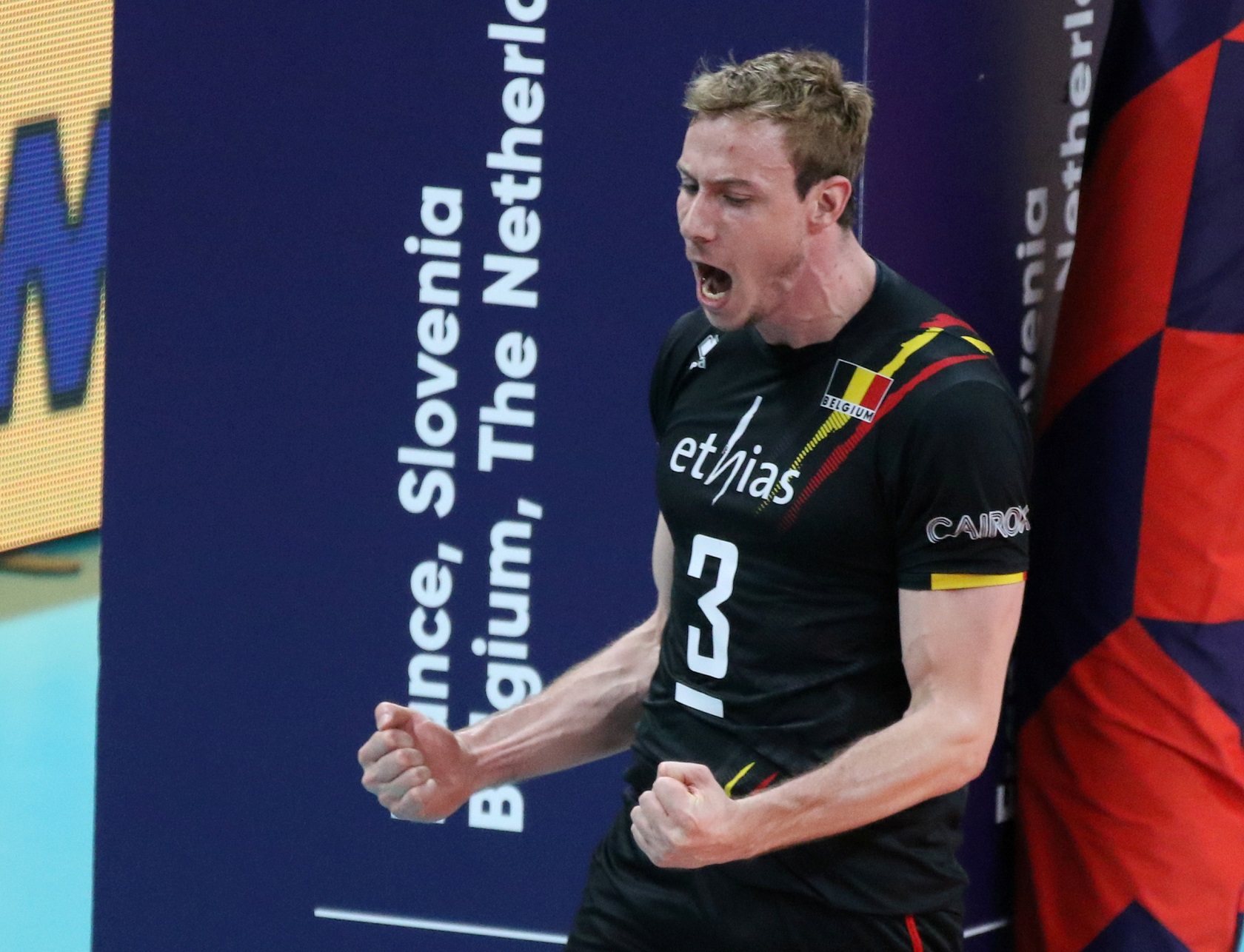 Sam Deroo celebrates at CEV EuroVolley 2019
"It will be obviously a very tough tournament with the first, second and fourth-placed teams of the last EuroVolley among others. It is some sort of a mini European Championship, where only the first place counts to qualify to the Olympics, the dream of every athlete who takes himself seriously. Our chances are not enormous but they are there and with that goal in mind, we will try to become the surprise package in Berlin."
Sam Deroo
Captain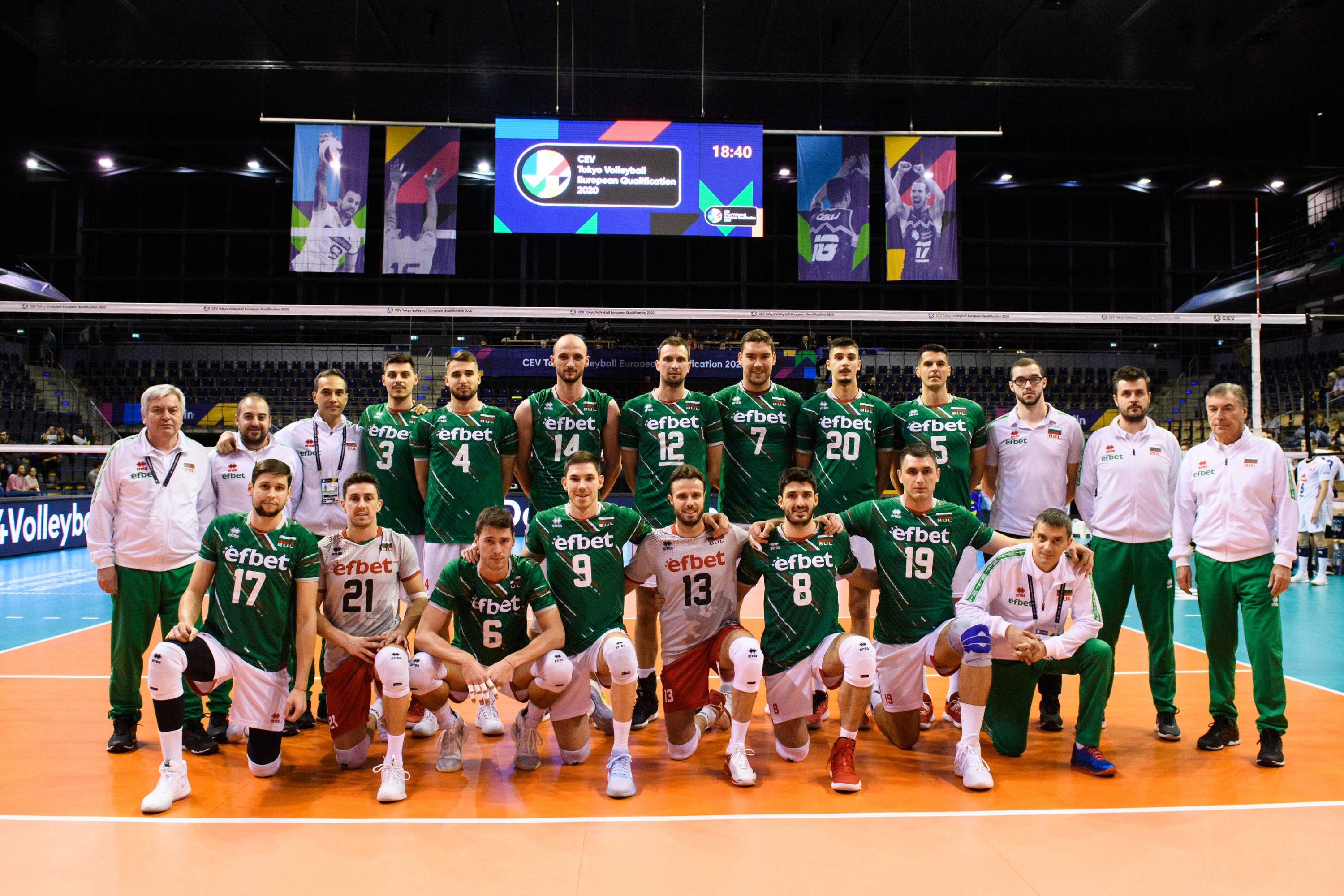 Official Team Photo
"I am trying to stay in good shape and this shows my commitment towards the Olympic qualifier. We are going to Berlin with the main goal of giving our best and fighting to the last. There are no impossible things and everyone has their own chance. I hope that we are lucky in this Olympic qualification and we can leave some sort of legacy to the younger players."
Teodor Salparov
Libero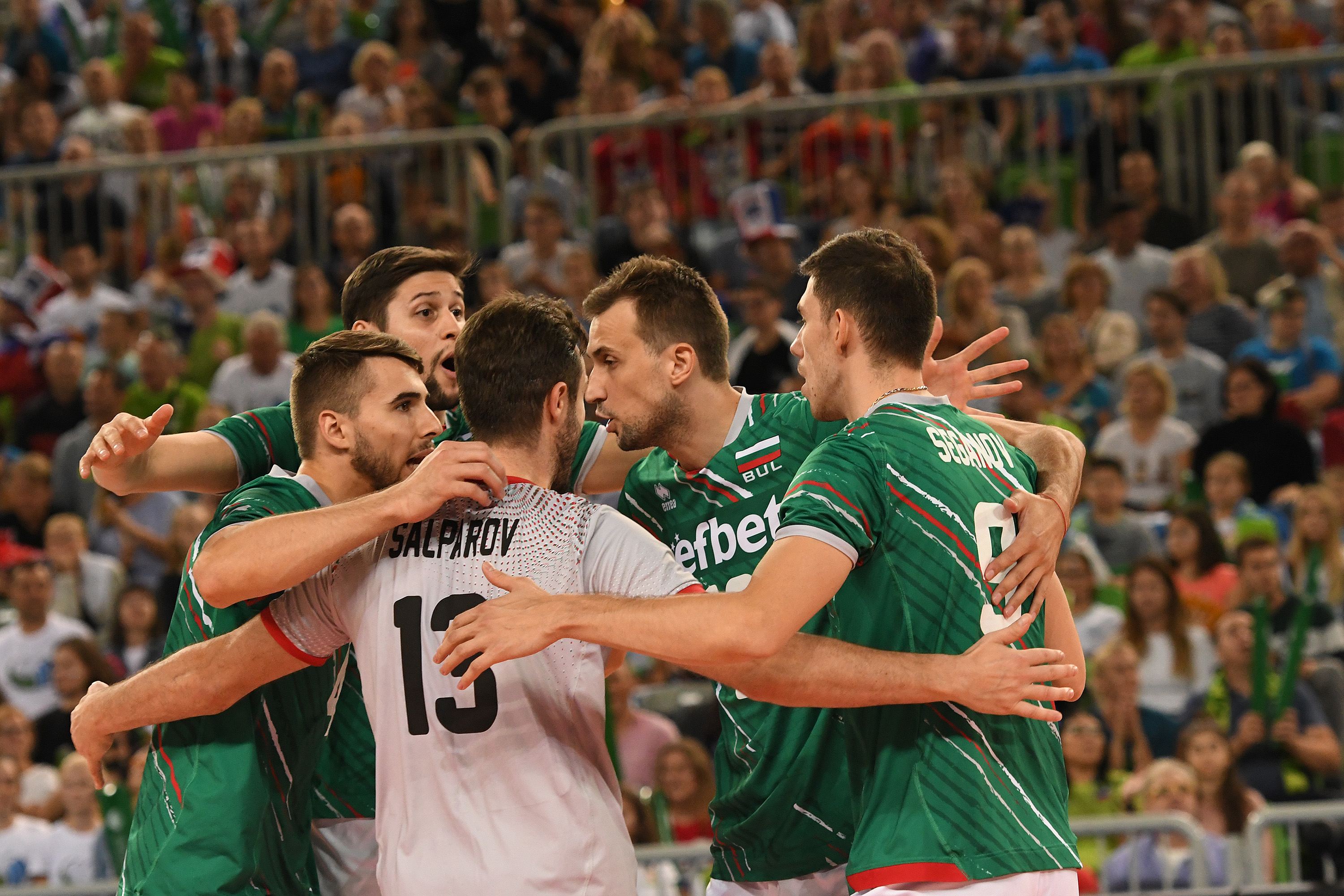 The 'Lions' from Bulgaria have been a force to reckon with for decades. Bulgaria have competed at the Olympics as many as eight times – including at the inaugural event in Tokyo back in 1964 and their best result to date is the silver medal they won in Moscow in 1980. They most recently competed at the Olympics in London, where they finished fourth after losing the bronze medal match to Italy.
Superstar Tsvetan Sokolov, who has left Italy to play in Russia for Zenit KAZAN, will be trying to revive Bulgaria's hopes of playing a leading role on the international stage after the team lost in the 8th Finals of EuroVolley 2019 to co-hosts and eventual silver medallists Slovenia.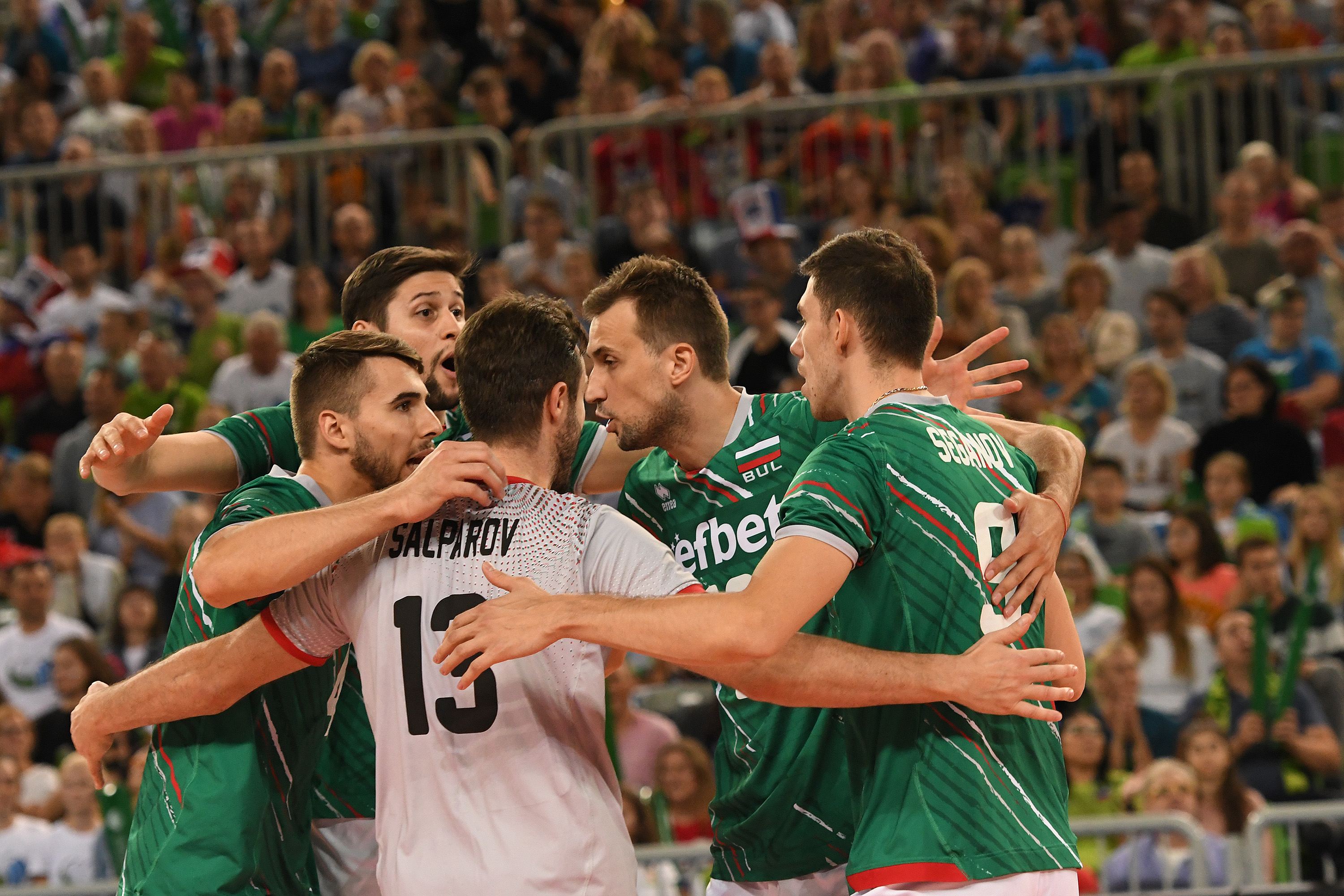 Official Team Photo
"I think every team will go to this Olympic qualification with the necessary motivation, and we will feel this same motivation too. We need to see if we and the other teams will have the necessary technical resources to win this tournament. This is the unknown factor and I cannot say whether we will be very strong in January or not. It is important for me to bring together the best-prepared players and do everything we can to win the ticket to Tokyo. It will be difficult, but not impossible."
Silvano Prandi
Head Coach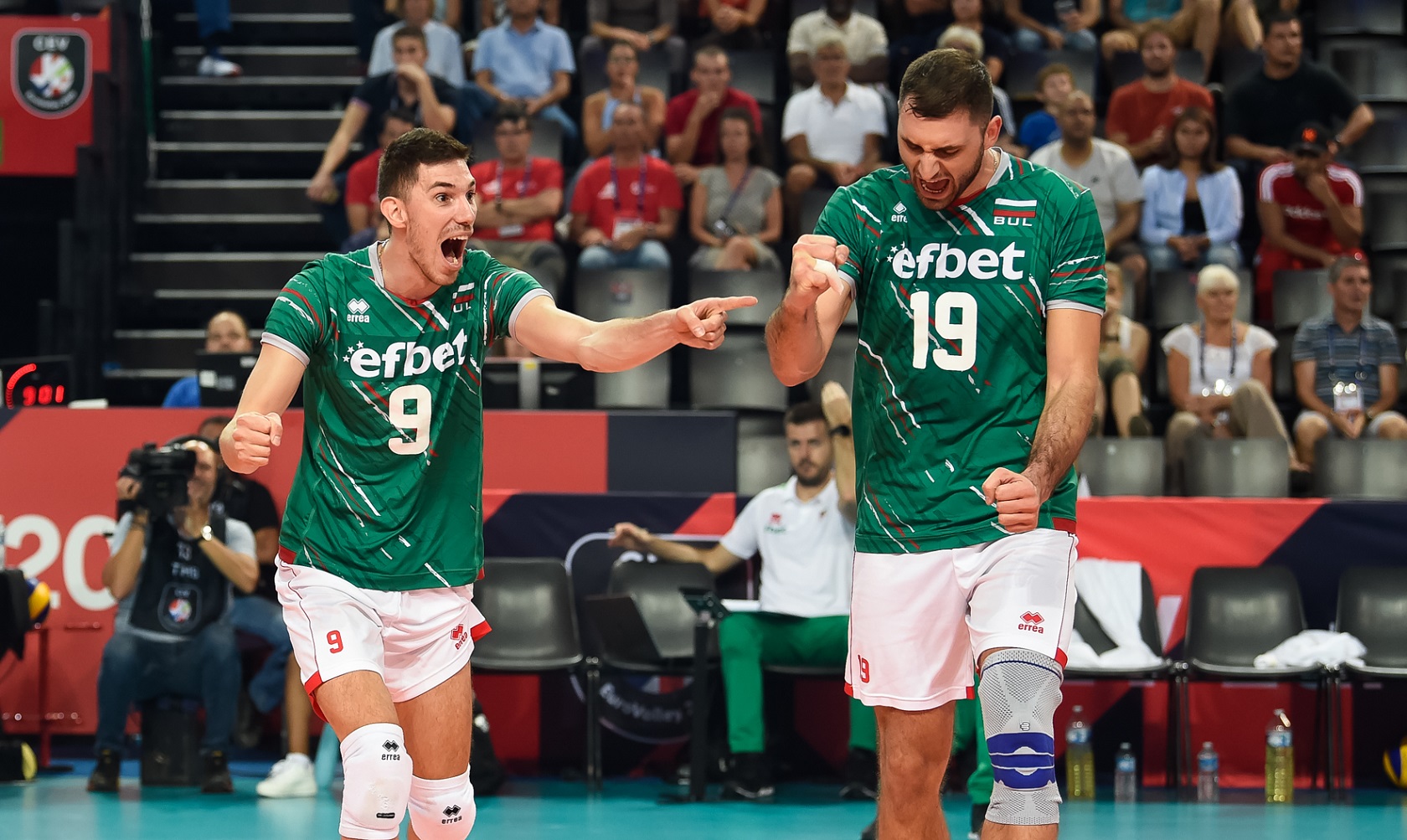 Setter Georgi Seganov and star opposite Tsvetan Sokolov celebrate together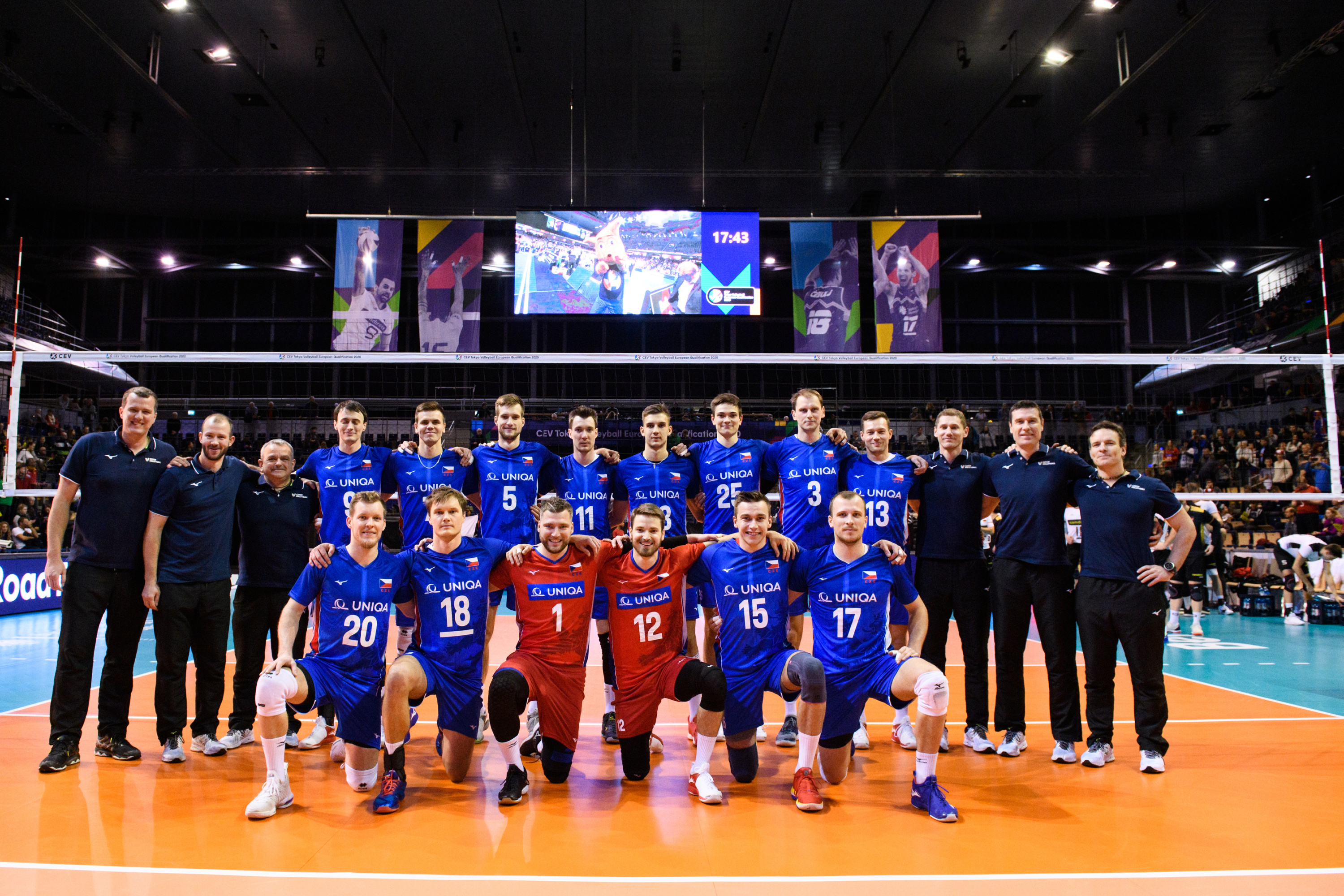 Official Team Photo
"We are very pleased that we can fight for a place to compete at Tokyo 2020. Even though we are not the favourites of the qualification tournament and only one team will secure the spot, we are ready to perform at our best and will fight for a good result."
Jakub Janouch
Captain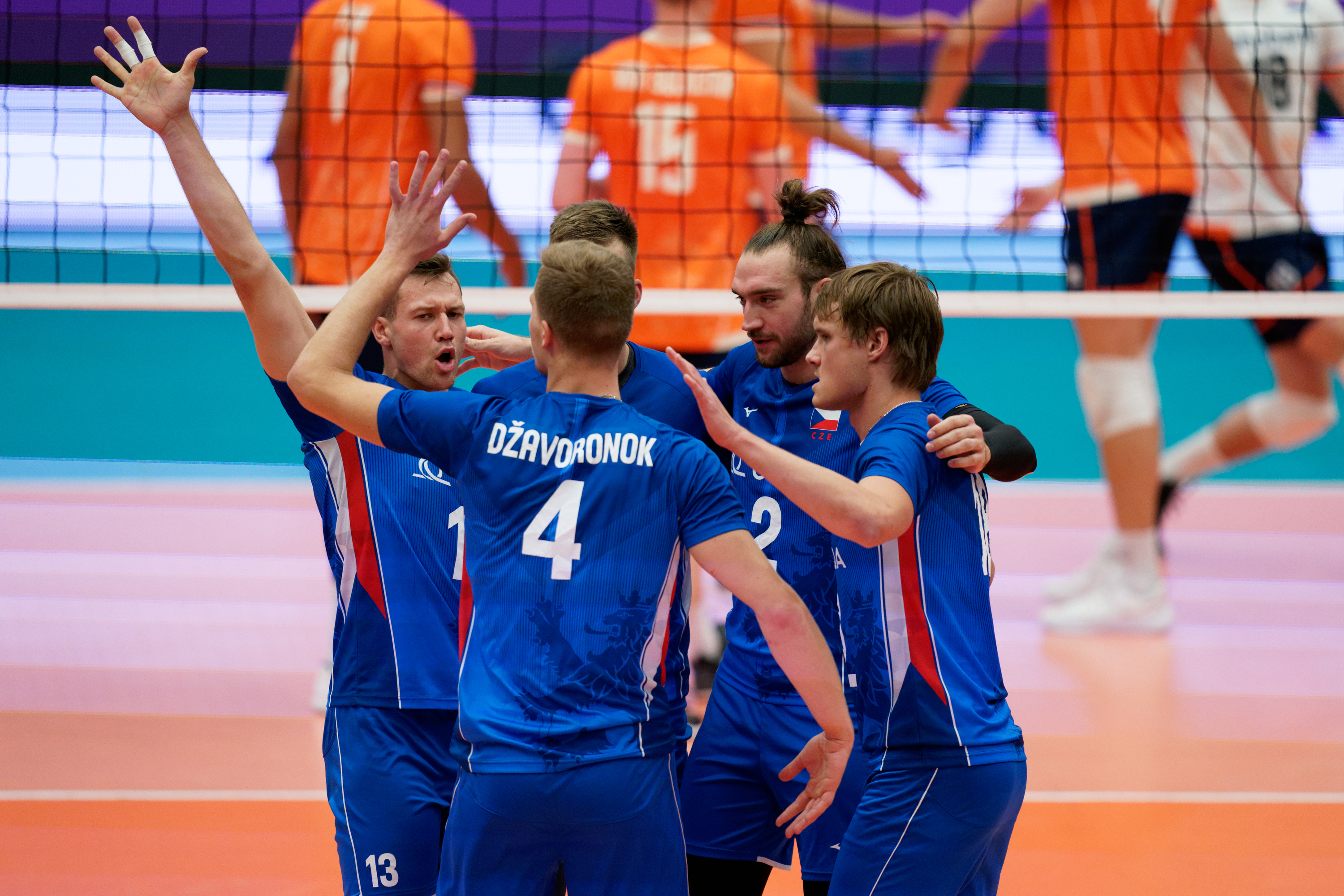 The Czech Republic have inherited the results of the former Czechoslovakia, a true Volleyball powerhouse, especially in the 50s and 60s. However, since the peaceful breakup of Czechoslovakia in 1993, no Czech team has managed to qualify for the Olympics. After reaching the quarterfinals in 2017, the Czechs made it to the 8th Finals of EuroVolley 2019, losing in straight sets to eventual gold medal winners Serbia.
The Czech Republic have a group of relatively young players, such as Donovan Dzavoronok and Michal Finger, who have gained valuable experience in some of the most competitive leagues in Europe.
"After a long time we have a chance to fight for a spot in the Olympic tournament. I firmly believe that all players will be fully fit and we will be able to play in the strongest line-up."
Michal Nekola
Coach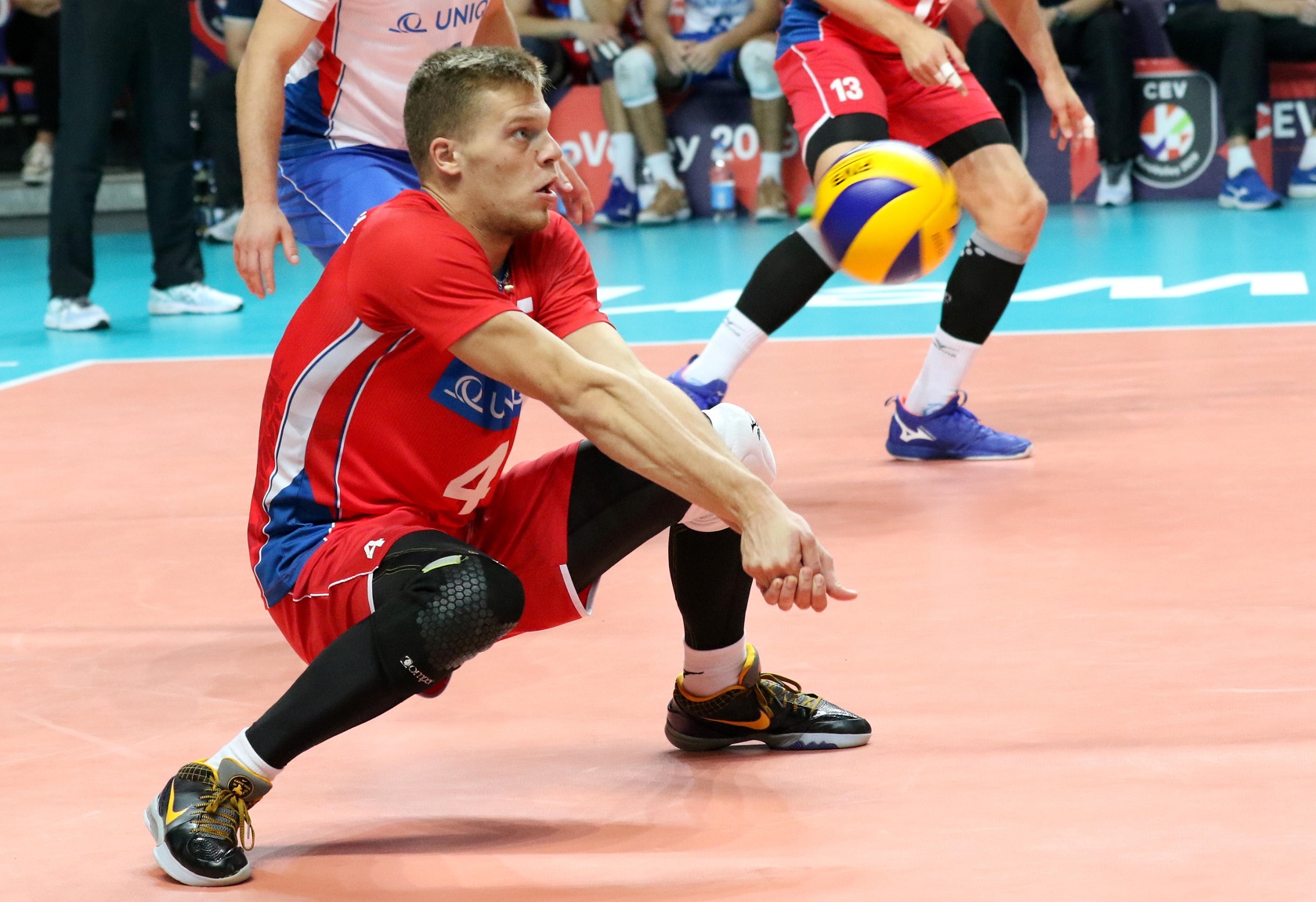 Donovan Dzavoronok receiving serve in their EuroVolley Eighth Final match against Serbia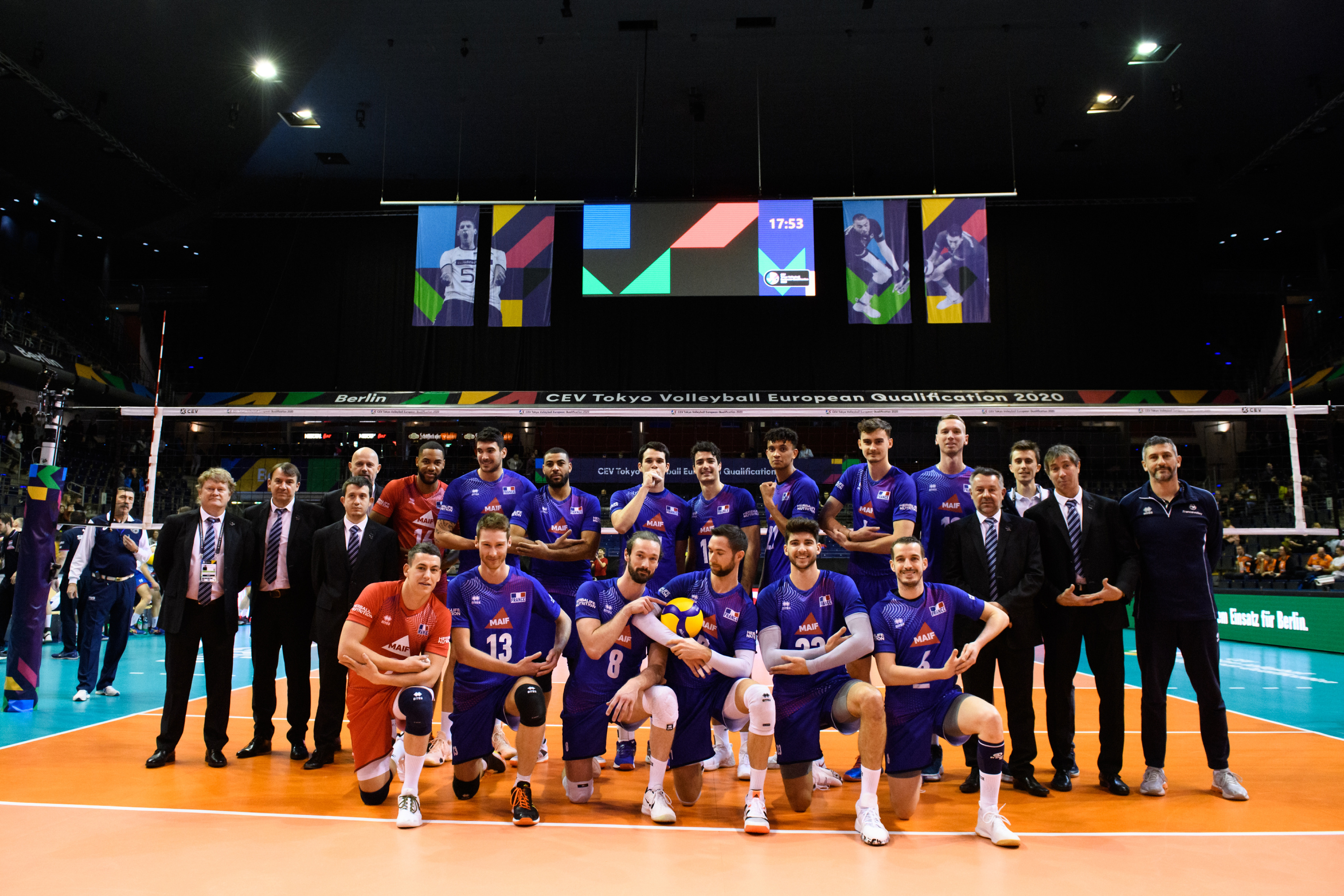 Official Team Photo
"We will have to find our fighting spirit from the very beginning of the preparation as we will not have much time to spend together before the start of the competition. It is the most important event of the last four years. If we find back our team spirit and put as much intensity as we did at EuroVolley, we will be able to seize our chance. We cannot have any regrets once the tournament ends."
Julien Lyneel
Outside Hitter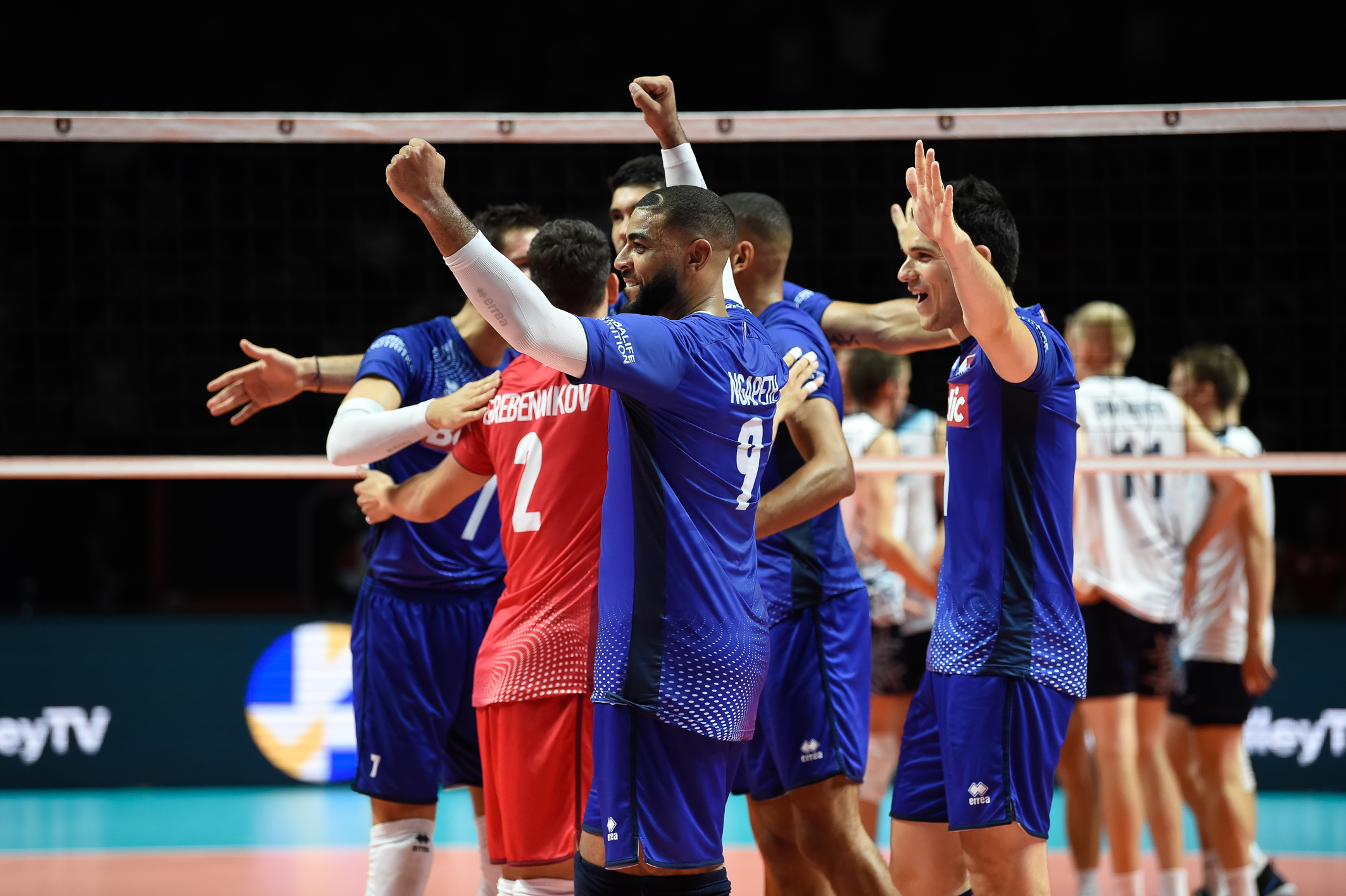 France have competed at the Olympics as many as four times – with their best result, an eighth place, achieved in 1988 in Seoul. They most recently competed at the Olympics in Rio, where 'Les Bleus' failed to make it out of their pool.
France are one of the most successful teams of the last decade – with fourth place at the 2014 World Championship followed by gold medals a year later in the FIVB World League as well as at the European Championship. France repeated their World League success in 2017 and reached the final of the inaugural Volleyball Nations League in 2018.
With the help of their charismatic outside hitter Earvin Ngapeth and rising star Stephen Boyer, France finished fourth at EuroVolley 2019, losing a dramatic semi-final to Serbia and the bronze medal match to Poland in front of a sell-out crowd in Paris.
"After our performance at EuroVolley, we may hope to get this Olympic qualification. We played many tough games in September, our team has grown, and we showed a great level at some point. Once again, I can repeat that this is going to be a very difficult tournament but we are aware of it, as we know the level of European Volleyball. Every competition is tough."
Laurent Tillie
Coach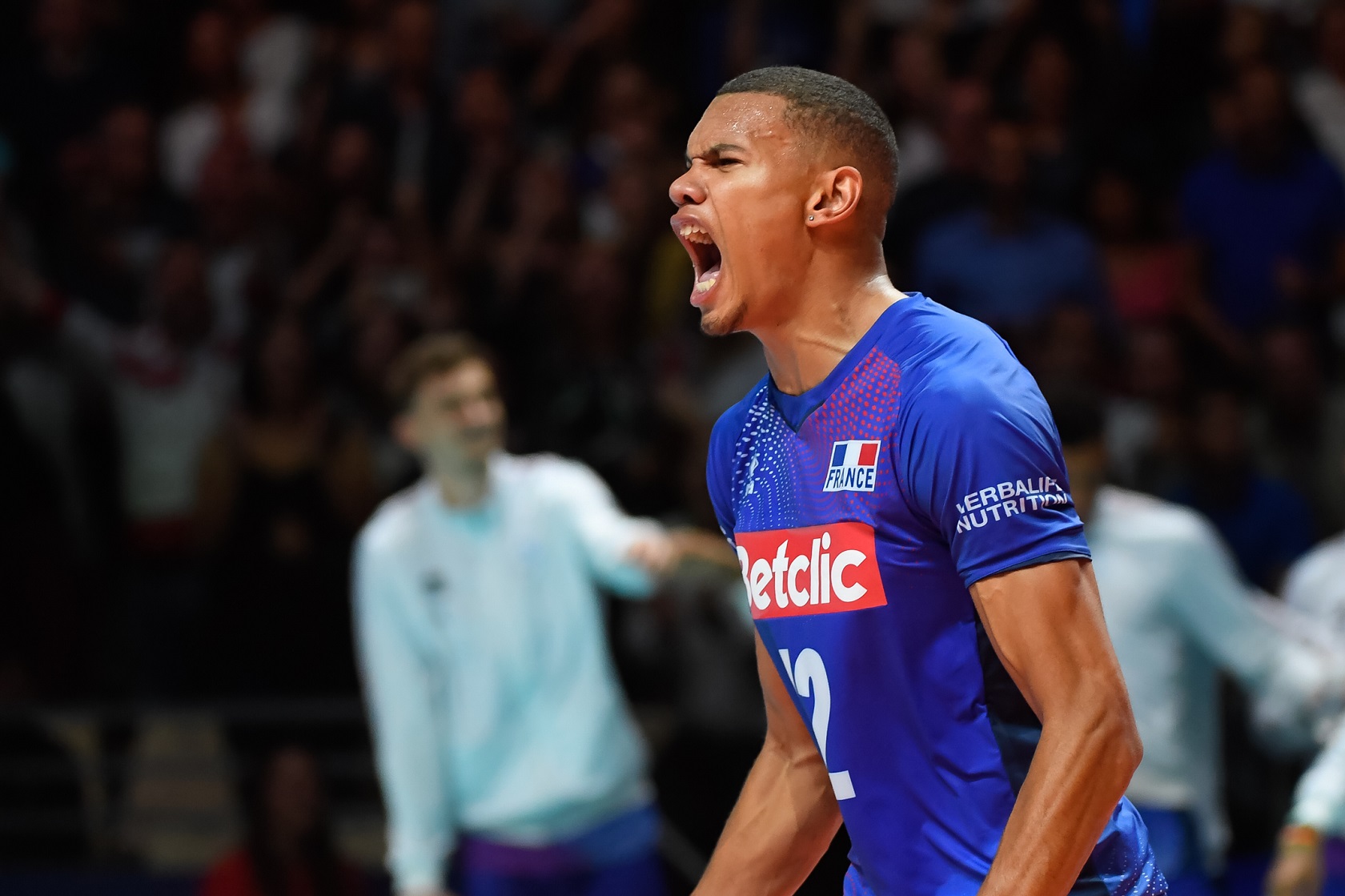 Stephen Boyer screams with adrenaline at EuroVolley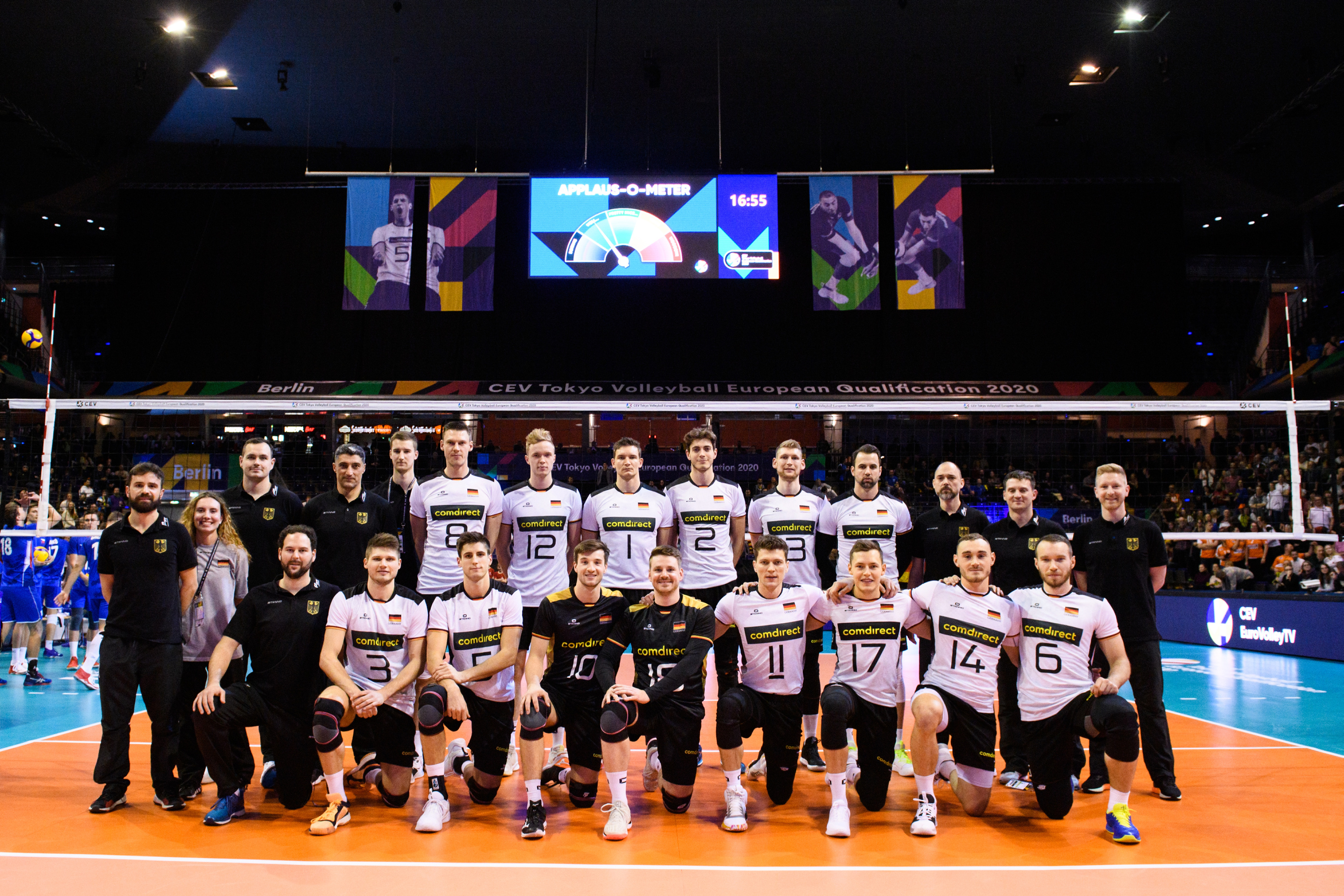 Official Team Photo
"It is very important for us to play at home. We do not have to travel, the preparation is similar to the last tournaments and we are familiar with all conditions on site. I already had the chance to play two Olympic qualification tournaments in front of our home crowd. These are the moments which push us on a world-class level."
Lukas Kampa
Captain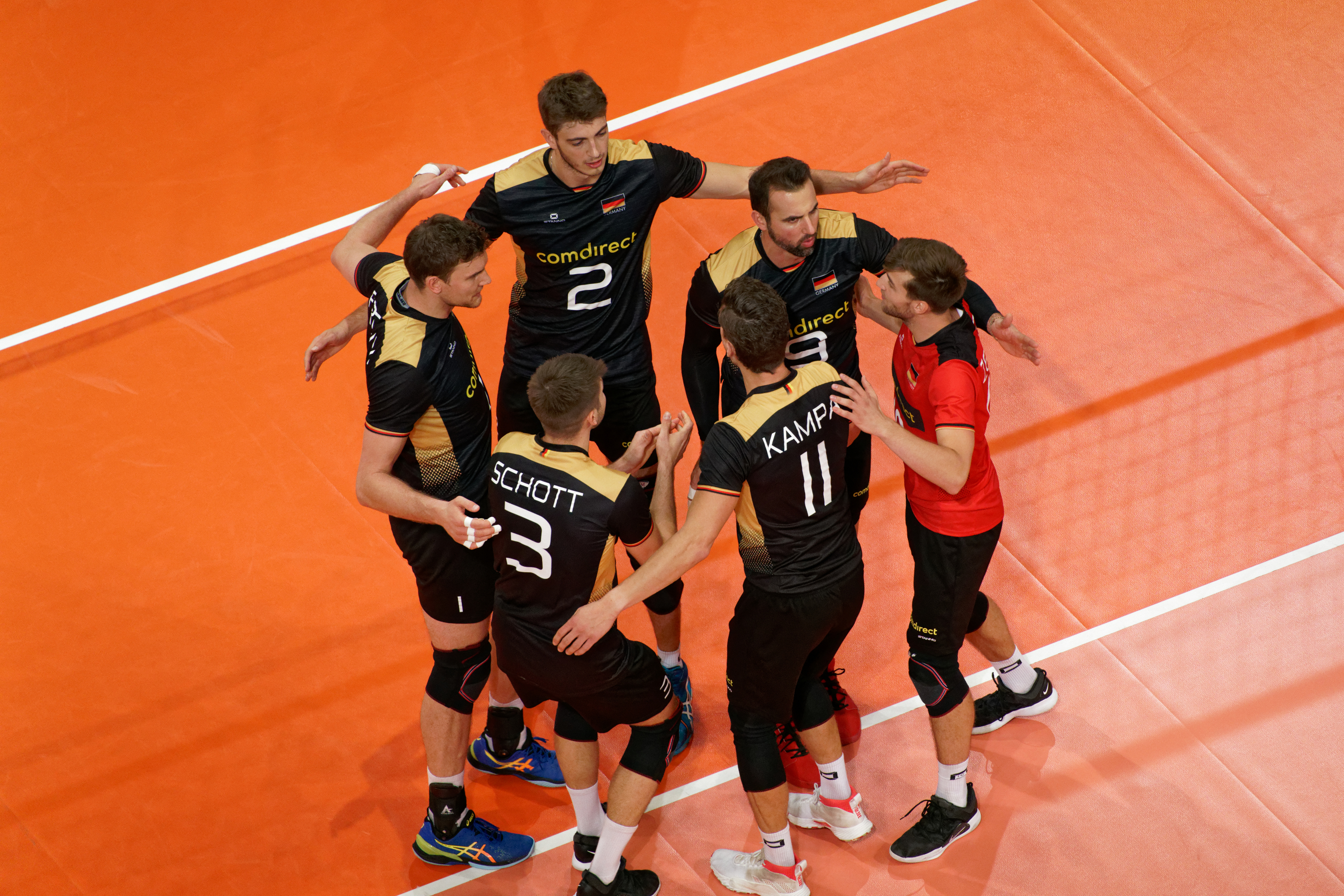 The hosts of this Olympic qualifying event, Germany have had a truly successful decade, with their major accomplishments including bronze from the 2014 World Championship in Poland, gold from the inaugural Baku 2015 European Games and silver from EuroVolley 2017. The last time Germany qualified for the Olympics – in 2012, they reached the quarterfinals in London. More recently, they lost in the quarterfinals of EuroVolley 2019 to eventual bronze medal winners and reigning World Champions Poland.
Their undisputed superstar is György Grozer, who announced his retirement from the national team after failing to qualify for the Rio 2016 Olympics – only to return a year later to help Germany claim a historic second place at the European Championship in Krakow.
"We are looking forward to playing such an important tournament in Berlin. Despite the fact that we did not play a great European Championship, we still have a strong team that won the silver medal at the EuroVolley two years ago. I am happy that libero Markus Steuerwald is back with the team. His experience from three Olympic qualifiers will help us a lot."
Andrea Giani
Coach
György Grozer in full flight at EuroVolley 2019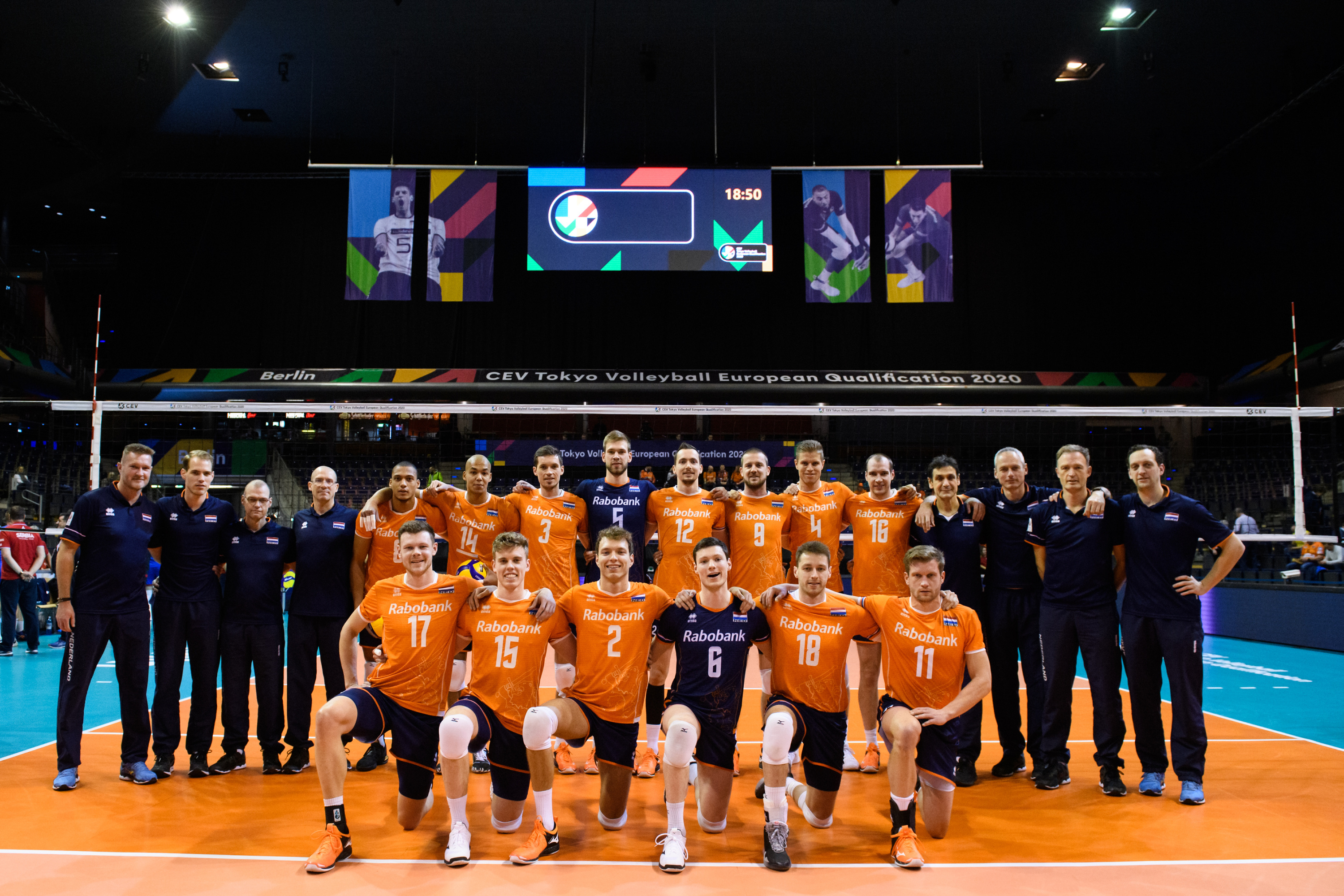 Official Team Photo
"I expect the Olympic qualifier to be a very tough tournament. The strongest European teams, which are not already qualified, will all be present, and there is only one ticket to earn. Our pool with Serbia, France and Bulgaria is very strong. Serbia are the reigning European champions, while France and Bulgaria are top teams as well. We are the underdogs in this pool, but we will give our full 100 percent. We will have to see if that is good enough to cause a surprise."
Nimir Abdel-Aziz
Captain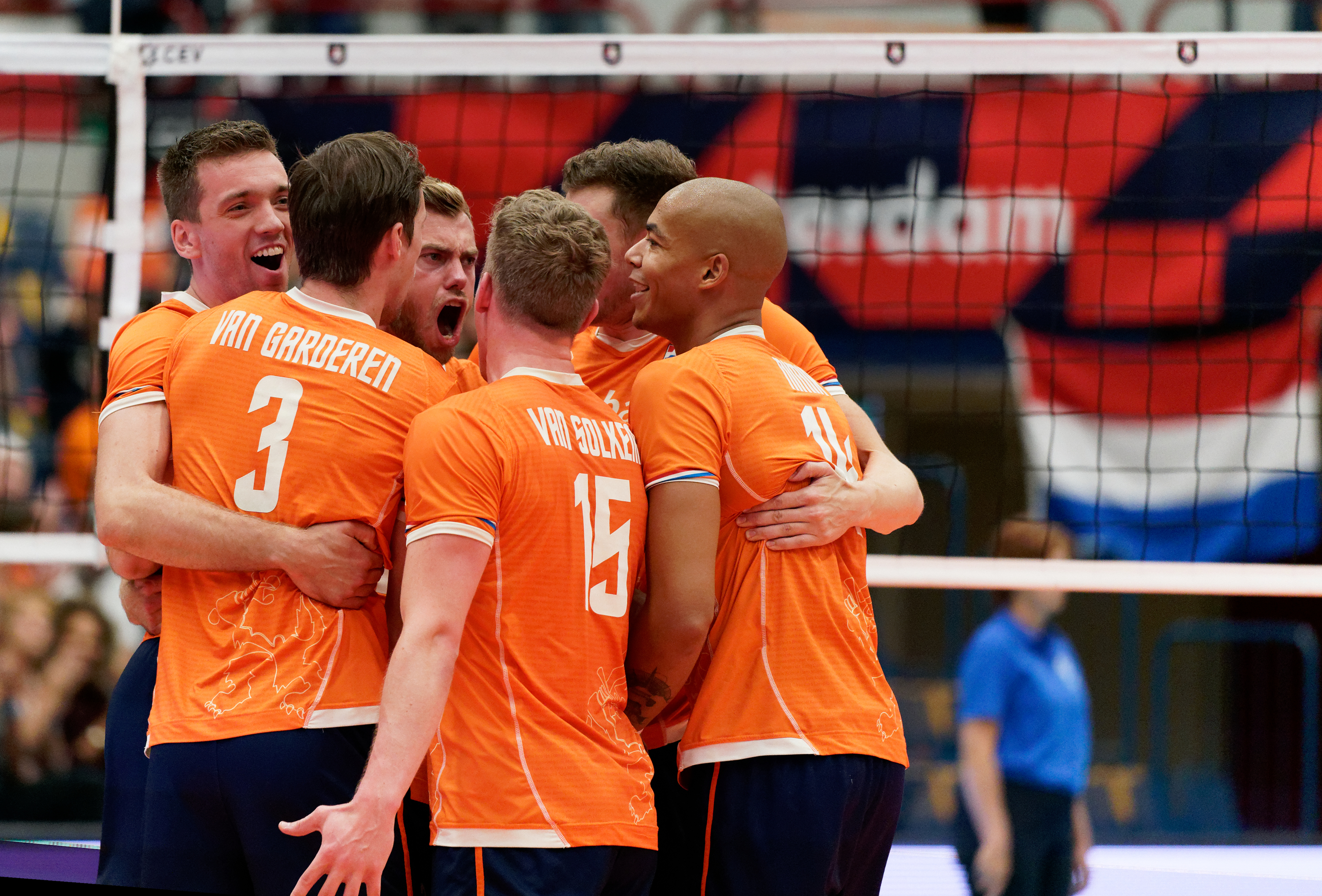 The so-called 'Lange Mannen' follow in the footsteps of the legendary group of players, who claimed Olympic silver in 1992 in Barcelona and gold in Atlanta four years later. Dutch people chose the 1996 Olympic gold medal match versus Italy as the 'sporting moment of the XX century' across all sports. Their last Olympic appearance dates back to 2004 – when the Olympics took place in Athens and the Netherlands finished the tournament in ninth place. After struggling to match that level for quite a while, the Netherlands have recently done well, especially at the 2018 World Championship, where they claimed the 8th place.
In 2019, the Netherlands were among the four countries to co-host EuroVolley, where – despite a great performance by their star player Nimir Abdel-Aziz – they lost to Germany in the 8th Finals.
"I think it is really difficult to predict the final standing of this tournament. Both groups consist of extremely strong teams and each one could win the ticket. As for my team: I am very happy to see all the players are performing well with their respective clubs, and that they are improving from game to game. This means that we will do our best to be the team that will take the ticket to Tokyo 2020."
Roberto Piazza
Coach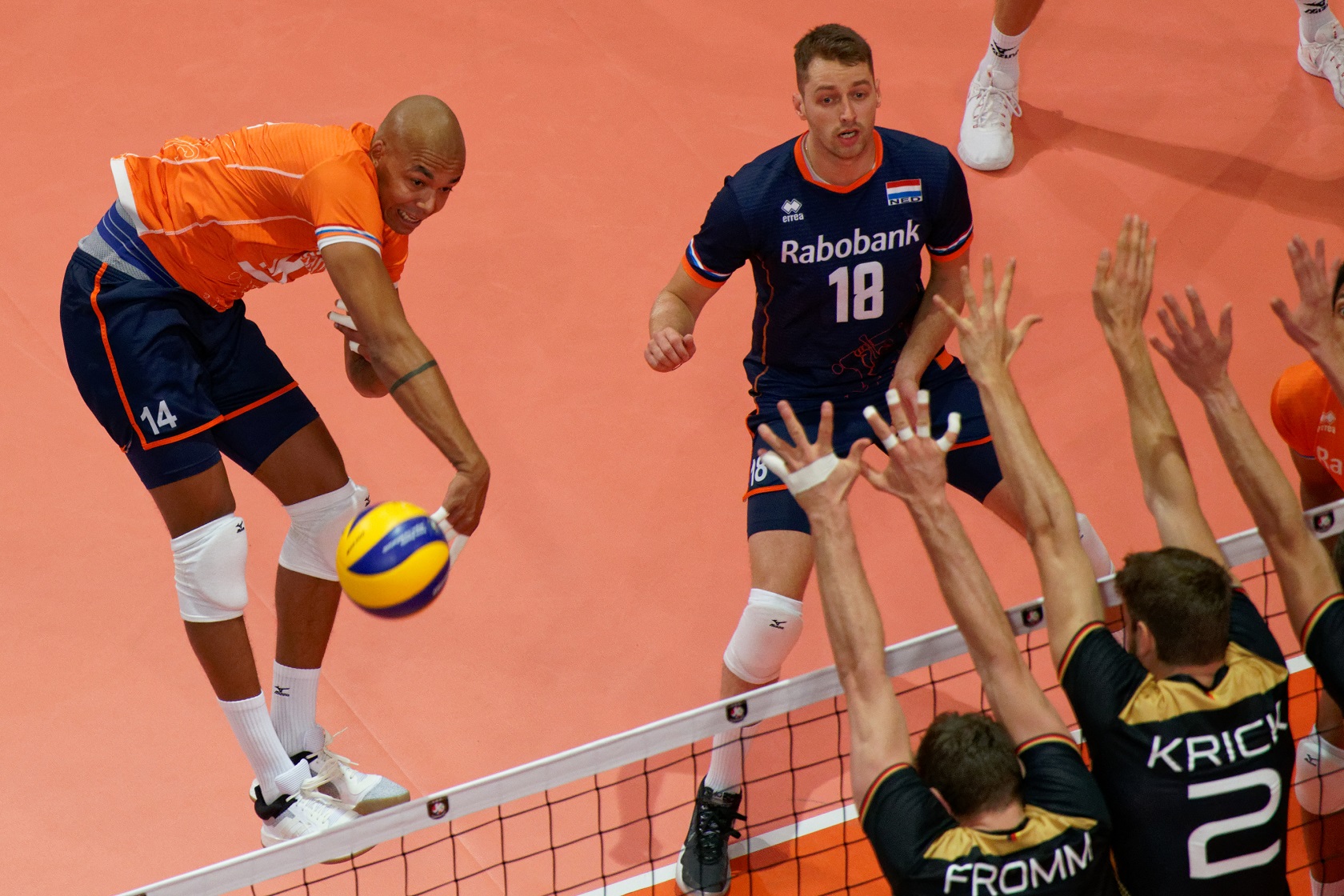 Nimir Abdel-Aziz attacks through position 2 against Germany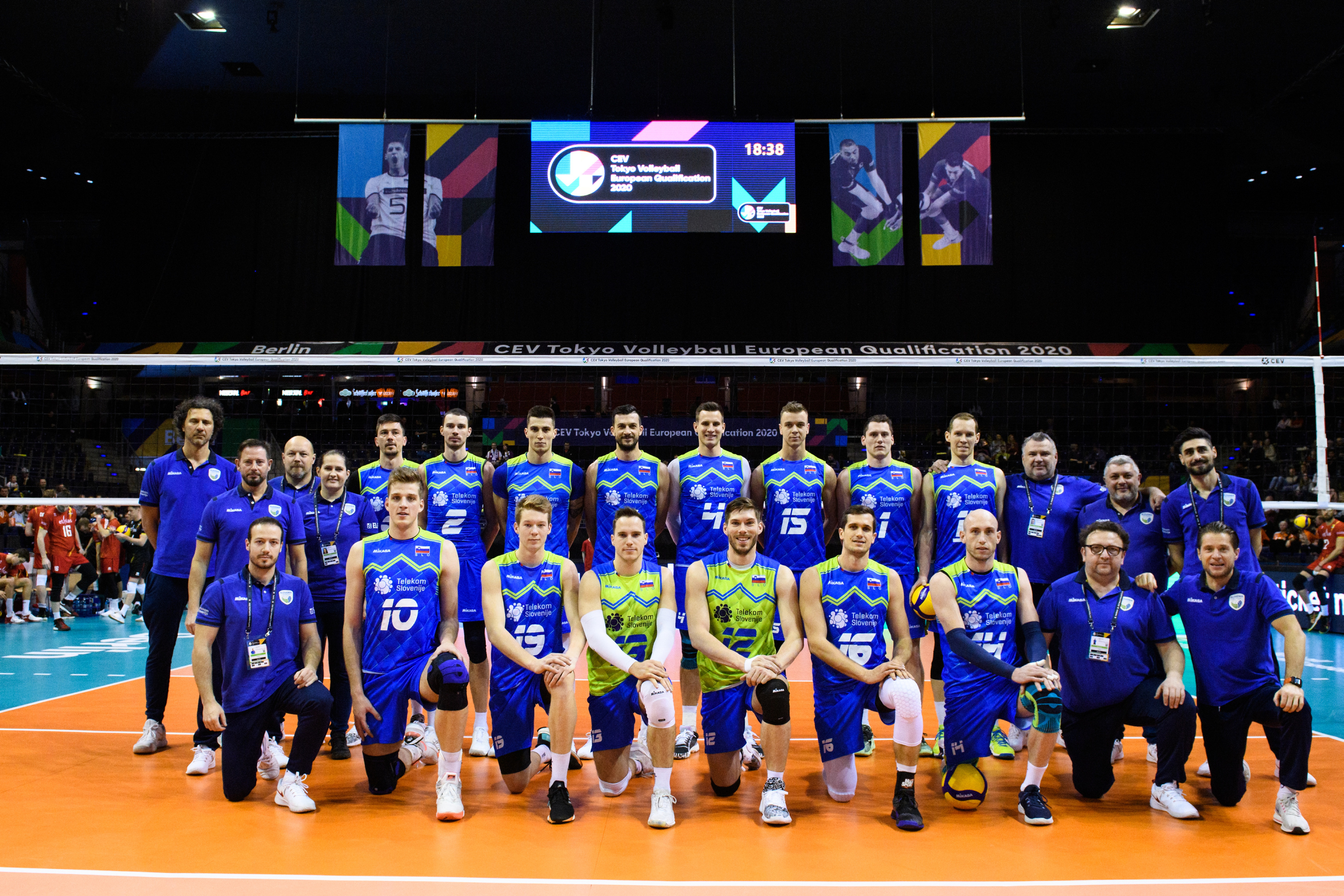 Official Team Photo
"EuroVolley showed once more that we are a real team and that the connection we have among players is functioning really well. When we manage to use this connection while we are playing, we are capable of achieving great results. We will enter the Olympic qualification tournament with positive feelings. I believe the goals always need to be set very high, so our goal is to qualify for the Olympic Games."
Jan Kozamernik
Middle Blocker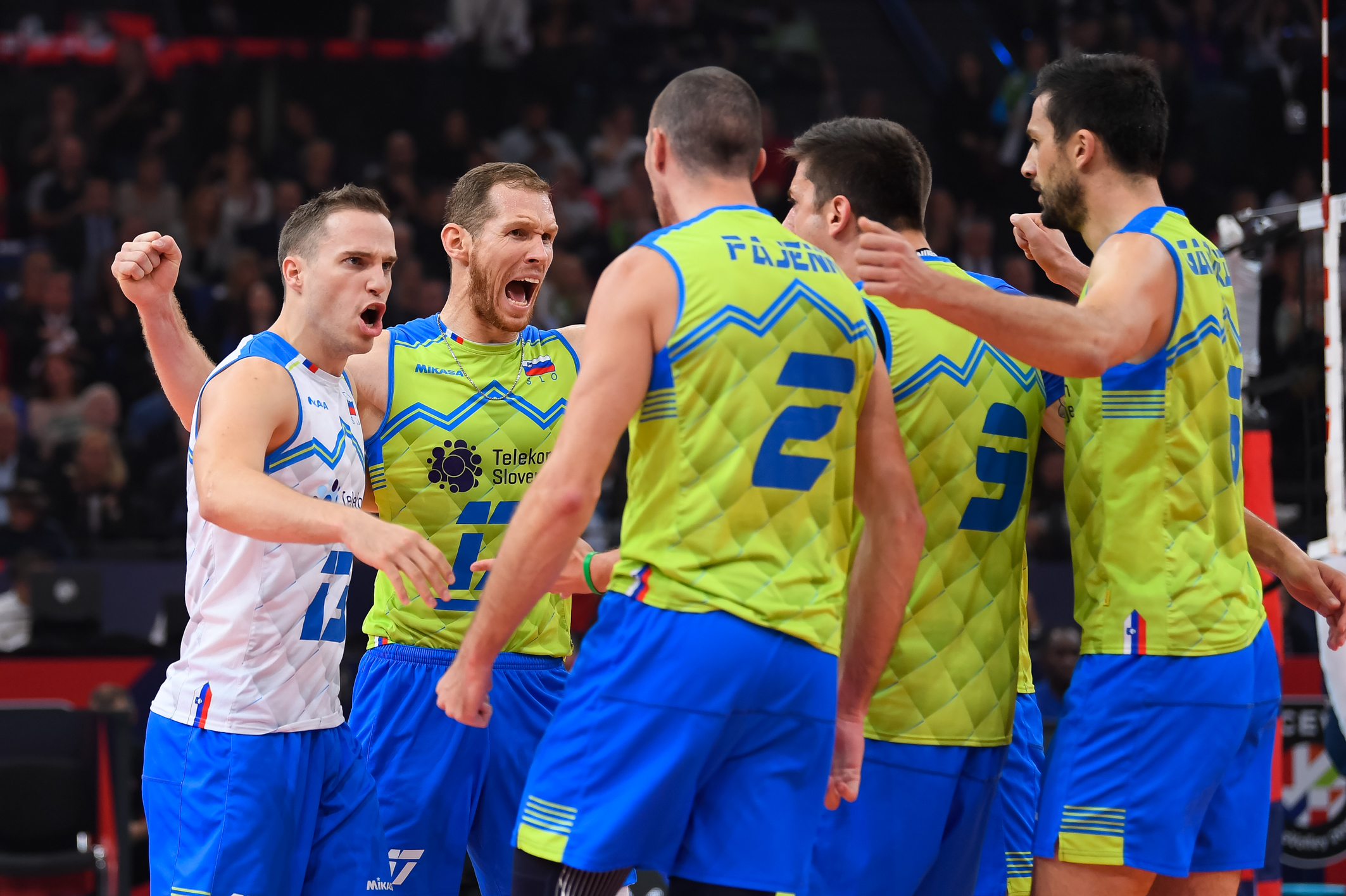 Slovenia have become a sort of Volleyball sensation – and they did so for the first time in 2015, when they reached the gold medal match of EuroVolley, eventually losing to France. After securing top honours from the Groups 3 and 2 of the FIVB World League, in the summer of 2019 they won the FIVB Challenger Cup to secure their participation in the 2020 edition of the elite FIVB Volleyball Nations League.
The best, however, was yet to come for a nation that made their World Championship debut in 2018, reaching a remarkable 12th place. While co-hosting the record-breaking EuroVolley 2019, Slovenia stunned the reigning European and World champions, Russia and Poland, to progress to the gold medal match – which they eventually lost to Serbia. If they were to qualify for the Olympics, Slovenia would achieve this feat for the first time ever – thus matching their colleagues from handball who have competed at the Olympics three times (2000, 2004 and 2016). 
"We are aware it will not be easy to play the qualification tournament, as the teams competing in Berlin are the strongest ones in Europe. My players need to forget everything that happened around EuroVolley and what we achieved. They need to be focused on every single match and play with the same hunger, motivation, and energy they showed at EuroVolley."
Alberto Giuliani
Coach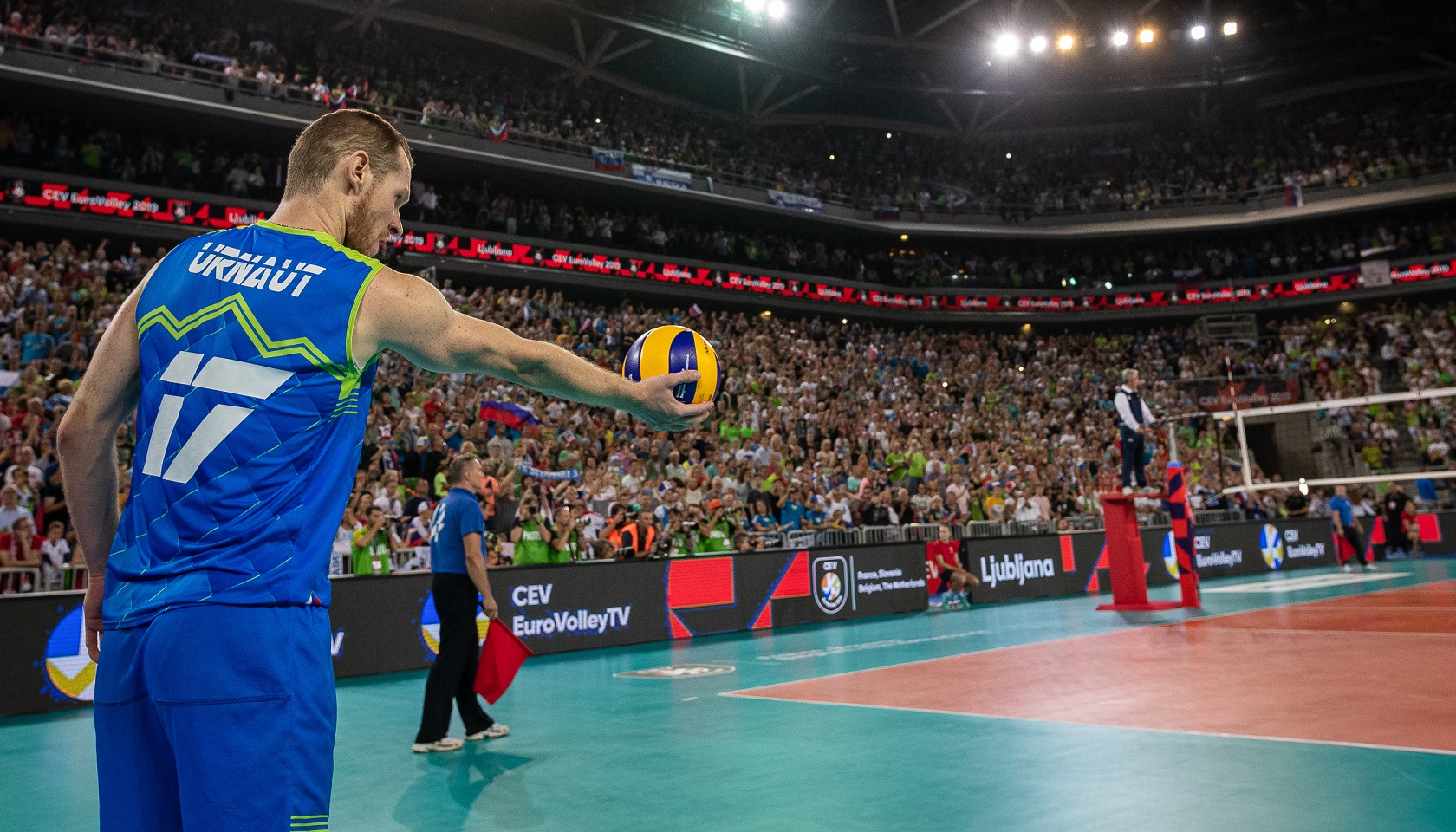 Tine Urnaut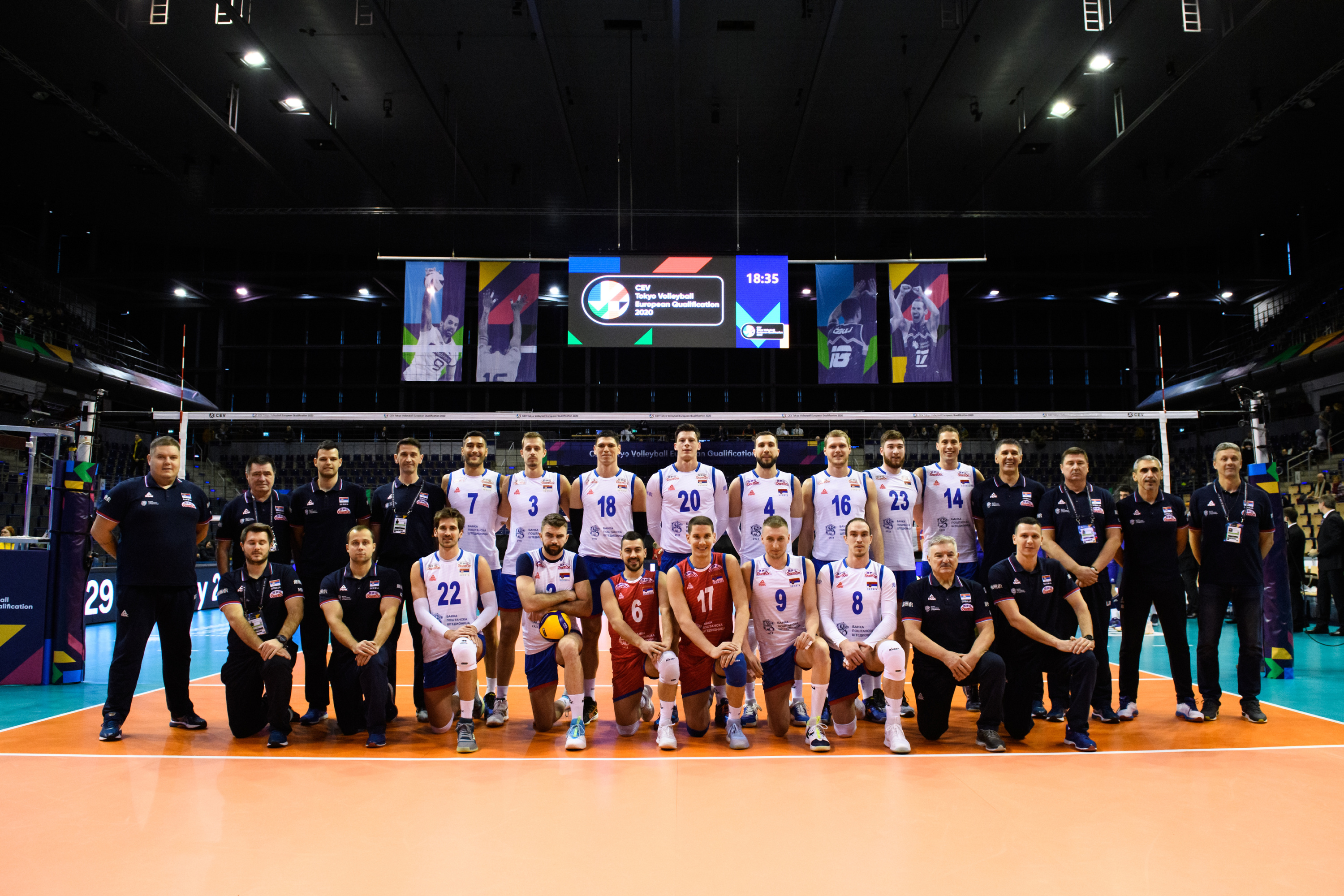 Official Team Photo
"The tournament will be very tough, especially since we will be facing some very strong opponents. I only hope that we will be healthy and in good shape. In that case, I am confident that we will succeed."
Uroš Kovačević
Outside Hitter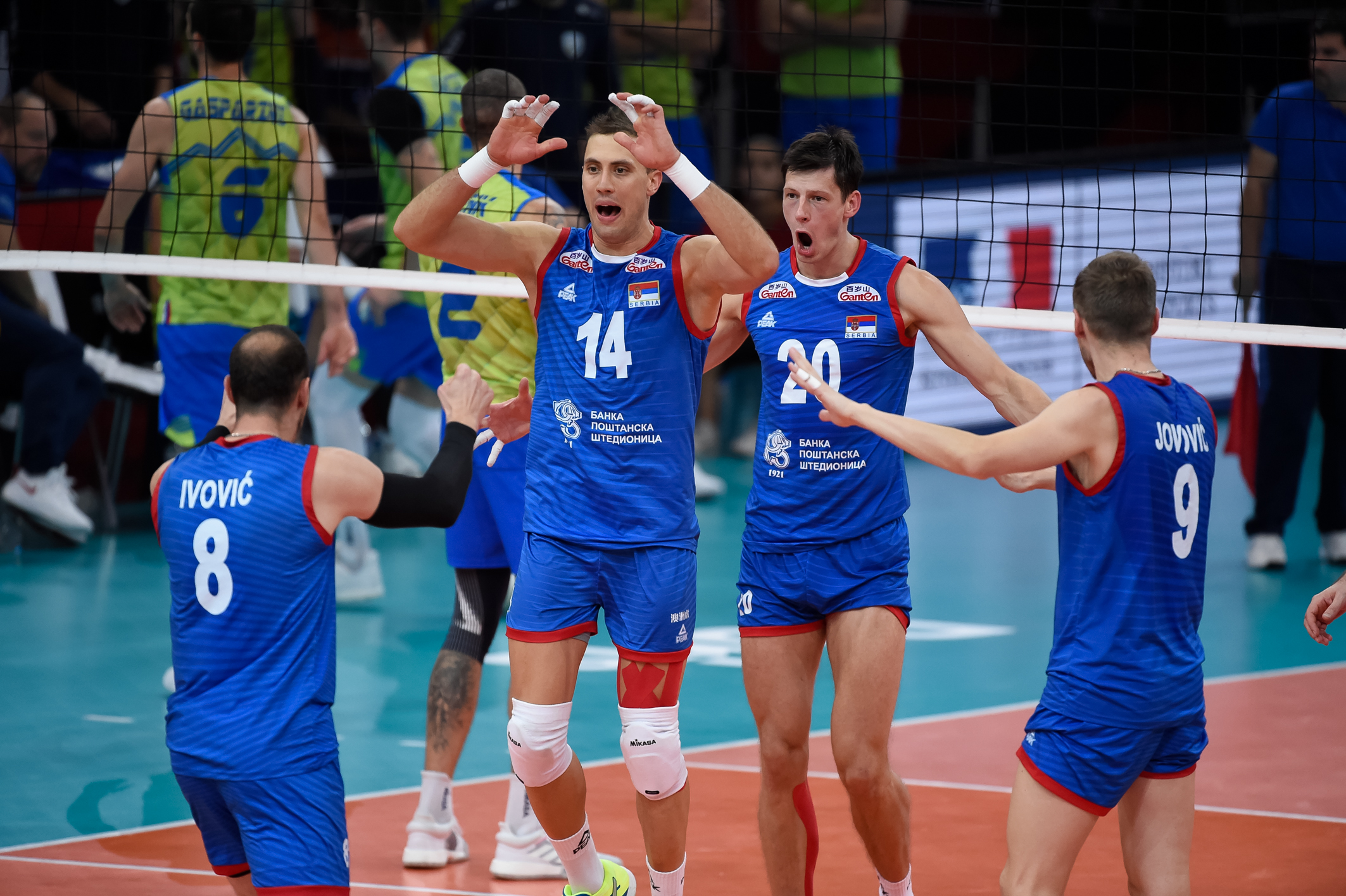 The reigning European champions after their sensational campaign at EuroVolley 2019, where they played only two five-setters throughout the whole tournament, Serbia are bidding to return to the Olympics after failing to qualify for the Rio 2016 Games. The former Yugoslavia – whose results Serbia has inherited – claimed gold in Sydney back in 2000, four years after securing bronze in Atlanta.
Three-time European champions Serbia last competed at the Olympics in London – where they finished a disappointing fifth in their pool and ninth overall.
Star players such as Uros Kovacevic, Aleksandar Atanasijevic, Marko Podrascanin and Srecko Lisinac have what it takes to help Serbia fulfil their dream of competing at the Tokyo 2020 Olympics after failing in their first attempt to achieve this feat in the summer of 2019 when they lost 0-3 to Italy in an intercontinental qualifier held in Bari.
"Our pool is very difficult. We will start the tournament playing with France, one of the best teams in the world. We must try to play our best Volleyball. We do not have much time to prepare, but our players play in good European teams and I hope everybody will join the group in good shape."
Slobodan Kovač
Coach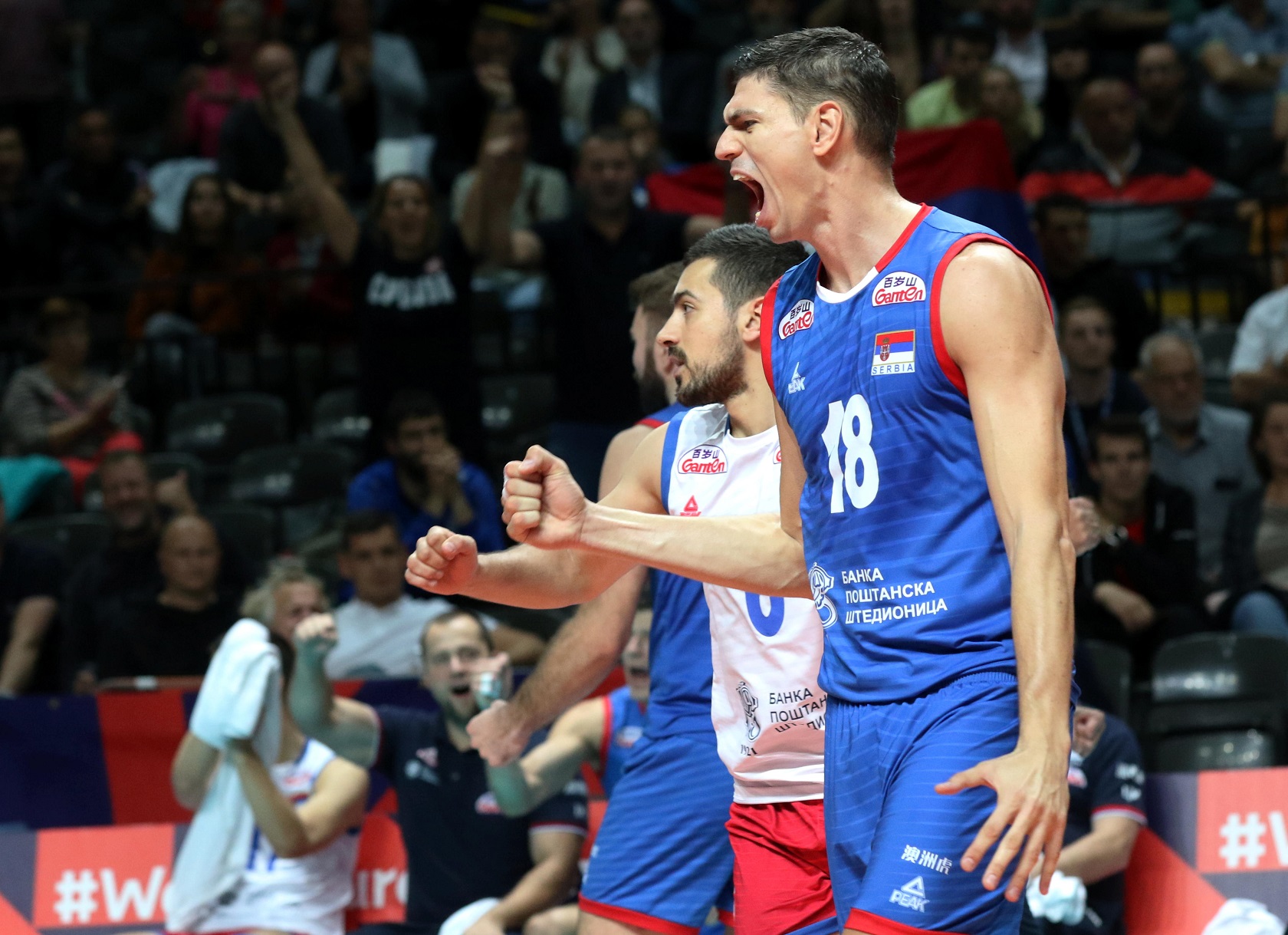 Marko Podrascanin fist pumps to celebrate another point at EuroVolley