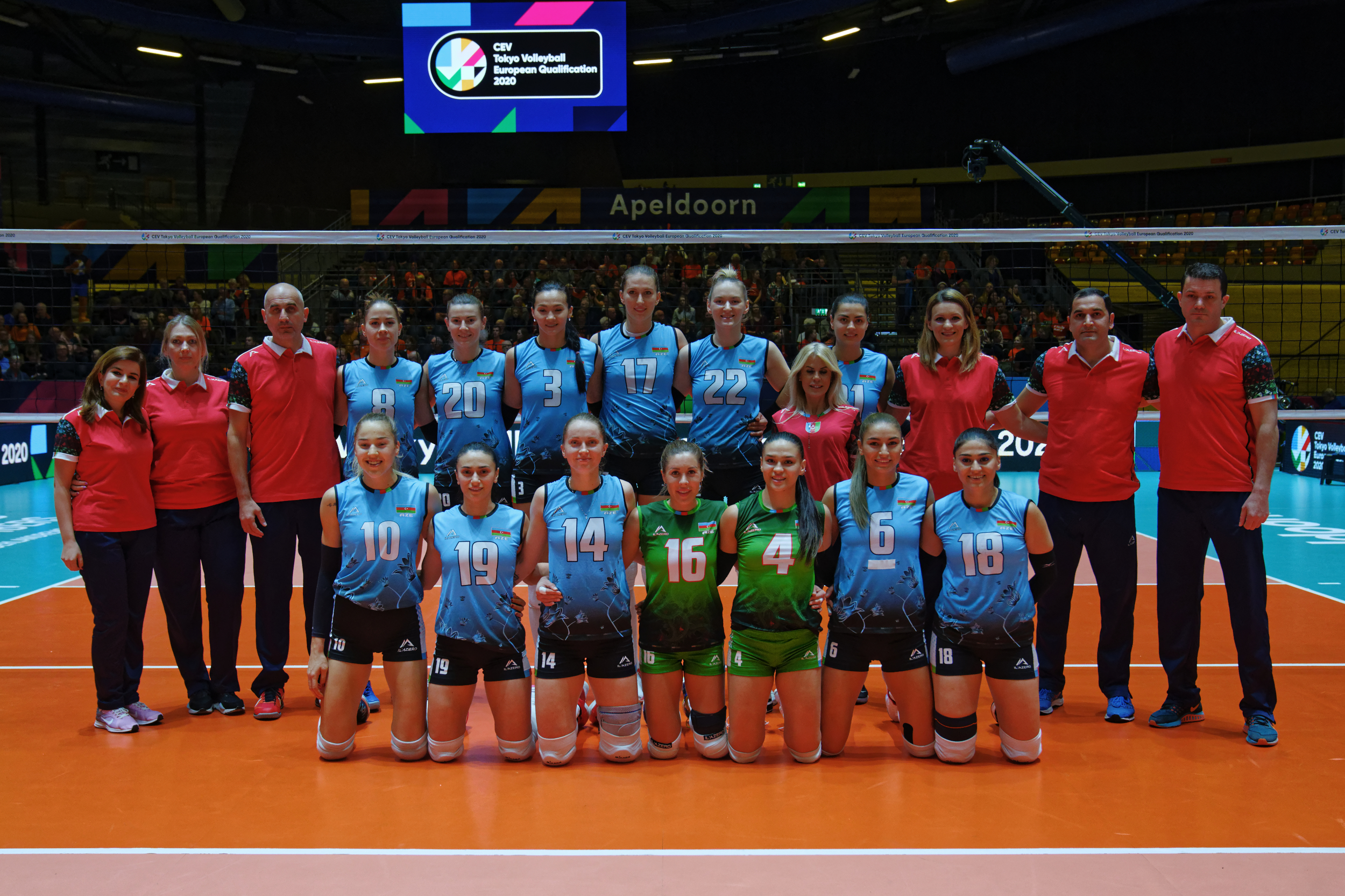 Official Team Photo
"We played the Intercontinental Olympic Qualification tournament in Brazil earlier this year. We did not perform at the level that we expected we would show there. However, we have one more chance to qualify for the Olympic Games. We know that our competitors are very strong. I believe that whole team will be playing just great."
Yelyzaveta Samadova
Player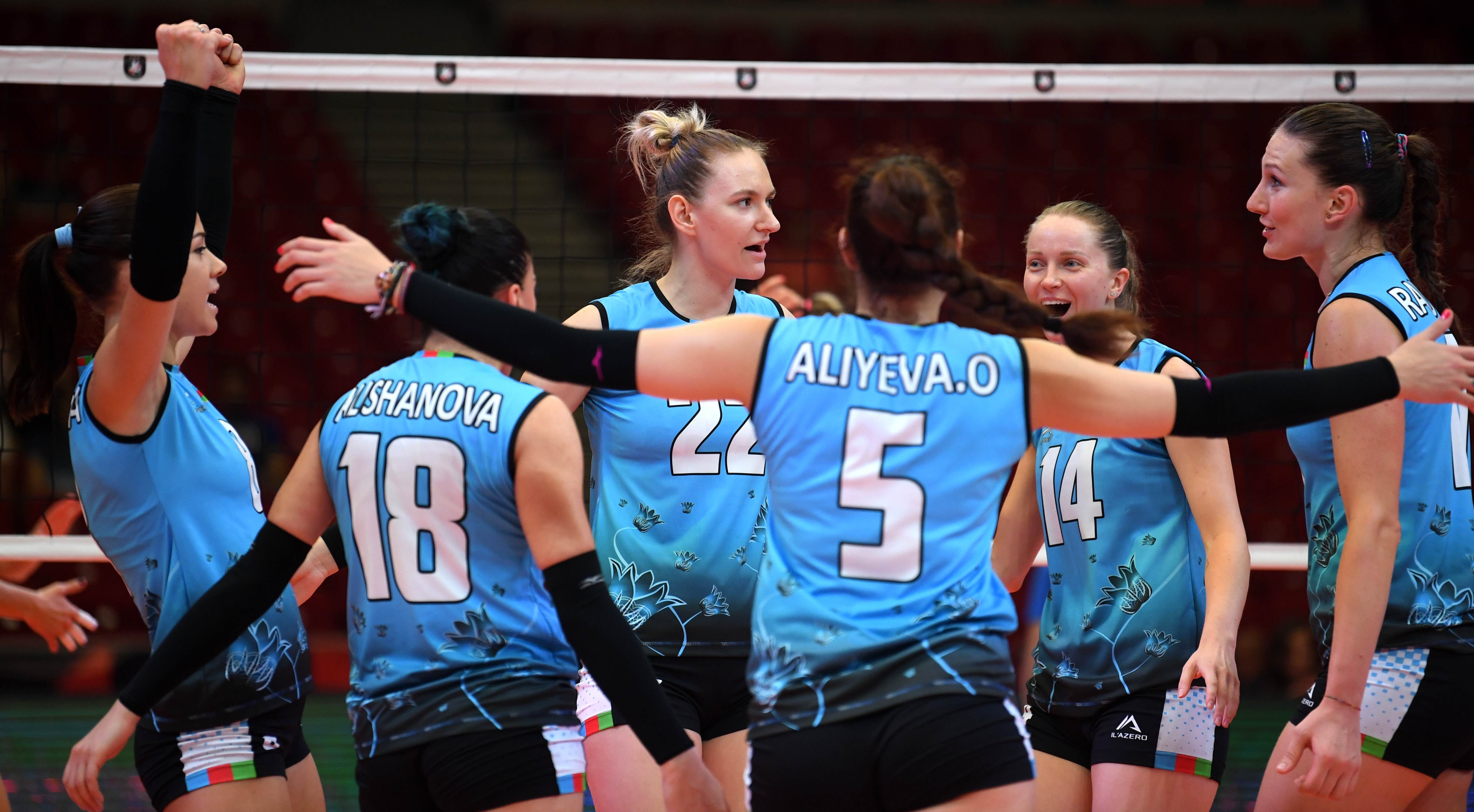 Since the country's independence in late 1991, the national team of Azerbaijan has never qualified for the Olympics. However, they slowly but surely have cemented their status as one of Europe's most competitive teams, with fourth-place finishes at the EuroVolley in 2005 in Croatia as well as in 2017, when they co-hosted the continental showpiece event together with their neighbours from Georgia.
Azerbaijan have a European League title to their name – in 2016 – and more recently, they reached the 8th Finals of EuroVolley 2019 losing to Bulgaria – one of their opponents in Pool A.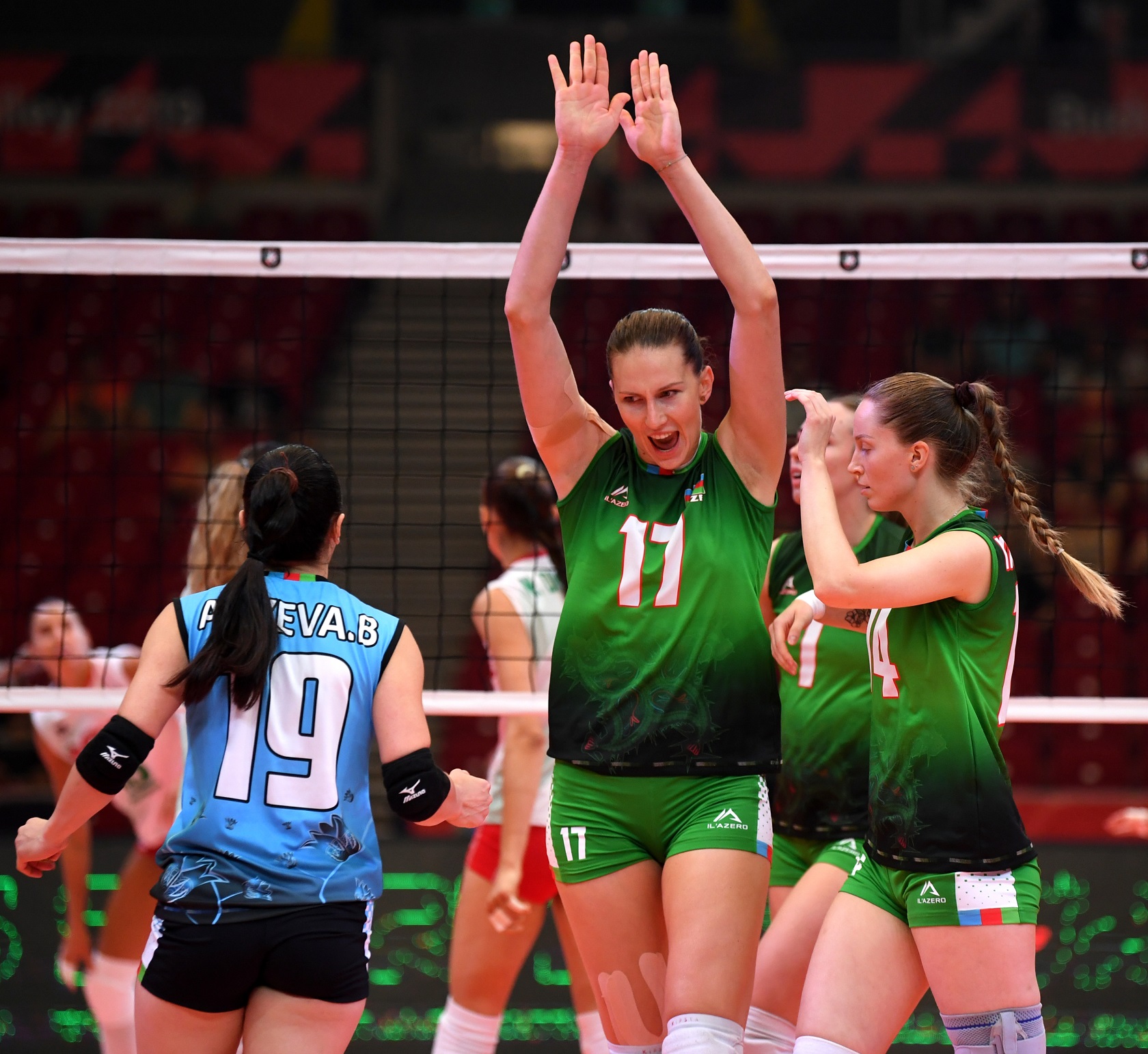 Polina Rahimova raises her arms in celebration for Azerbaijan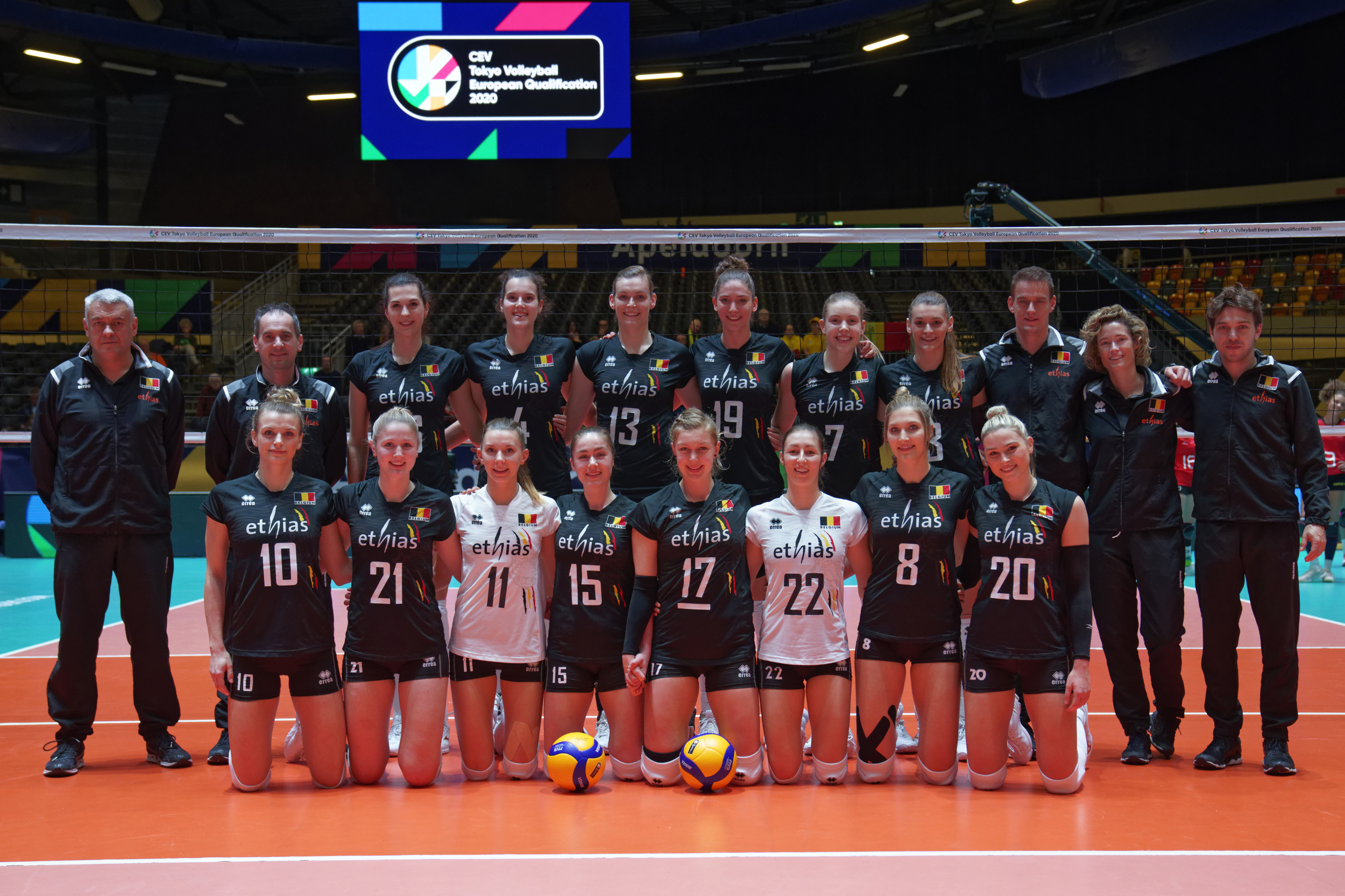 Official Team Photo
"I am looking forward to returning to the court with the Tigers. It is an important tournament, with a short preparation time and one beautiful prize. To compete at the Olympics is the dream of every player, so we will play with all our hearts and all the energy we have. We know that the opponents are strong so we should grab every little chance we will get."
Ilka Van de Vyver
Captain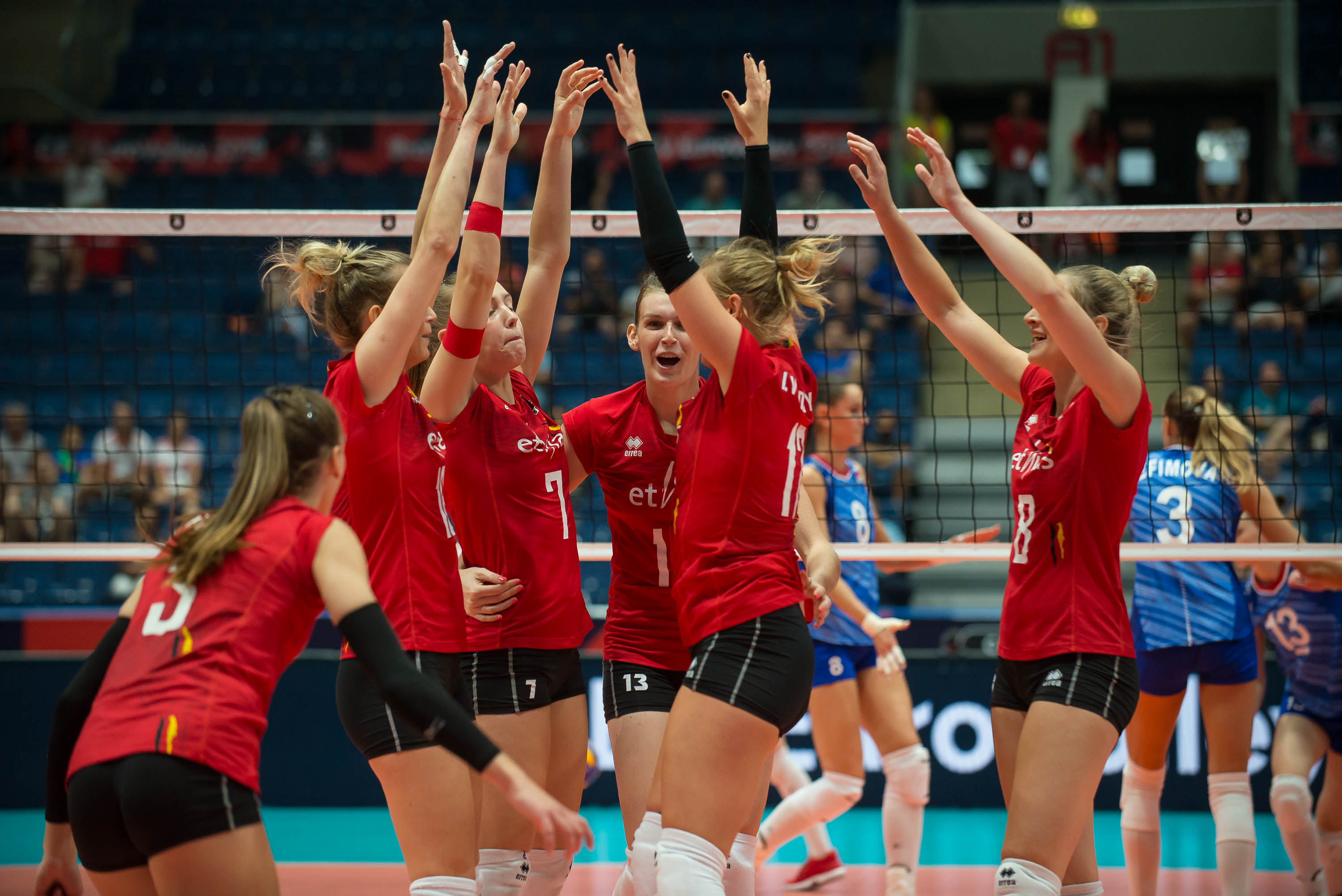 The 'Yellow Tigers' sky-rocketed to the continental elite a few years ago, when a group of rather young players secured a historic bronze medal from EuroVolley 2013 and gold from the FIVB World Grand Prix Group 2 Finals in 2014. That same year, Belgium qualified for the World Championship for the first time since 1978, claiming the 11th place in the final standing of the competition held in Italy.
More recently, Belgium delivered a very impressive performance in the 2019 edition of the FIVB Volleyball Nations League, where they finished seventh, before making it to the 8th Finals of EuroVolley 2019, losing to Russia. Belgium have never qualified for the Olympics. 
"Reaching the Olympics is the ultimate dream for every athlete and every team. It will be a fierce battle between eight European countries playing on a high level for that one ticket. Despite a short period of preparation before the tournament, we hope to find our game level from last summer very soon."
Gert Vande Broek
Coach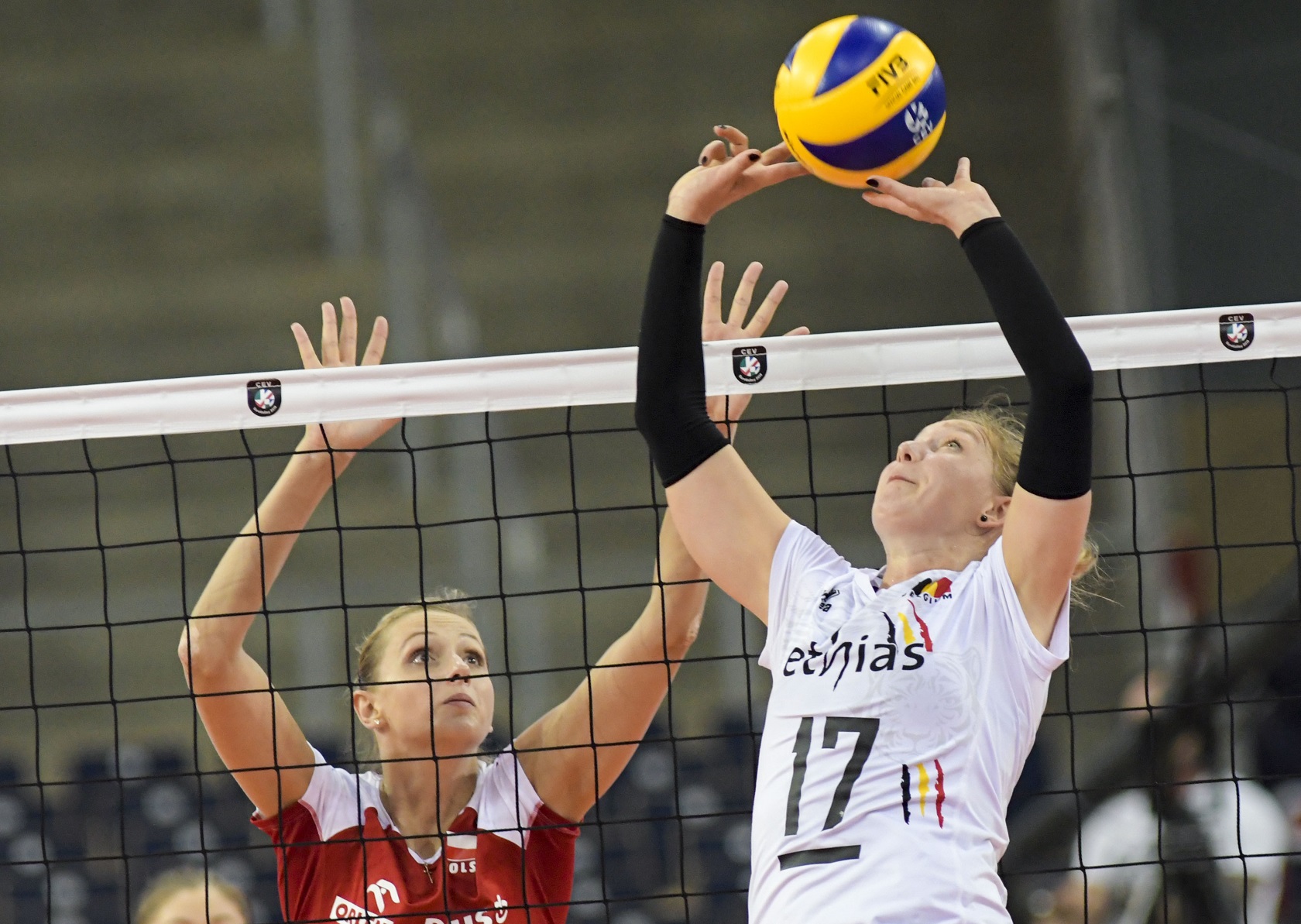 Ilka Van de Vyver distributes the ball for her team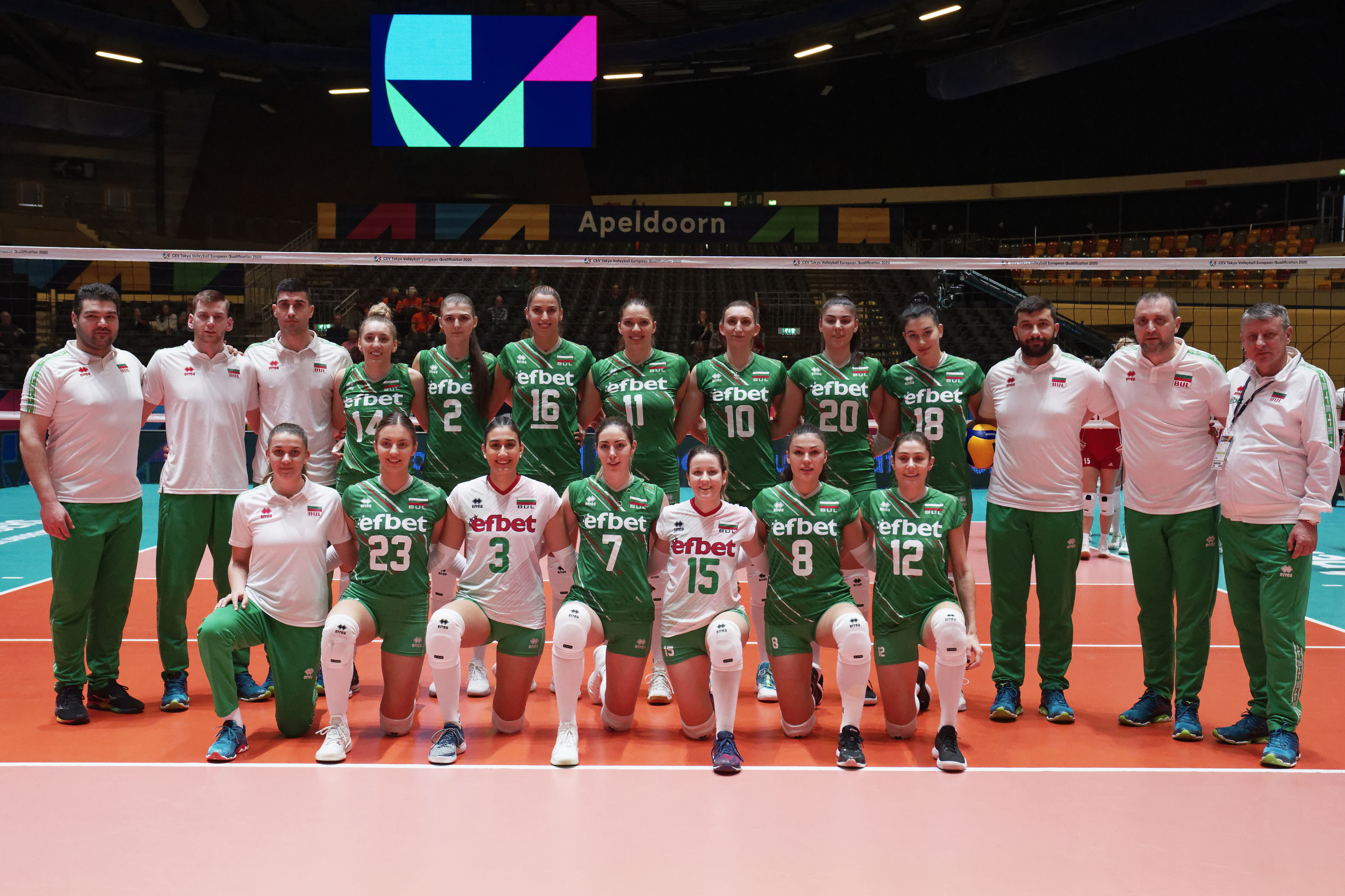 Official Team Photo
"It will be very difficult for us at the European Olympic qualification, but it is not impossible to succeed. It is certainly more difficult than at the European Championship, as some of the best teams will focus a lot more on this event. You certainly cannot afford not to be at 100%. We cannot afford a bad match in this tournament. The chances are there, but it is up to us to seize them."
Elitsa Vasileva
Captain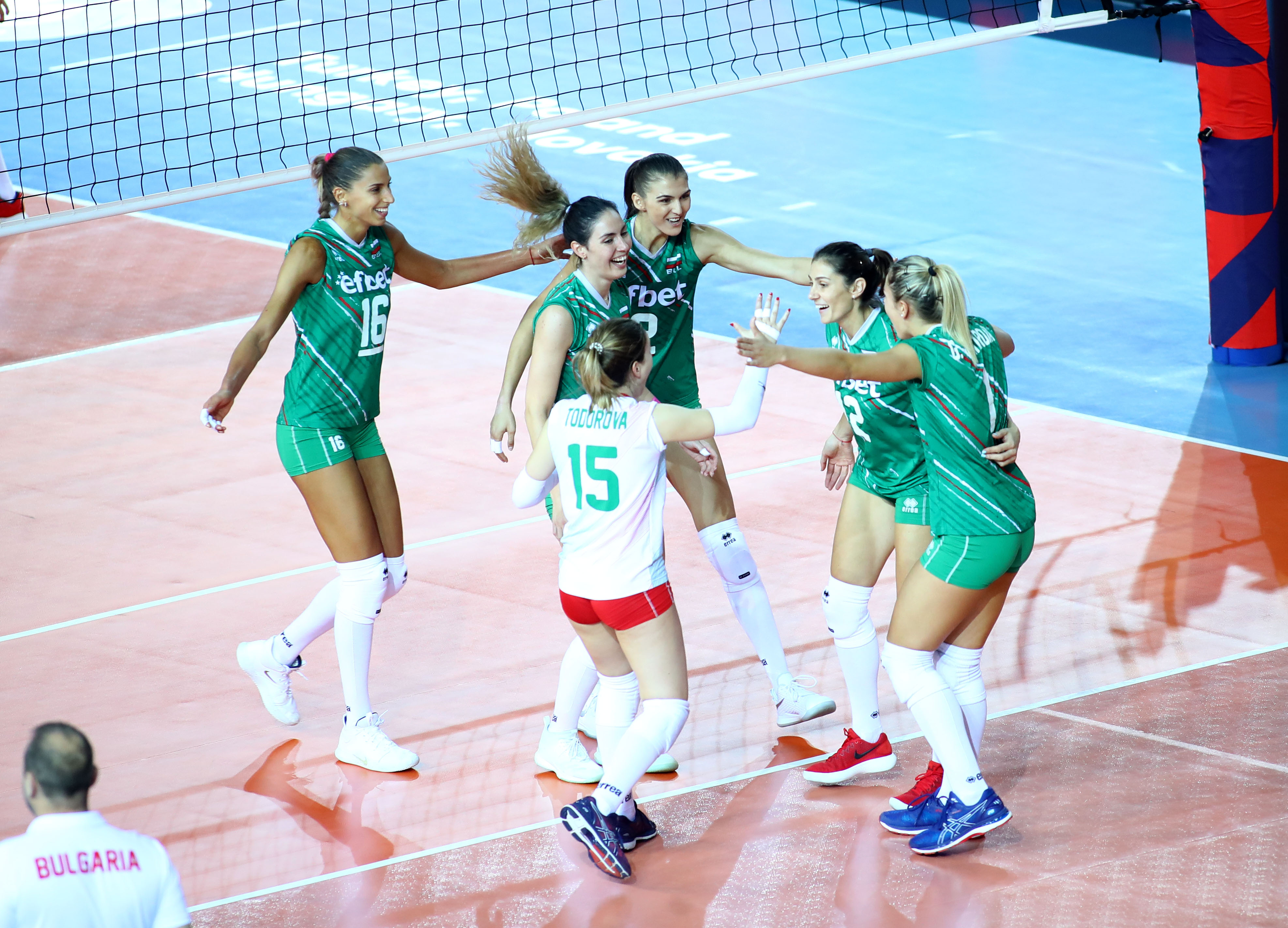 The 'Lionesses' from Bulgaria made their only Olympic appearance in 1980, when they finished third in Moscow behind the Soviet Union and East Germany. A year later, they became European champions on home soil. Their biggest achievements in recent times are the gold-medal winning performance they delivered in the summer of 2018 in the European Golden League Finals as well as in the FIVB Challenger Cup. As for EuroVolley 2019, despite a slow start, Bulgaria managed to reach the quarterfinals where they lost to eventual gold medal winners Serbia.
"It is important for us to participate in this tournament. We will try our best and will do our utmost to achieve success. The best thing would be to emerge as the eventual winners. Our group is balanced, but we hope to make it through and to play the semis and hopefully the final as well."
Ivan Petkov
Head Coach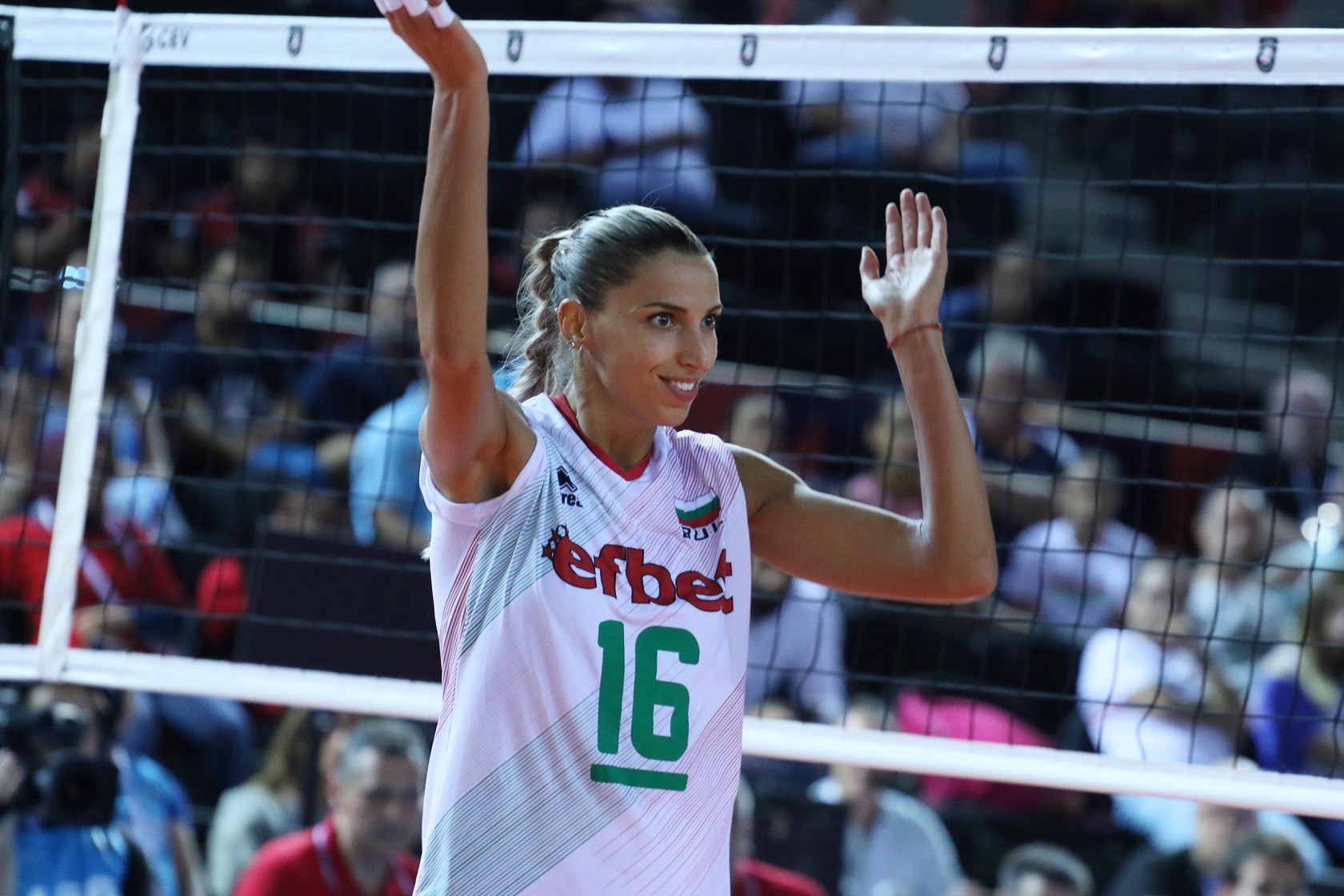 Elitsa Vasileva after winning a point at EuroVolley 2019
Official Team Photo
"We are not the favourites of this qualification, so we are going to Apeldoorn to continue our progress from this summer and to play without any pressure. Once again, we play against Turkey, in my opinion the strongest team in the group, as they won the silver medal at EuroVolley, but there we showed we could compete with any opponent. We are aware that it is a difficult tournament and that there is only one ticket to the Olympics, but we are going to fight hard in every match."
Samanta Fabris
Captain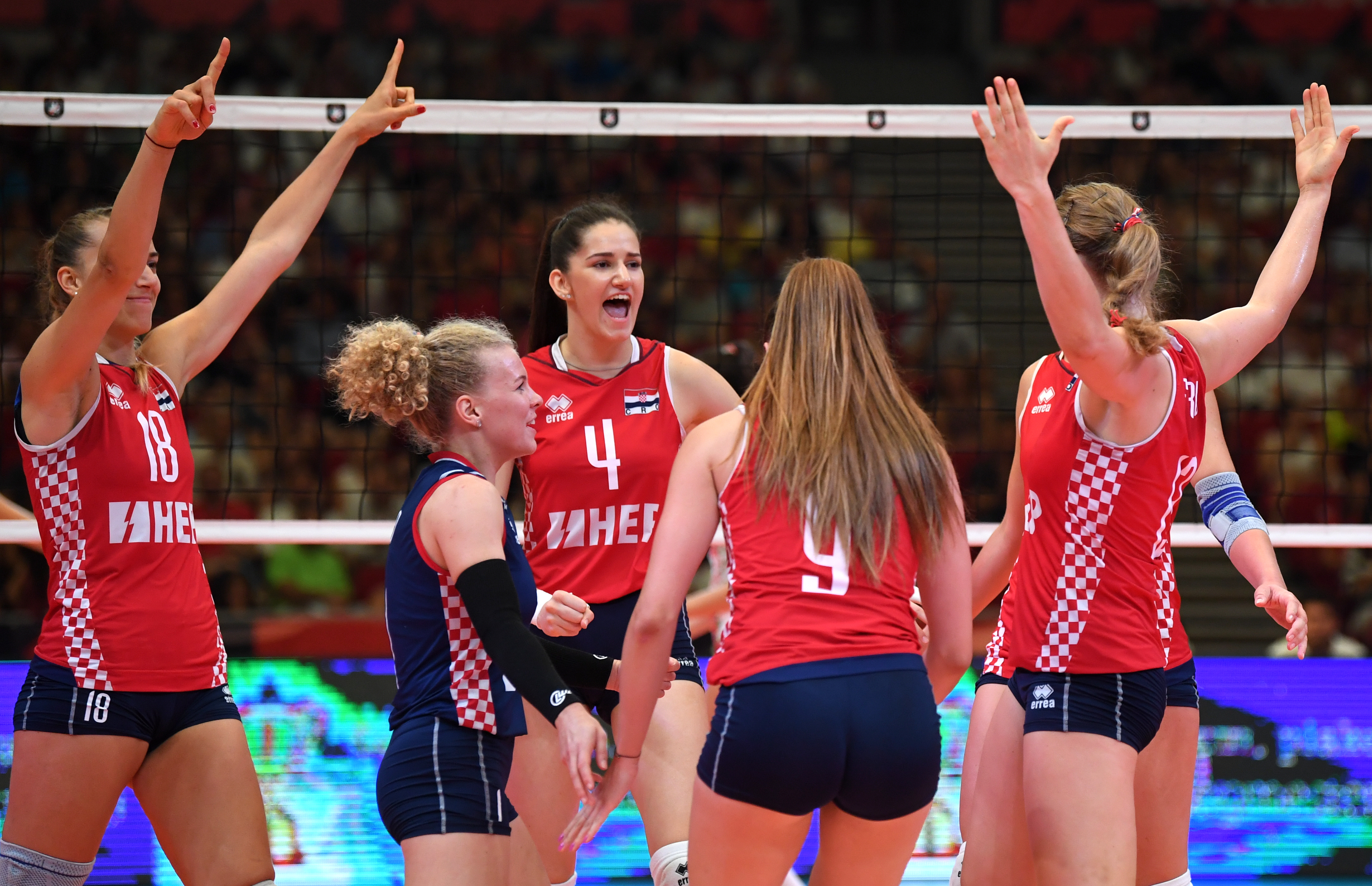 Croatia experienced their 'golden era' in women's Volleyball back in the 90s, when they claimed the silver medal from three consecutive editions of EuroVolley (1995, 1997 and 1999). They have competed at the World Championship three times since the breakup of the former Yugoslavia, with their best result to date a sixth place in 1998. Croatia's only Olympic appearance came in 2000, when they reached the quarterfinals in Sydney, losing 0-3 to eventual gold medal winners Cuba.
As for their most recent achievements, Croatia lost 2-3 to hosts Turkey in a truly dramatic 8th Final fixture at EuroVolley 2019 after earlier in the season they reached the grand finale of the European Golden League, losing that match to the Czech Republic.
"This is a high-level Volleyball tournament as we all want that one ticket that takes to the Olympics. Even though we are not the favourites, as there are currently stronger teams than ours, everything is possible in one such tournament, so it is not impossible that we win it. We will not have much time to prepare due to the club commitments of our players, but we have arranged friendly matches with Bulgaria in Sofia, so that we can prepare in the best possible way for the upcoming tournament."
Daniele Santarelli
Coach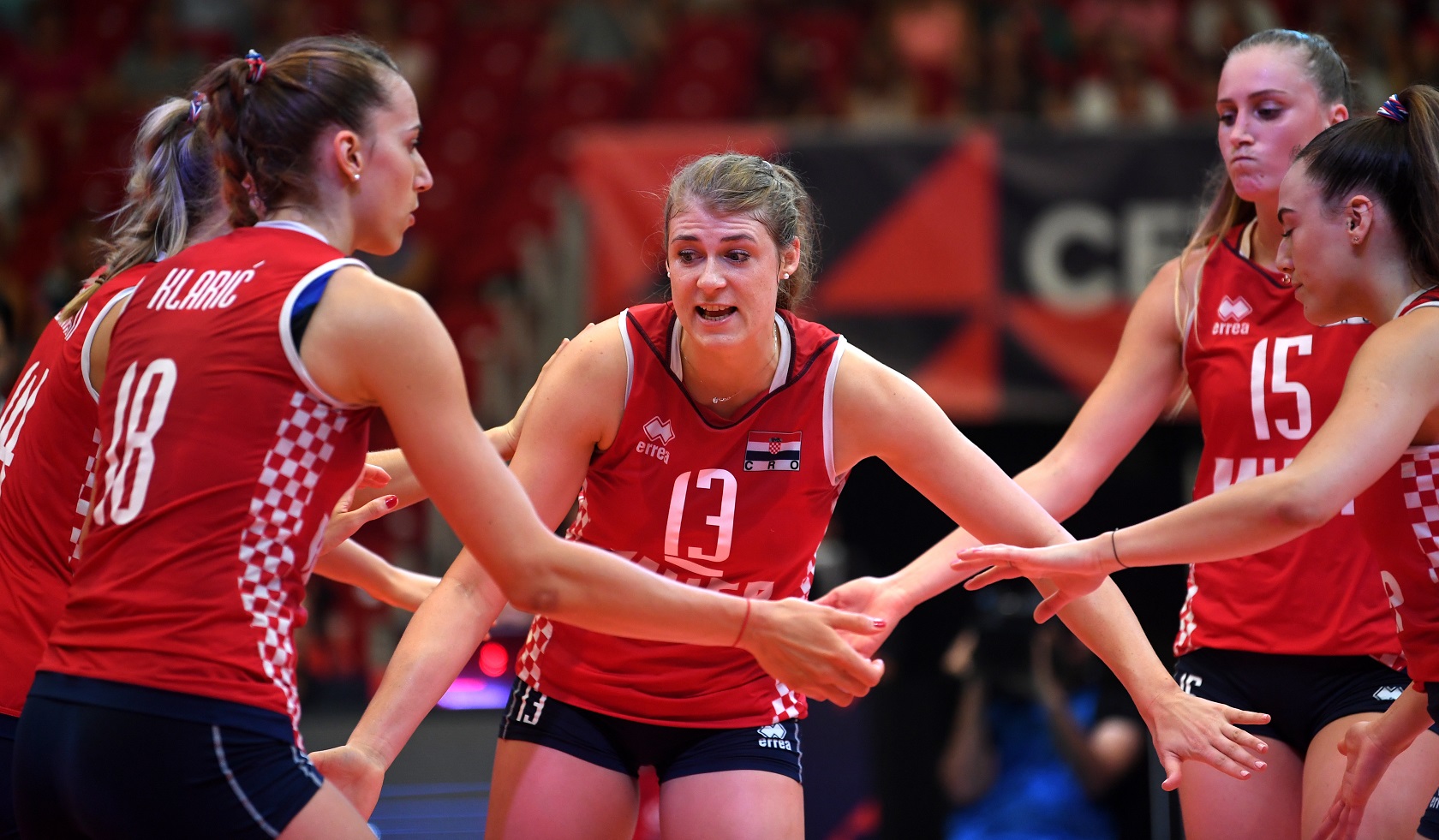 Samanta Fabris brings Croatia together at EuroVolley 2019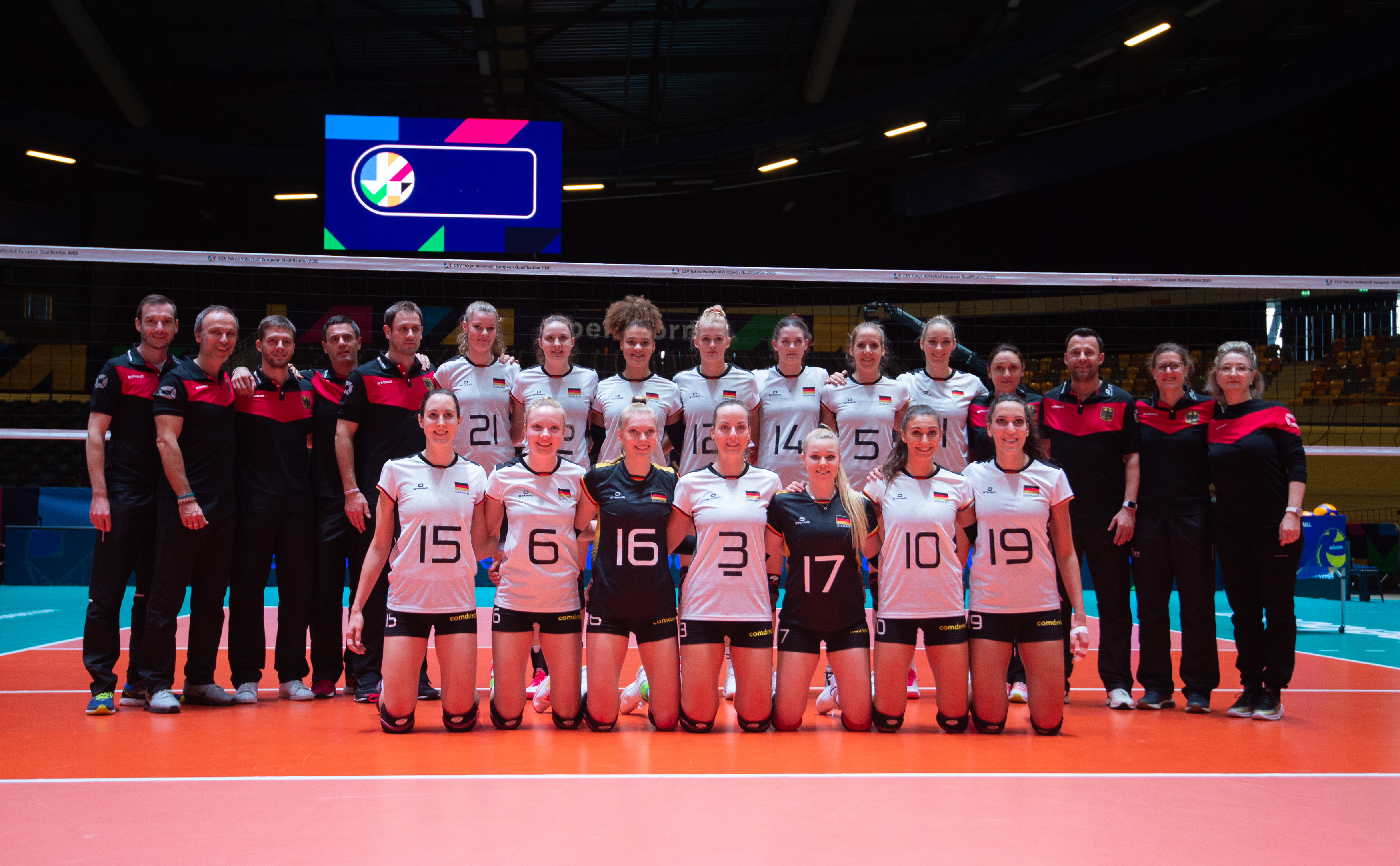 Official Team Photo
"To reach the Olympic Games in Tokyo is our biggest dream. We know that there is a big challenge ahead of us in Apeldoorn. Only one team will get the final ticket to Tokyo, but we believe in our chance. We have shown that our team can compete with the best in the world at the last European Championship."
Denise Hanke
Captain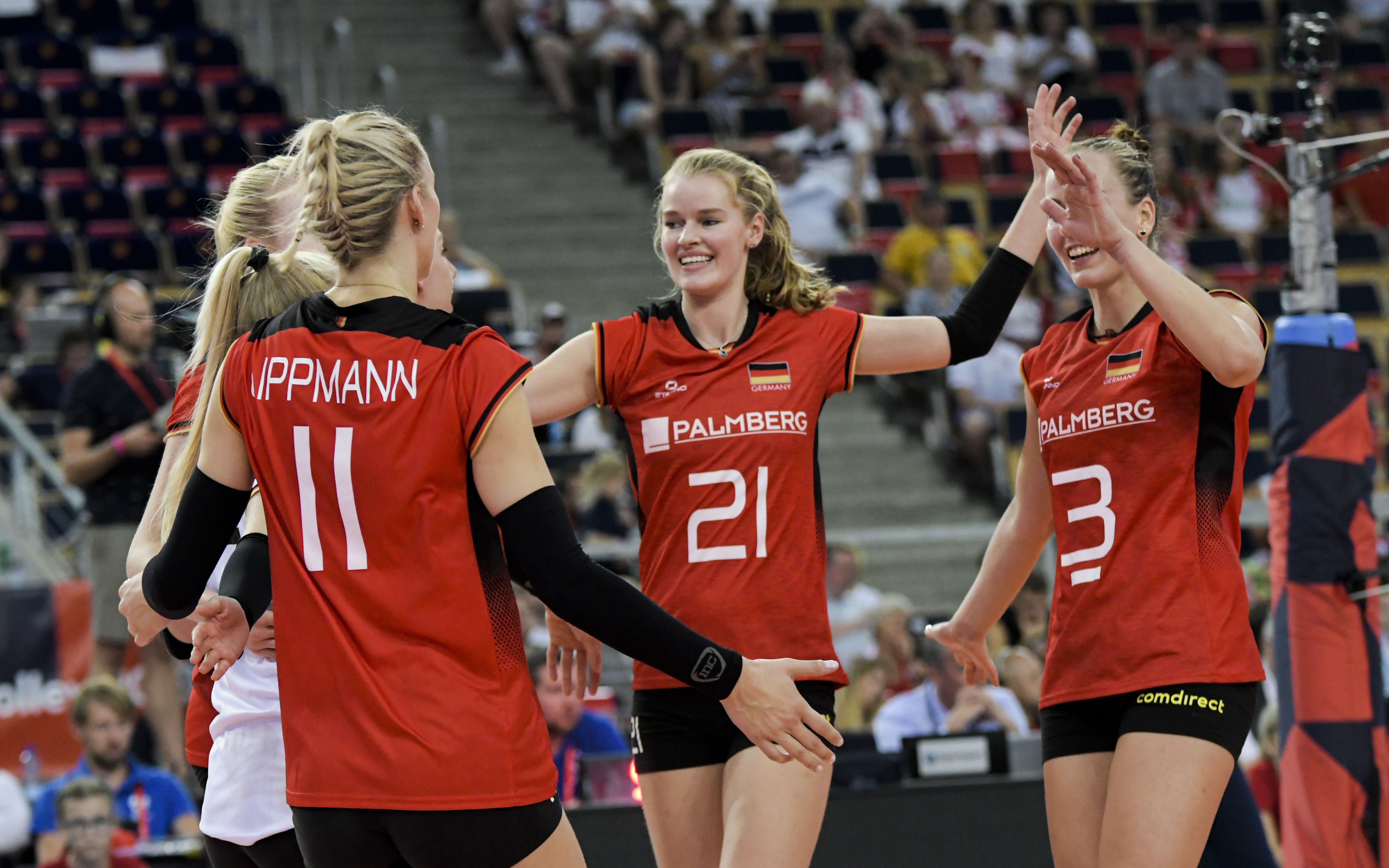 Since reunification in October 1990, Germany qualified for the Olympics three times in a row – in 1996, 2000 and 2004, but they have not been able to repeat that feat ever since. The former East Germany competed at the Olympics three times, securing a silver medal in Moscow in 1980, whilst West Germany performed on the Olympic stage in 1972 and 1984. As a united country, Germany's best Olympic result is a sixth place in 2000, when they lost in the quarterfinals to Brazil and the subsequent fifth-place match to China.
Germany had a successful spell earlier this decade, with consecutive EuroVolley silver medals in 2011 and 2013 – and a European League crown in 2013 as well. Earlier this year, the 'Butterflies' made it to the EuroVolley 2019 quarterfinals, where they lost 2-3 to co-hosts Poland to settle for sixth place in the final standing of the competition.
"The Olympic qualification in Apeldoorn is like a small European Championship. I mean, it is harder to qualify for the Olympic Games than achieving a good result there. The competition in Europe is very high, so I think that we are not the favourites. But as always: we will fight until the end to achieve the best possible result."
Felix Koslowski
Coach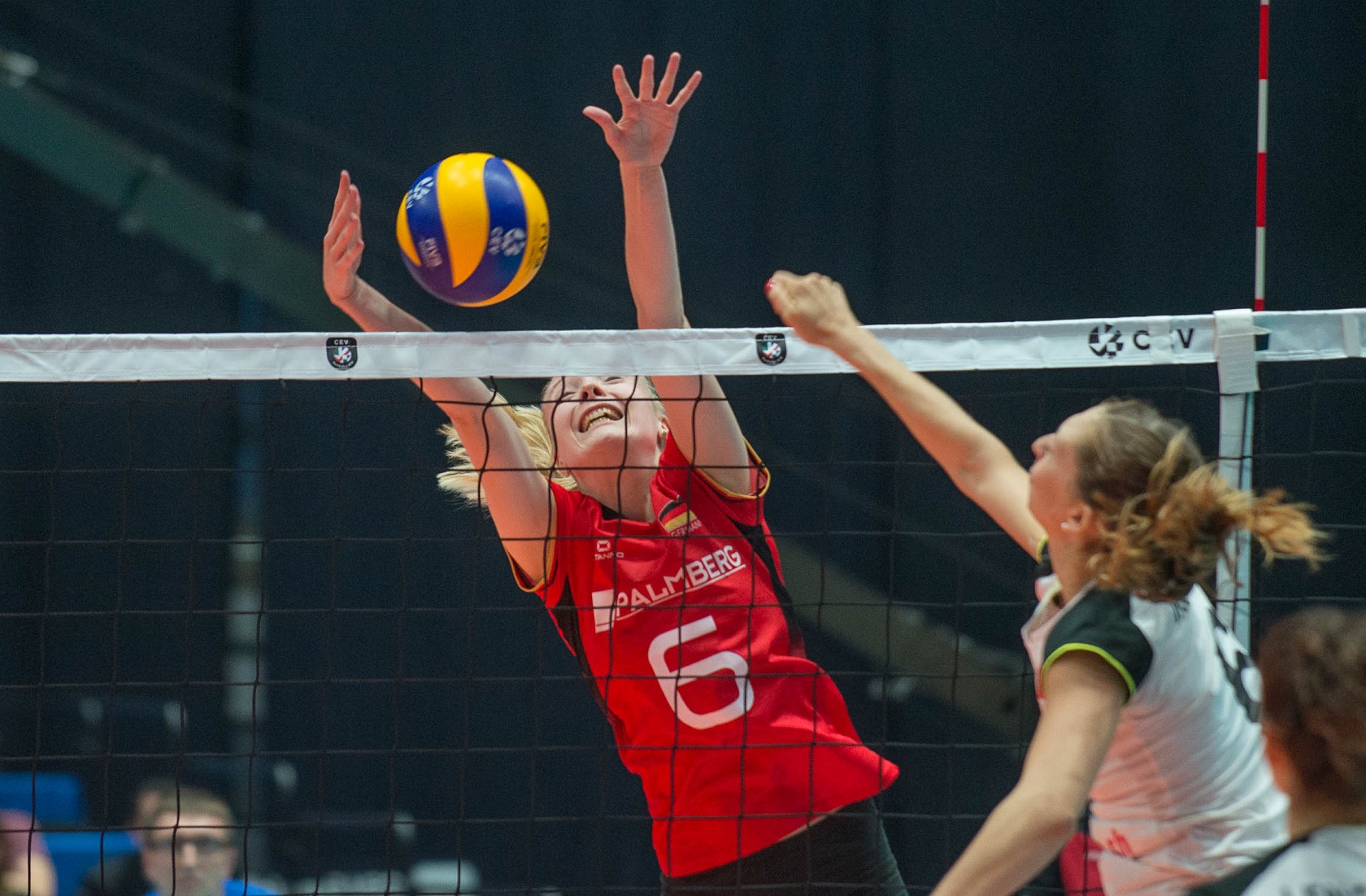 Jennifer Geerties reaches to block at EuroVolley
"We have made a great progress as a team over these last few years and we keep confirming that in every game we play. We know that we are capable of reaching for the qualification even though it is a very hard task. Honestly, I think each match in the Netherlands is going to be "all or nothing", but we want to fight and we will – for sure. I think that as a team we are ready for the Tokyo 2020 qualifying tournament and to battle for the ticket to Japan."
Malwina Smarzek-Godek
Opposite Hitter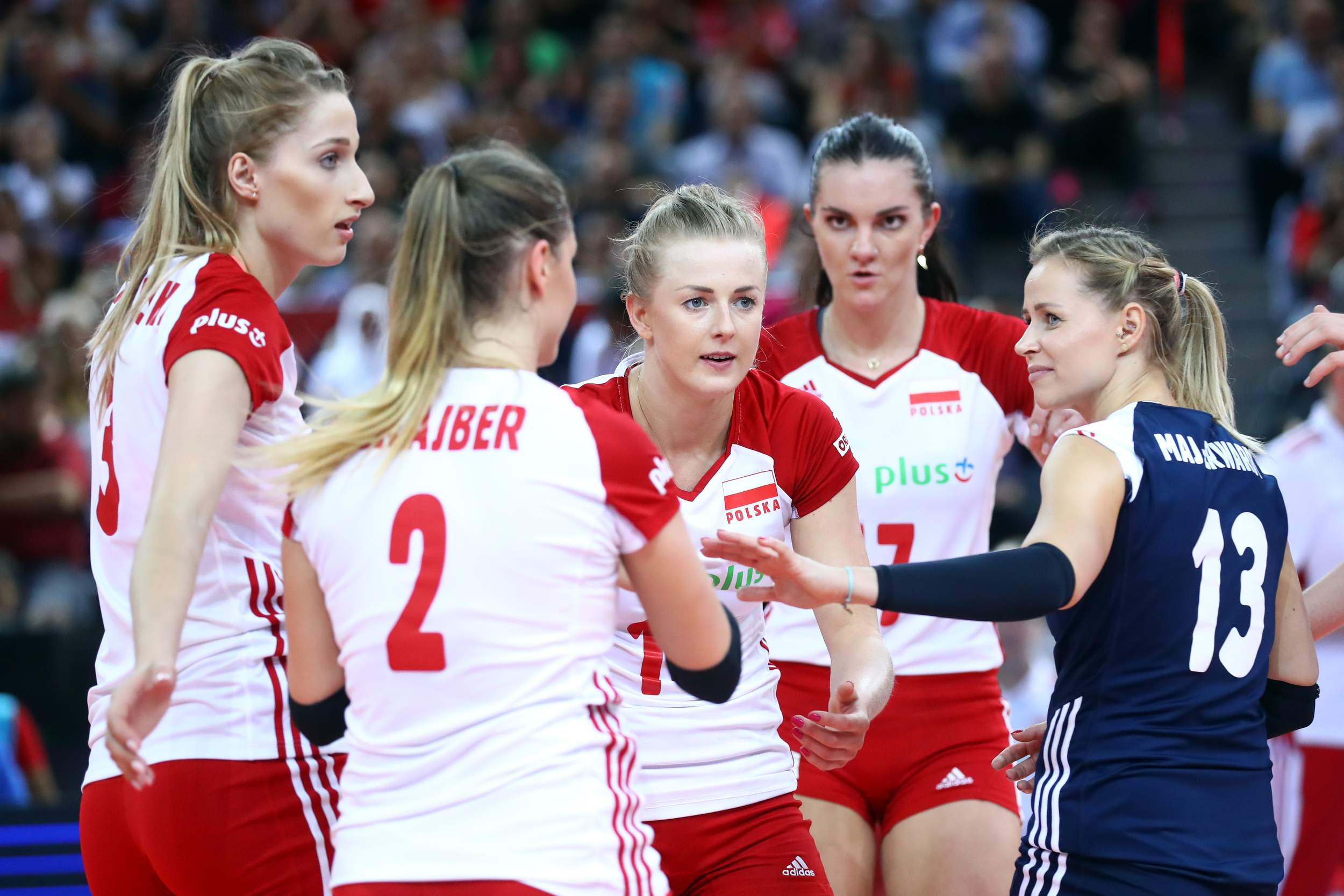 Poland have competed at the Olympics as many as three times, including at the Olympic premiere of Volleyball in 1964 in Tokyo. They claimed bronze medals both in 1964 and 1968 and last qualified for the Olympics in 2008 when they finished the tournament in Beijing in 9th place.
Poland's must successful, 'golden' era was at the dawn of the new millennium, when they secured back-to-back EuroVolley crowns in 2003 and 2005, followed by bronze in 2009. After taking some time for the re-building their team, they finished fourth at EuroVolley 2019, losing to Turkey in the semis and to Italy in the bronze medal match. 
"For us this is the most important tournament of 2020. We are going to play against the world's top teams. The task ahead is very difficult, especially given the unusual date but fortunately, this applies to all participants."
Jacek Nawrocki
Coach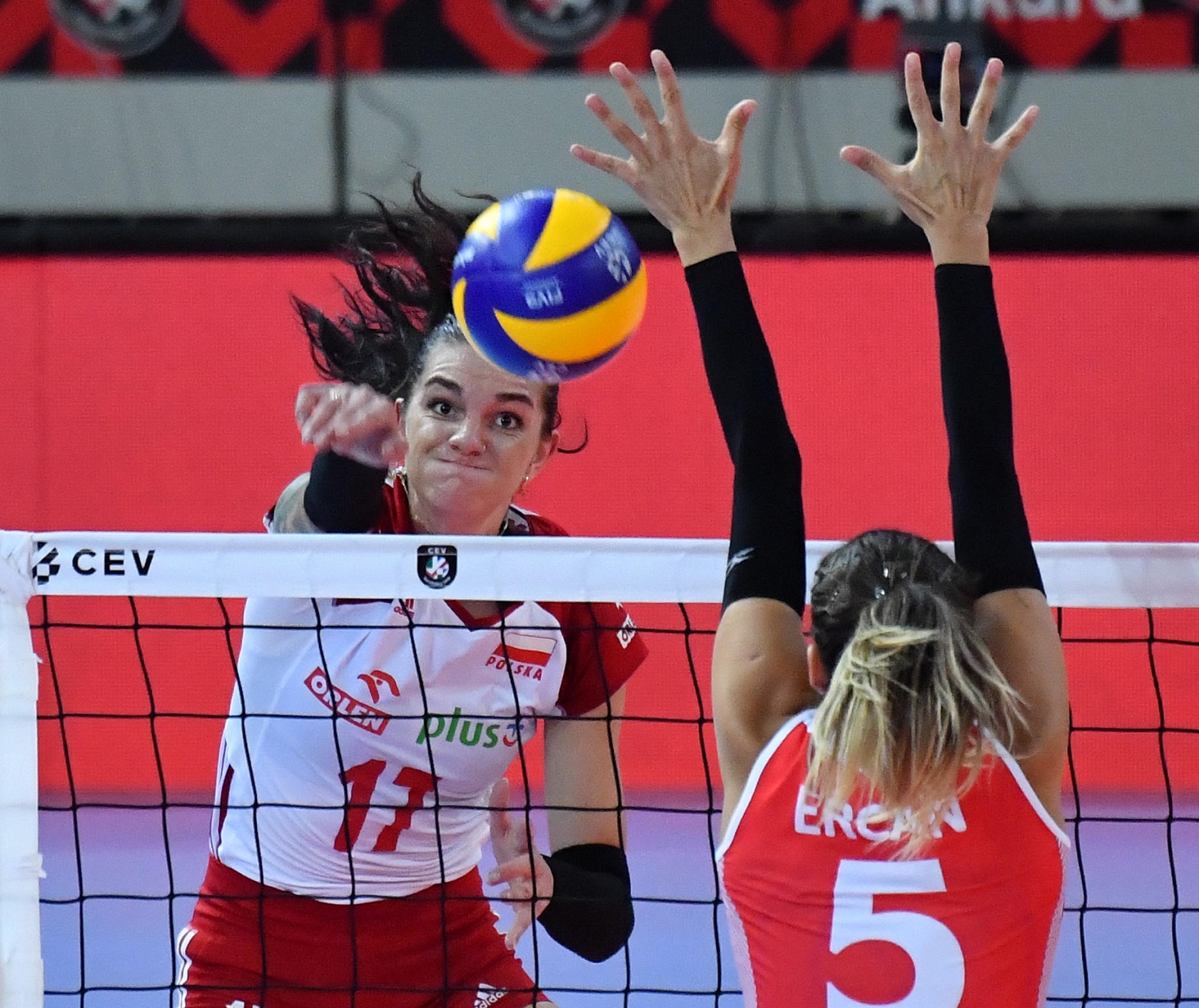 Polish power hitter Malwina Smarzek-Godek in action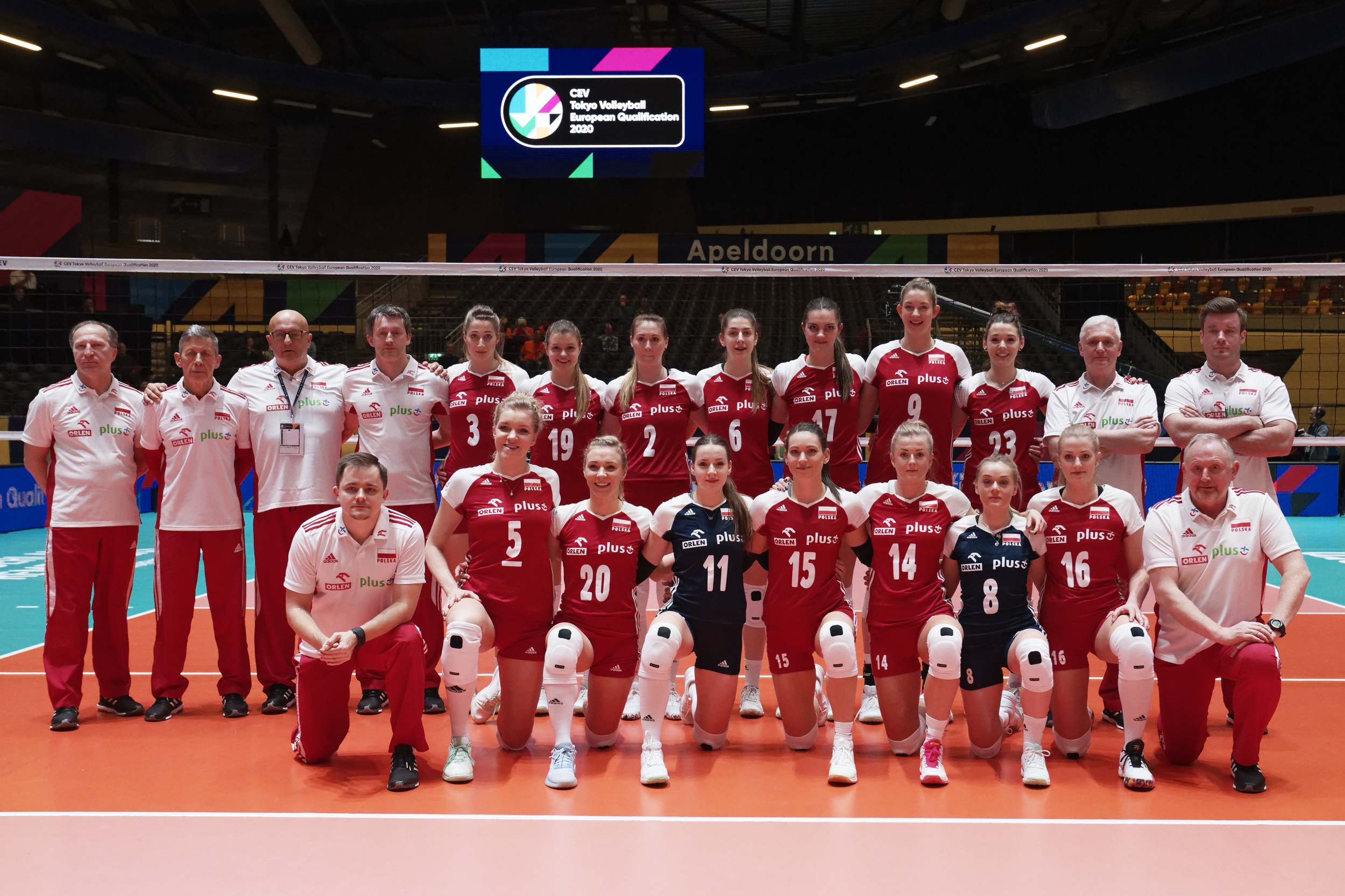 Official Team Photo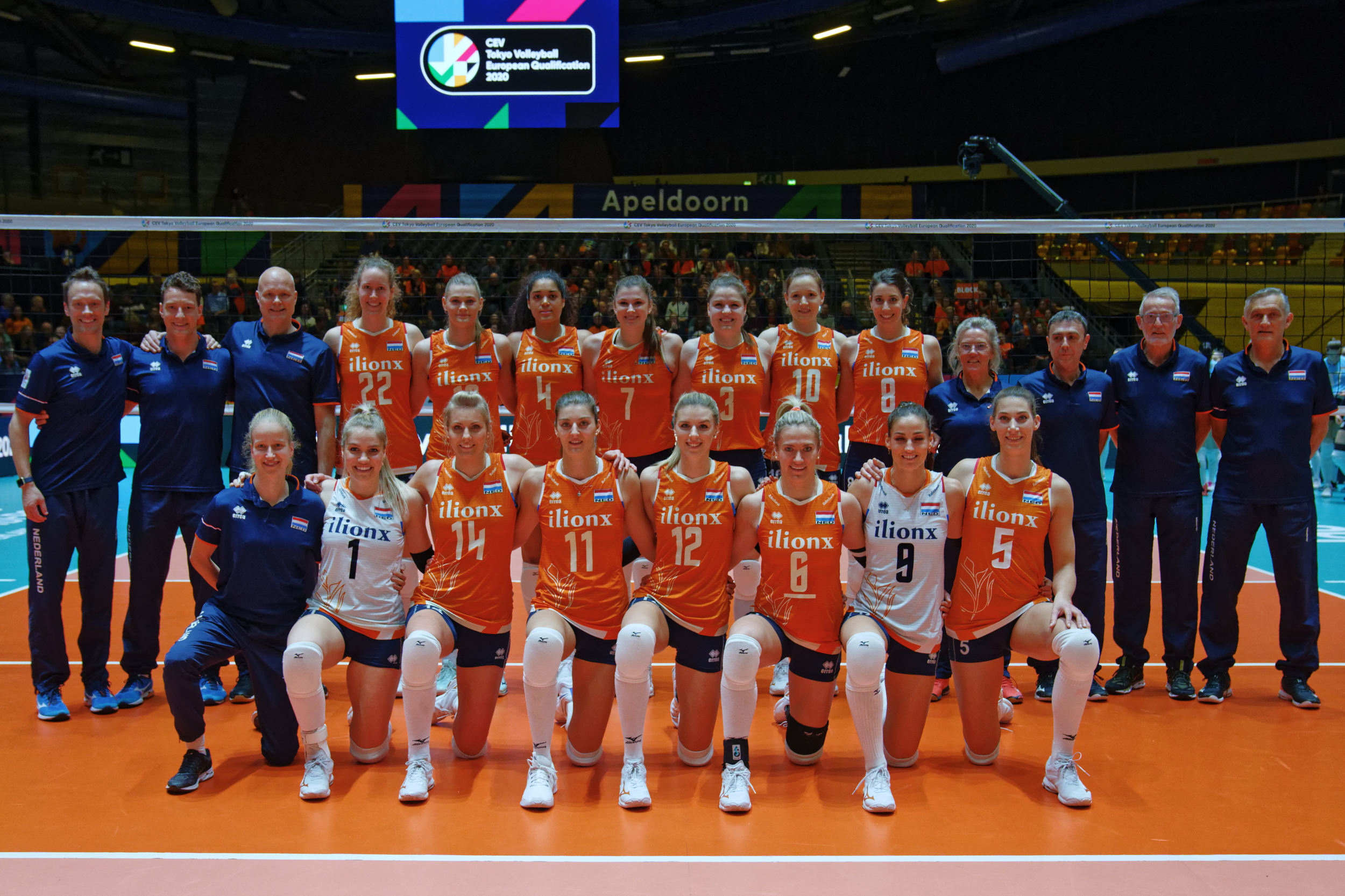 Official Team Photo
"I think for a lot of players the national team is more important than the club team. You get to represent your country. This is what I like about the national team, the honour that you feel when playing for your country. I hope we will shine as a team during the Olympic qualifier in January."
Robin de Kruijf
Middle Blocker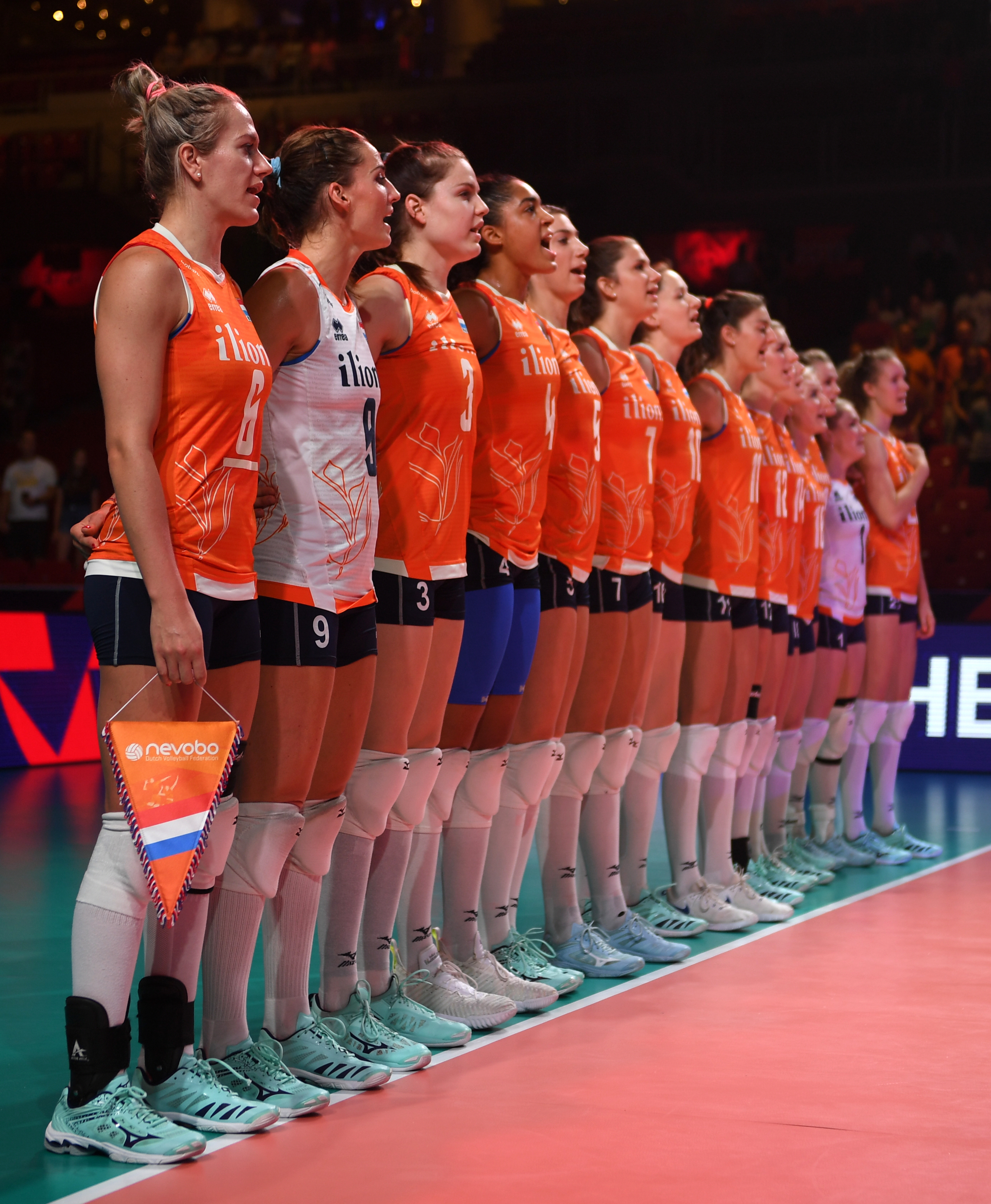 The Netherlands have competed at the Olympics three times, making their debut in 1992. They achieved their best result in history at Rio 2016, when they finished just off the podium in fourth place, losing the bronze medal match to USA. After securing two consecutive EuroVolley silver medals in 2015 and 2017, the Netherlands lost 0-3 to Turkey in the quarterfinals of EuroVolley 2019, thus failing to reach the top four of a major international competition for the first time since 2014. As a result, Italian Giovanni Caprara replaced USA's Jamie Morrison at the helm of the team, with the hope to use the home-court advantage to the fullest in order to qualify for the Tokyo 2020 Olympics.
"The Olympic qualification tournament in January is going to be difficult and exciting. Every participating team knows that it only has this one chance to qualify, and that can make people nervous. However, we have a very strong team, and we are going to use the short time that we have to prepare as efficiently as we can. That we are organising the Olympic qualification tournament in the Netherlands is definitely an advantage. I would like to help this team realise their Olympic dream."
Giovanni Caprara
Coach
Star Setter Laura Dijkema celebrated with her team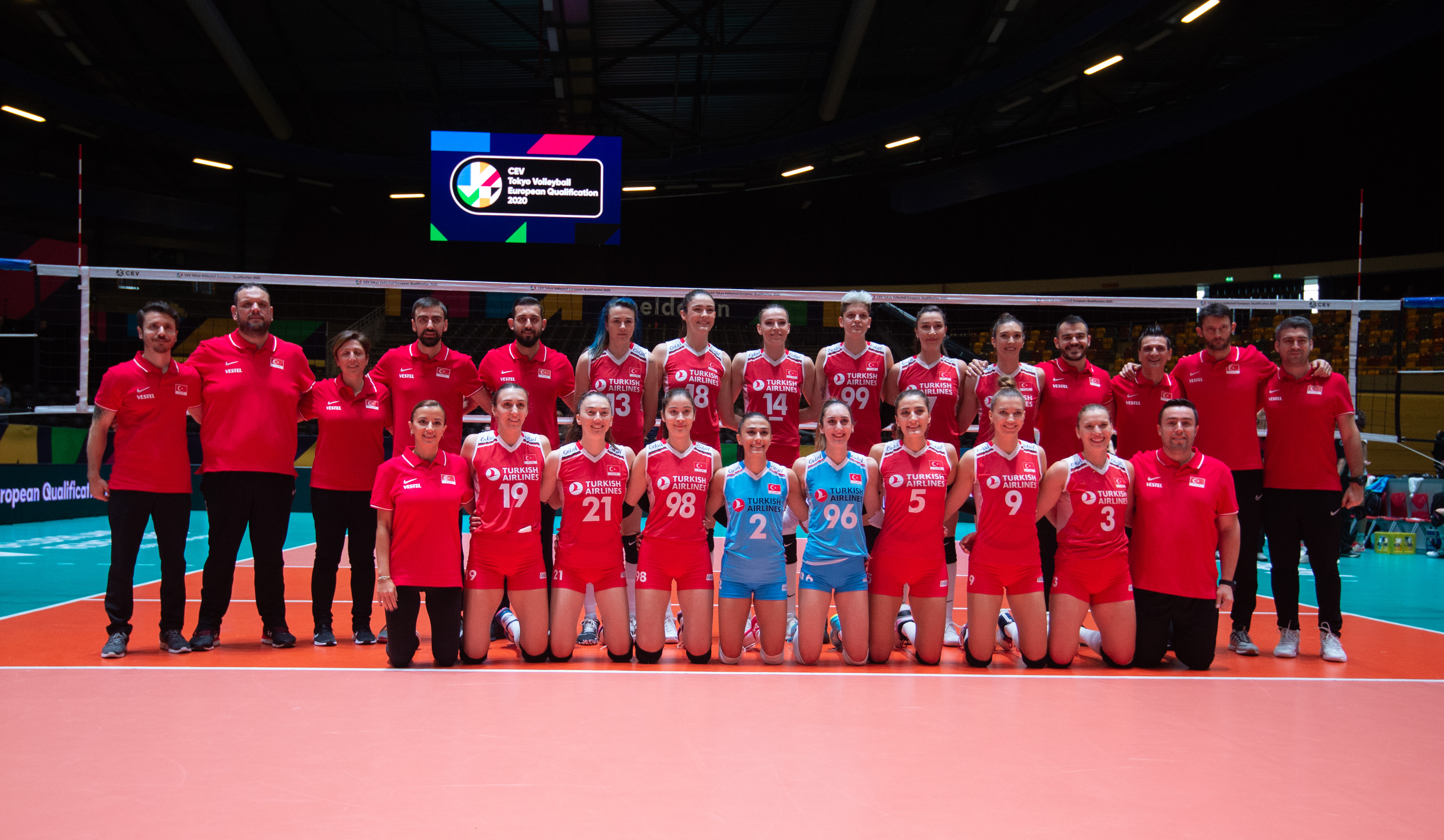 Official Team Photo
"The top eight European teams will compete to qualify for the Olympics. We have strong opponents in the group stage already. We regard them in high esteem and we will always respect their strength and value. Our main goal is to get a ticket to go to the Olympics by winning all of our matches. We are looking forward to this opportunity and challenge."
Eda Erdem
Captain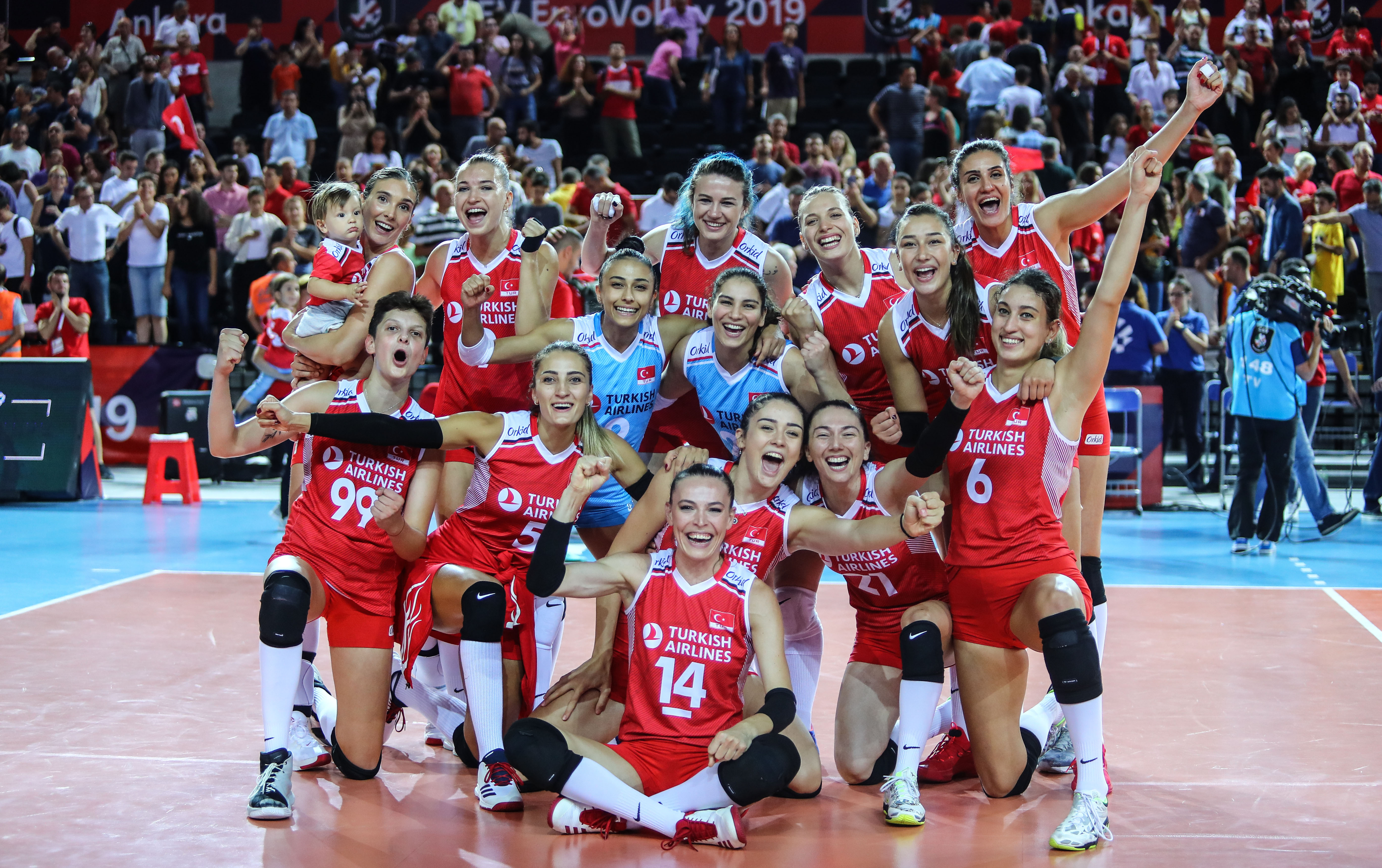 The Turkish women's national team, aka the 'Sultans of the Net', historically qualified for the London 2012 Olympics, the first time Turkey achieved such a feat in any team sports. At that time, their top player Neslihan Demir Güler was even the flagbearer for the Turkish delegation during the Opening Ceremony. In London, they failed to make it out of their pool and ended the competition in ninth place.
Turkey have achieved their biggest international success at EuroVolley – with two silver (2003, 2019) and two bronze medals (2011, 2017) to their name. Back in 2016, they hosted the European Olympic qualifying event but ended their campaign in a disappointing fourth place. Their resume includes, among other achievements, a sixth place from the 2010 World Championship as well as a silver medal from the inaugural FIVB Volleyball Nations League in 2018 to go with bronze from the 2012 edition of the World Grand Prix.
Captain Eda Erdem Dündar urging the team on
"The Olympic qualification tournament will be some sort of Russian roulette. First of all, nobody knows which players will play in January. All teams competing in this tournament are strong. The tournament is about luck and confidence in equal measure. If we play as we did the last three matches of EuroVolley 2019, we can go to the Olympics."
Giovanni Guidetti
Coach