Overview
Head-to-Head
Germany and Croatia will meet for the third consecutive time in the European Olympic Qualification tournament. Germany beat Croatia 3-0 in May 2012 and in January 2016.

These nations last met in a world level major tournament on 15 July 2017, when Germany won 3-0 in the 2017 World Grand Prix. Germany's Louisa Lippmann (14) and Croatia's Samanta Fabris (10) finished as their team's leading scorers in that match.

Germany won three of their four matches against Croatia in world level major tournaments, including a 3-1 win in the 2000 Olympic Games.

Croatia have won four of the seven meetings in the European Championship, including the semi-final match in the Netherlands in 1995 (3-0 in Arnhem).
Pool Preview
---
"The atmosphere on the team is really great right now. We are already qualified to the semis but we will still do our best to win this game. "
Anna Pogany
Libero for Germany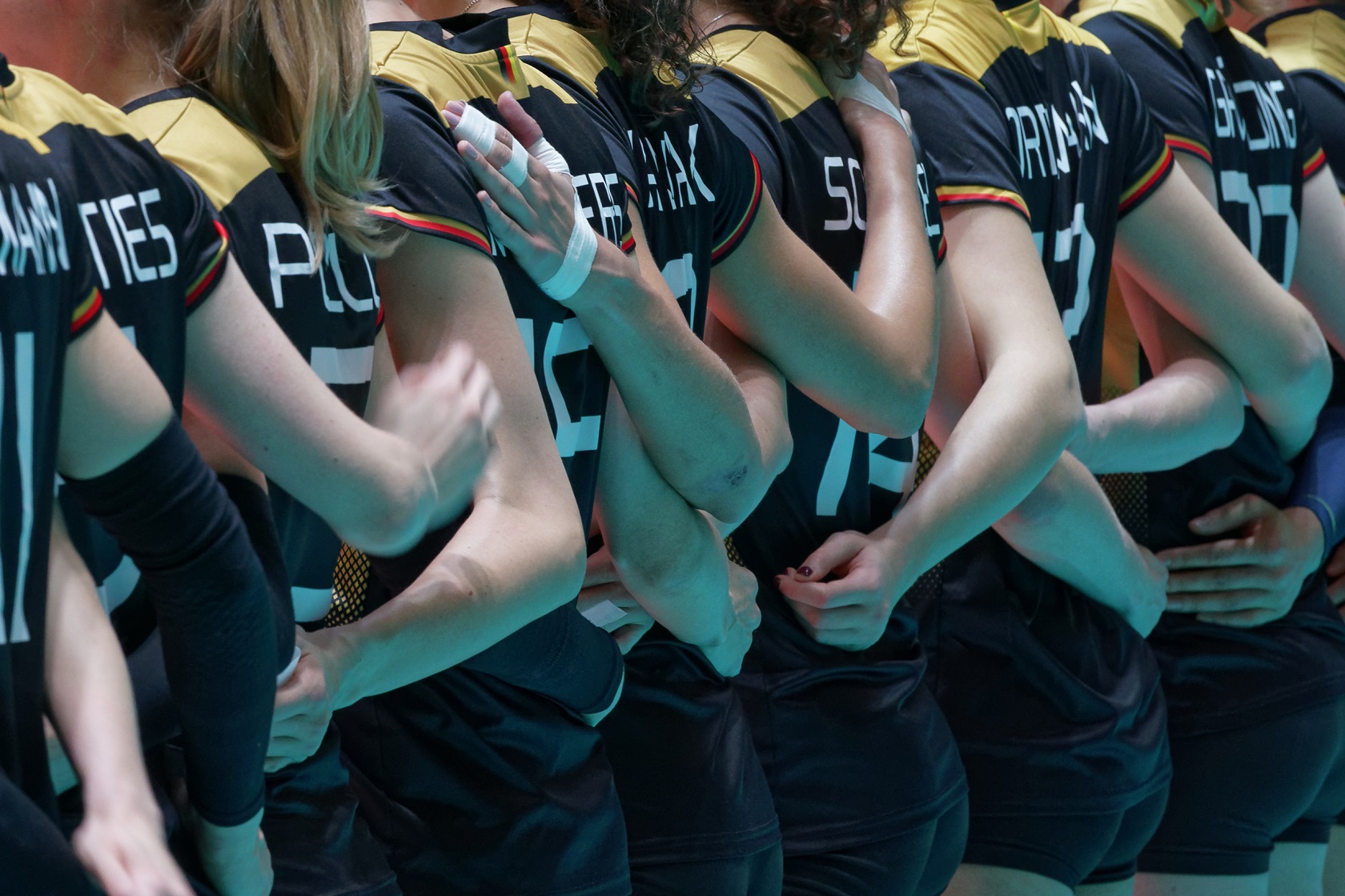 Germany stand together
"It is tough because we are alerady out but we respect the tournament and will try to win and to improve for next summer. "
Daniele Santarelli
Coach of Croatia
Germany
Germany have beaten Turkey and Belgium in CEV Tokyo Volleyball European Qualification 2020, both by a 3-1 scoreline.

Germany (NOC) are hoping to qualify for their fourth Olympic Games, after 1996, 2000 and 2004. East Germany and West Germany participated in five Games combined.

Louisa Lippmann (30) and Hanna Orthmann (25) were Germany's top scorers against Belgium. Lippmann (52) and Orthmann (48) are Germany's top scoring players in this tournament.

Camilla Weitzel (7), Orthmann (5) and Denise Hanke (3) have scored more than three aces for Germany.

Weitzel (7) also leads her team in kill blocks in this tournament.
Croatia
Croatia have registered 3-1 defeats against Turkey and Belgium in CEV Tokyo Volleyball European Qualification 2020.

Samanta Fabris (20), Martina Samadan (16), Matea Ikic (10) and Lucija Mlinar (10) all scored more than 10 points against Belgium.

Ikic (15), Fabris (14) and Samadan (14) also reached double figures against Turkey on Wednesday.

Samadan hit two of Croatia's four aces against Belgium on Thursday. Fabris and Bernarda Brcic provided one each.
Team
Team Profile
GERMANY
Address
Otto-Fleck-Schneise 8 FRANKFURT AM MAIN
Team Schedule
Previous Games
Team
Staff
Gallery
Disclaimer
Photos featured on the CEV Photo Galleries are downloadable copyright free for media purposes only and only if CEV is credited as the source material. They are protected by copyright for all other commercial purposes. Those wishing to use CEV Photo Gallery photos for other commercial purposes should contact press@cev.eu
Match Report
GERMANY v CROATIA

Article
Germany finished on top of Pool B at the continental Olympic qualifier in Apeldoorn undefeated after mastering a 3-0 (25-15, 25-17, 25-23) victory over Croatia on Friday. In a one-sided first set, young Germans Hanna Orthman and Camilla Weitzel were quite efficient in exerting their power on the court and led their team to an emphatic 25-15 win.
Croatia fought back in the beginning of the second set and managed to open a 7-2 lead. After 12-7, however, Germany scored five in a row to catch up and then took control for the rest of the set. Louisa Lippmann chipped in seven points in the set towards another emphatic win – 25-17.
The two sets won were already enough to secure the top of the final standings for Germany, so coach Felix Koslowski changed almost the entire line-up for the third. Still, with 22-year-old substitute opposite Kimberley Drewniok firing nine points, the Germans had the initiative for the most part of the set, building up to a four-point lead at 19-15. Croatia did not give up and reacted with four consecutive points to level the score and prompt an exciting epilogue. After 23-23, Drewniok spiked to deliver the match point, which was then converted on an opponent error to a 25-23 close.
Four players, Germany's Orthmann, Drewniok and Weitzel and Croatia's Sanja Gamma, shared the top scorer honours of the match with 10 points apiece.
Read more
Points
The combined total number of points scored by both teams throughout the entire match.
Duration
The total length of the match, from the first serve through until the last point has ended.
Spectators
Total number of people in attendance at the venue – taken at the end of the second set.
Match Spikes
The combined total number of successful spikes achieved by both teams throughout the entire match.
Reception Level
An average of the two team service reception percentages from the complete match.
Net Domination
The number of successful point winning blocks of GERMANY compared to CROATIA.
Ace Count
GERMANY number of service aces compared to CROATIA
Error Difference
Errors leading to points of GERMANY, next to those from CROATIA
"To go to the Olympics we have to beat every team. So tomorrow if its wither Poland or The Netherlands we are ready. We want to fight and give it our all to get the ticket."
Hannah Orthmann
Outside Hitter for Germany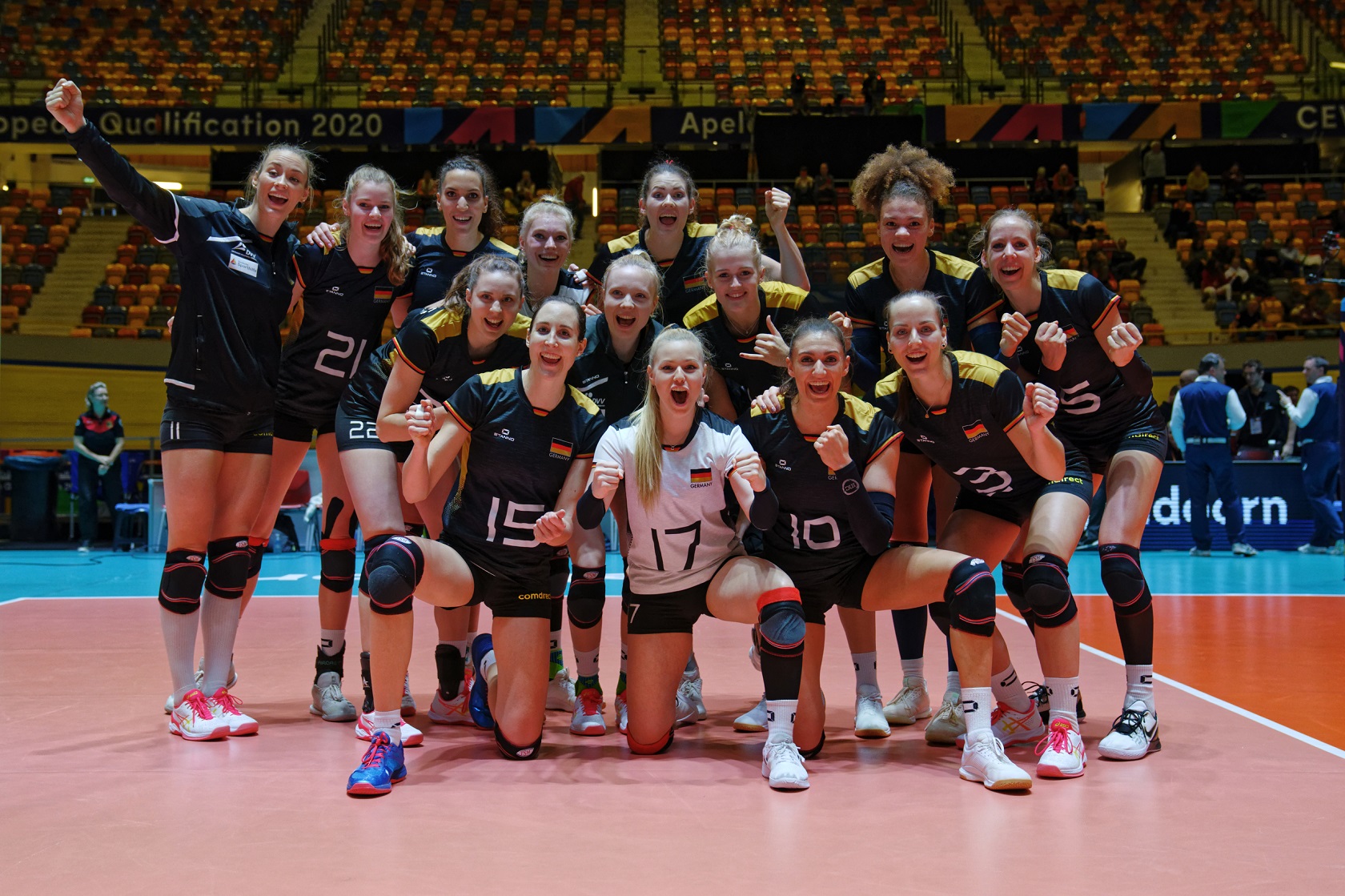 Germany top the pool winning all 3 matches