Overview
Head-to-Head
Germany and Turkey will meet for the second time this week. In the group phase last Tuesday, Germany won 3-1. Hanna Orthmann (23) and Louisa Lippmann (22) were top scorers in that match.

Turkey beat Germany 3-1 in last year's Intercontinental Olympic Qualification tournament in China. Ebrar Karakurt scored a match-high 16 points. Jana Franziska Poll and Louisa Lippmann finished as Germany's top scorers (14 points each).

These teams have met in each of the last five European Olympic Qualification tournaments (incl. 2020). Besides Germany's 3-1 win earlier this week, Turkey won in 2016 (3-1) and 2012 (3-1) and Germany won in 2008 (3-0) and 2004 (3-0).

Germany and Turkey played the final of the 2004 European Olympic Qualification tournament (3-0 Germany win).

Turkey have won their last four matches against Germany in world level major competitions (Olympic Games, World Championship, World Cup, World Grand Prix, Volleyball Nations League and Grand Champions Cup).
"We already won against them, so I'm excited to play them again. They didn't start so well in the tournament, but they have improved a lot. I'm excited for the match."
Marie Shoelzel
Middle Blocker for Germany

"I'm so excited for this match, we did a really great job yesterday. I hope we will keep fighting, and I hope we will win."
Simge Akoz
Libero for Turkey
Germany
Germany won all their matches in CEV Tokyo Volleyball European Qualification 2020, dropping only two sets. On Saturday, they beat hosts the Netherlands 3-0 in Apeldoorn.

Germany (NOC) are hoping to qualify for their fourth Olympic Games, after 1996, 2000 and 2004. East Germany and West Germany participated in five Games combined.

Germany won three of the previous six European Olympic Qualification tournaments, in 1996, 2000 and 2004. Russia won in 2008 and 2016, Turkey in 2012.

In the men's tournament, Germany lost their final against France in Berlin on Friday (3-0).

Louisa Lippmann (82) is the most prolific scorer in CEV Tokyo Volleyball European Qualification 2020. Lippmann (5.54) is also the only player in CEV Tokyo Volleyball European Qualification 2020 averaging more than five killing spikes per set.

Jennifer Geerties is the best receiver of the CEV Tokyo Volleyball European Qualification 2020, with a perfect receptions percentage of 47.92%.

Turkey
Turkey survived five match points against Poland on Saturday to win their semi-final 3-2.

Turkey could win the European Olympic Qualification tournament for the second time, after 2012, when they beat Poland in the final.

Turkey could qualify for their second Olympic Games, after London 2012, when they finished in joint-ninth place.

Meryem Boz is Turkey's top scorer in this tournament on 80 points, including a match-high 36 against Poland in the semi-final. Hande Baladin follows on 64 total points.

Eda Erdem completed 10 stuff blocks against Poland and is now the most prolific blocker in the tournament, on 22. Zehra Günes is second in this ranking, on 17.
Team
Team Profile
TURKEY
Address
Emniyet Mahallesi Milas Sokak, 9/A - Besevler ANKARA
Team Schedule
Previous Games
Team
Staff
Highlights
Joust at the net
---
Highlights
Turkey celebration
---
Gallery
Disclaimer
Photos featured on the CEV Photo Galleries are downloadable copyright free for media purposes only and only if CEV is credited as the source material. They are protected by copyright for all other commercial purposes. Those wishing to use CEV Photo Gallery photos for other commercial purposes should contact press@cev.eu
Match Report
Turkey Tokyo-bound after shutting out Germany in Apeldoorn final

Article
Points
The combined total number of points scored by both teams throughout the entire match.
Duration
The total length of the match, from the first serve through until the last point has ended.
Spectators
Total number of people in attendance at the venue – taken at the end of the second set.
Match Spikes
The combined total number of successful spikes achieved by both teams throughout the entire match.
Reception Level
An average of the two team service reception percentages from the complete match.
Net Domination
The number of successful point winning blocks of TURKEY compared to GERMANY.
Ace Count
TURKEY number of service aces compared to GERMANY
Error Difference
Errors leading to points of TURKEY, next to those from GERMANY
"To go to the Olympics, we had to do things that 95% of teams couldn't do, like beat Poland. 95% of teams wouldn't have energy today after two long matches in a row .We wanted to be that 5% of teams who could do it and go to the Olympics."
Giovanni Guidetti
Coach of Turkey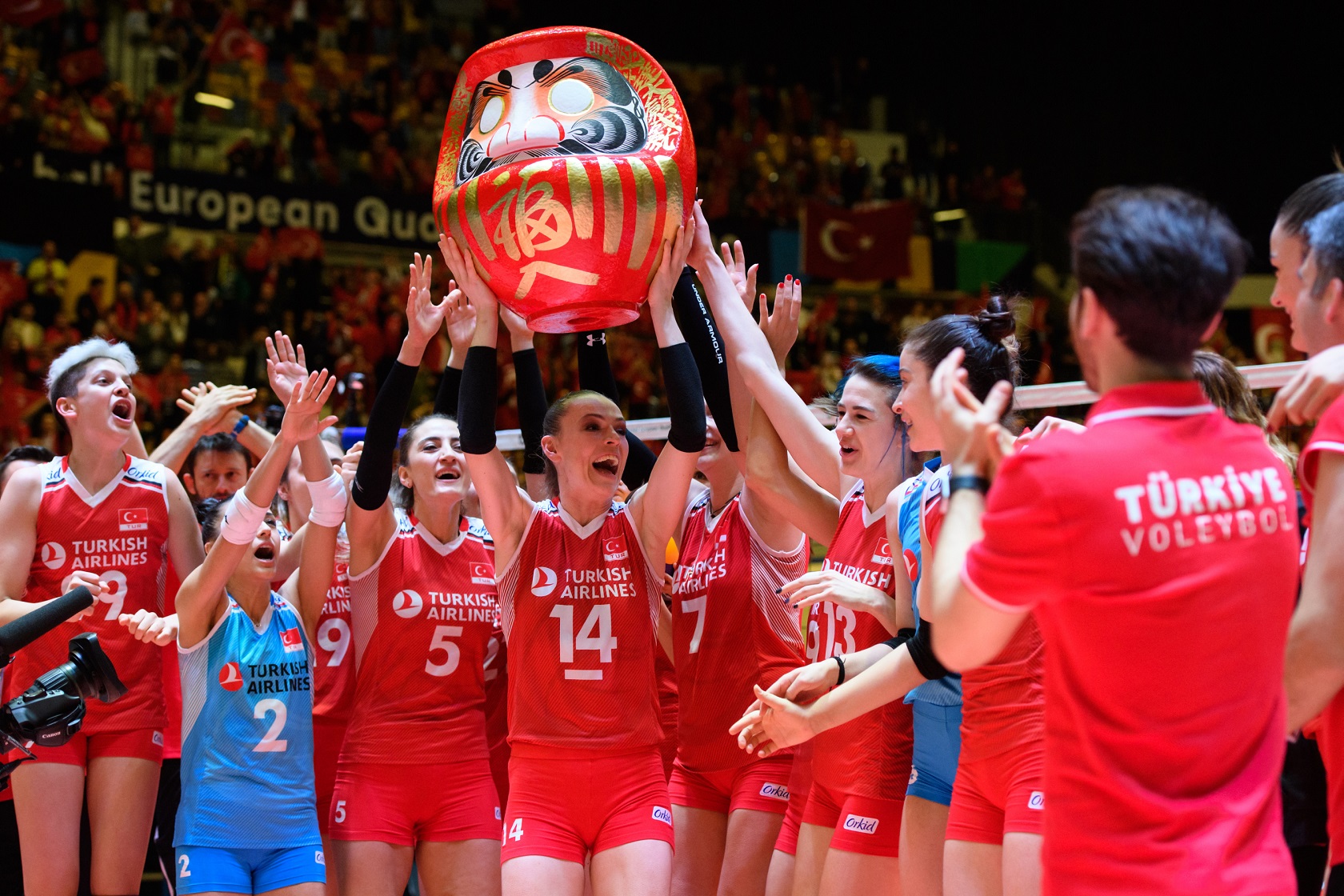 Turkey lift the Daruma Doll
"There is one thing that this team does very well. We belive in each other. We pass our energy to each other. We just want to be calm and focused. Today, our approach to the game was on a very high level, our coaching staff prepared us very well, we knew everything that Germany was going to do."
Eda Erdem
Captain of Turkey