Overview
Head-to-Head
Poland and Turkey met in three of the previous four European Olympic Qualification tournaments, including in the final in 2012. Turkey won 3-0 in front of a home crowd in Ankara to qualify for the 2012 Olympic Games.

Turkey also beat Poland 3-1 in the semi-finals in 2004, while Poland won 3-1 in the preliminary round in 2008.

On 7 September 2019, Poland and Turkey met in the semi-finals of the 2019 EuroVolley tournament. Turkey won 3-1 to reach the final.

Poland and Turkey met in the final of the 2003 EuroVolley tournament (3-0 Poland win) and in the final of the inaugural European Games in 2015 (3-0 Turkey win).

Turkey and Poland have met six times in world level major tournaments (Olympic Games, World Championship, World Cup, World Grand Prix, Nations League and Grand Champions Cup). The balance is even with three wins for each team.
"It was a tough loss in the semifinals of the European championship. Tureky is a tough team, maybe the best in the world. We will have a tough game but we are confident in ourselves. "
Magdelena Stysiak
Outside Hitter for Poland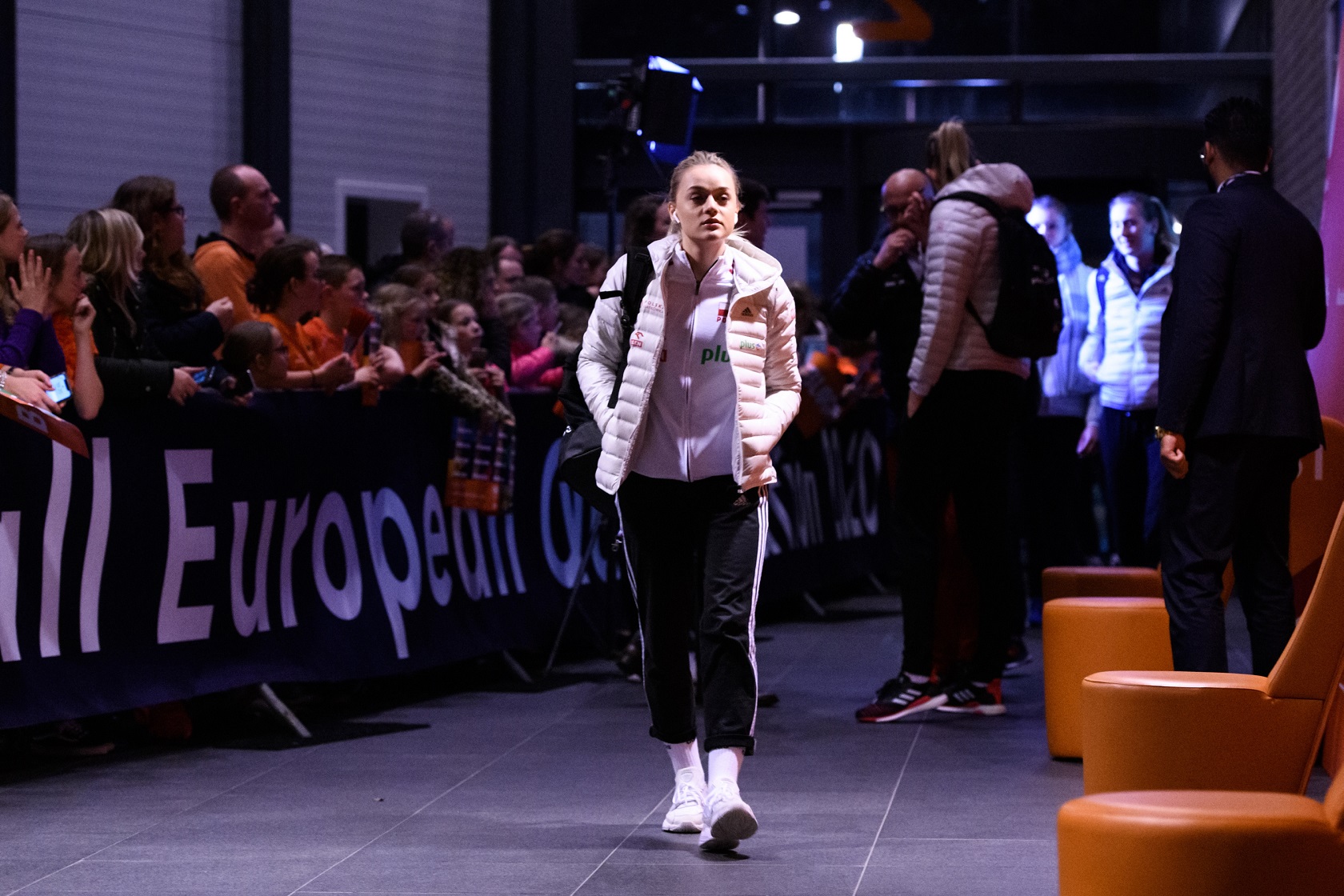 Polish libero Maria Stenzel
"The semi-final is the semi-final, we face off against Poland again like we did in the European Championship where we won. They have very physical players, very tall players, play a good defensive game. It will be a tough match."
Naz Ayedemir
Setter for Tureky
Poland
Poland won all of their three matches in CEV Tokyo Volleyball European Qualification 2020: 3-1 against Bulgaria, 3-1 against the Netherlands and 3-0 against Azerbaijan.

Poland are hoping to qualify for their fourth Olympic Games, after 1964, 1968 and 2008. They claimed the bronze medal in their first two appearances.

Malwina Smarzek-Godek is Poland's top scorer in the tournament: 53 points. Magdalena Stysiak follows on 50 points.

Only Germany's Louisa Lippmann (5.5) has averaged more killing spikes in CEV Tokyo Volleyball European Qualification 2020 than Smarzek-Godek (5.33).

Agnieszka Kakolewska has won a team high 11 points from stuff blocks in CEV Tokyo Volleyball European Qualification 2020.
Turkey
Turkey beat Belgium 3-2 on Friday to reach the semi-finals of the CEV Tokyo Volleyball European Qualification 2020. Turkey won the first two sets, lost the third and fourth and emerged victorious after a 15-10 win in the fifth set.

Meryem Boz scored five of Turkey 12 points (excluding opponent errors) in the deciding fifth set against Belgium.

Turkey made their only participation in the Olympic Games in 2012 (joint-9th). They qualified for that tournament after winning the European Olympic Qualification in 2012.

In qualifying for the 2012 Olympic Games, Turkey beat Russia 3-1 in the semi-finals and went on to win the final 3-0 against Poland.

Hande Baladin is Turkey's top scorer in this tournament on 48 points. Meryem Boz and Zehra Günes follow on 44 total points each.

Günes has scored 14 points from killing blocks, most of all players in CEV Tokyo Volleyball European Qualification 2020.
Team
Team Profile
POLAND
Address
ul. Puławska 383 WARSAW
Team Schedule
Previous Games
Team
Staff
Highlights
Turkey in a huddle
---
Highlights
Zehra Günes celebration
---
Highlights
Malwina celebration
---
Highlights
Kakolewska on the ground
---
Highlights
Hande Baladin passing
---
Highlights
Eda Erdem ready to serve
---
Highlights
Giovanni Guidetti
---
Highlights
Ebrar Karakurt
---
Gallery
Disclaimer
Photos featured on the CEV Photo Galleries are downloadable copyright free for media purposes only and only if CEV is credited as the source material. They are protected by copyright for all other commercial purposes. Those wishing to use CEV Photo Gallery photos for other commercial purposes should contact press@cev.eu
Match Report
Boz the boss as Turkey beat Poland in epic semifinal

Article
Turkey will get a re-match with Germany in Sunday's final of the European Olympic qualifier in Apeldoorn after an epic 3-2 (19-25, 25-18, 23-25, 33-31, 15-11) semifinal victory over Poland on Saturday. Turkish opposite Meryem Boz hammered out 36 points to top the charts, while captain Eda Erdem Dundar recorded 10 of the team's 22 stuff blocks in the match. Outside spiker Magdalena Stysiak was most prolific on the Polish squad with 25 points to her name.
After 11-11 in the first set, Poland took control of the scoreboard for good. With Magdalena Stysiak contributing seven points in the set, the Poles widened the gap to a 25-19 finish as Natalia Medrzyk spiked successfully for the last point. Turkey could not hold on to the early 6-2 lead they piled up in the second set, but after 12-12, they broke away with six points in a row on Zehra Gunes's serving and never looked back. The improved Turkish blocking contributed six points towards an emphatic 25-18 win, which levelled the match at one set each.
Turkey committed an increased number of unforced errors in the third set, while Poland stepped up their blocking effort. Coach Jacek Nawrocki's squad managed to build up a six-point lead at 15-9 and 16-10, but their opponents immediately brought it back to within one on another serving streak by Gunes. In the money time, the Turks even took the lead at 20-19 and 21-20, but the Poles stepped up front again and a kill block by Malwina Smarzek-Godek delivered the set point. Two rallies later, at 25-23, they had the set in their pocket.
Meryem Boz took charge in the epic fourth set, spearheading the Turkish offence on the way to an amazing 14-point individual tally. Turkey opened a gap as wide as 17-12, when Poland started their comeback to level the score at 19-19. They were the first to reach match point at 24-23, but failed to convert it, just as they did with the next four opportunities to win the game. On the other side, Turkey did not take advantage of the first three set points they had, but on the fourth, deep into overtime, Stysiak's hit went long to prompt a tie-breaker after 33-31 in favour of Turkey.
The gap never exceeded one point through 9-9 in the fifth set when Turkey broke away with a 12-9 lead and cruised on to the victory. As if to crown their individual achievements in this epic match, Eda Erdem Dundar delivered the 14-11 match point with her 10th kill block of the day and Meryem Boz converted it to a 15-11 triumph with a spike for her 36th point of the game.chart.
Read more
Points
The combined total number of points scored by both teams throughout the entire match.
Duration
The total length of the match, from the first serve through until the last point has ended.
Spectators
Total number of people in attendance at the venue – taken at the end of the second set.
Match Spikes
The combined total number of successful spikes achieved by both teams throughout the entire match.
Reception Level
An average of the two team service reception percentages from the complete match.
Net Domination
The number of successful point winning blocks of POLAND compared to TURKEY.
Ace Count
POLAND number of service aces compared to TURKEY
Error Difference
Errors leading to points of POLAND, next to those from TURKEY
"In a moment like this you just enjoy it, and you leave it to the players. Win or lose, we are doing something exciting out there. We are fighting for every ball like crazy, we don't want to give up. I see my players diving for every ball, I see the Polish players diving for every ball. <so I can't do anything but enjoy it."
Giovanni Guidetti
Coach of Turkey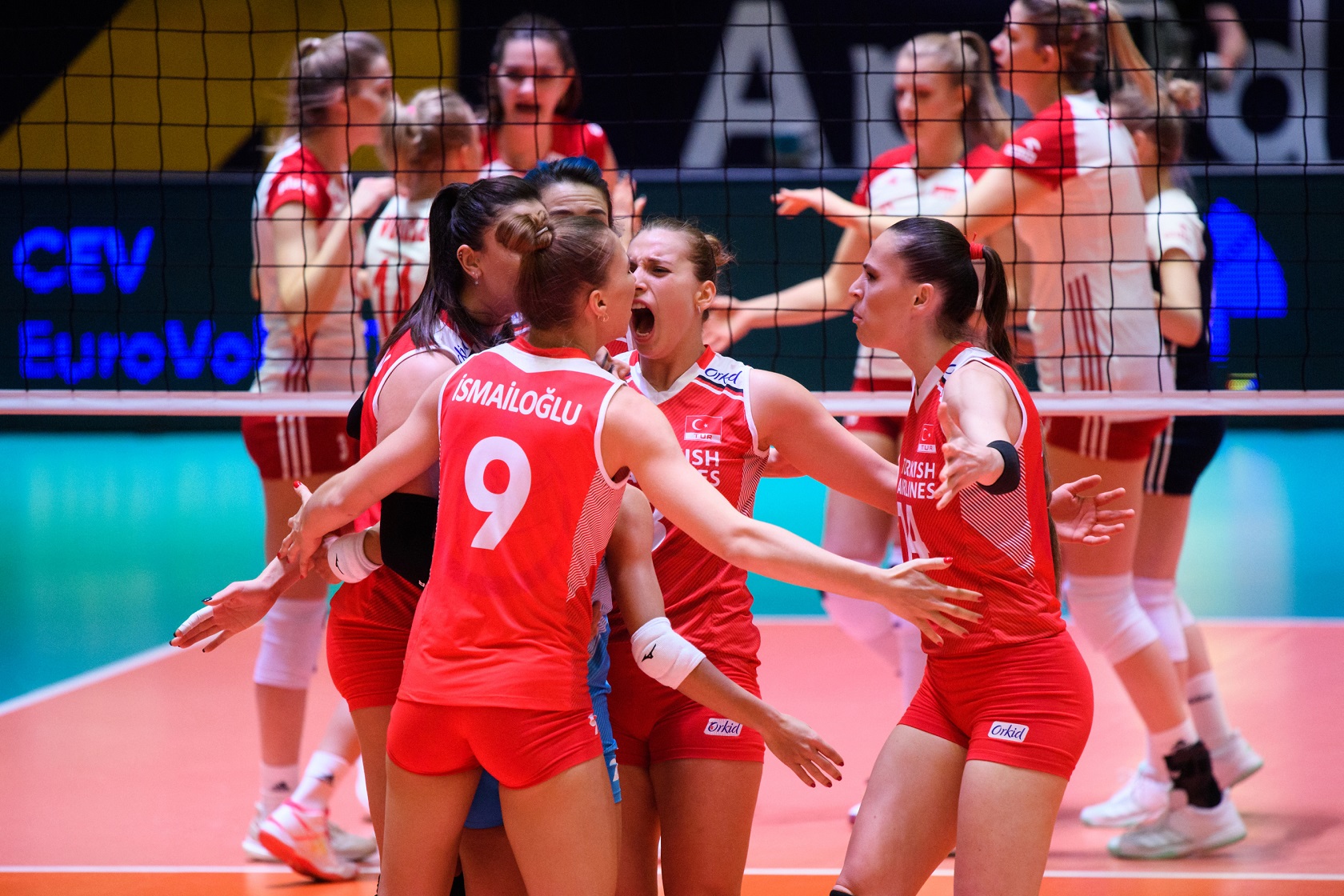 Turkey celebrate an early point