Overview
Head-to-Head
Belgium and Czech Republic will meet for the first time in a European Olympic Qualification Tournament.

These nations last met in a world level major tournament (World Championship, World League, Olympic Games, Grand Champions Cup, World Cup and Volleyball Nations League) in 1970, when Czechoslovakia beat Belgium in straight sets in the World Championship final round.

These teams' only other meeting in world level major competitions came at the 1968 Olympic Games, where Czechoslovakia recorded a 3-0 round robin win over Belgium in Mexico City.
Facts & Figures
---
Belgium
Belgium began their CEV Tokyo Volleyball Olympic Qualification 2020 campaign with 3-0 defeats against Slovenia and Germany.

Belgium have now lost all five of their matches in European Olympic Qualification tournaments. Their only set win came in a 3-1 loss against Serbia in 2016.

Sam Deroo was Belgium's top scorer against Germany – 19 points. Deroo was the only Belgian player to score more than six points.

Stijn D'Hulst hit two of Belgium's four aces, while Deroo and Arno Vandevelde (2 each) combined for their four stuff blocks against Germany on Monday.
Czech Republic
Czech Republic lost their opener 3-0 against hosts Germany.

Czech Republic (NOC) could still qualify for the Olympic Games for the first time. Czechoslovakia participated in the Olympic Games from 1964 to 1980 (5 times).

Patrik Indra (13), Lukas Vasina (13) and Jan Galabov (12) were Czech Republic's most prolific scorers against Germany on Sunday.

Adam Zajicek had three stuff blocks against Germany, half of his team's complete production (6) and as many as the full German team combined (3).
Team
Team Profile

BELGIUM

Address
p.a. HIVE5 Cours St Michel 30 A, 2° étage Etterbeek
Team Schedule
Previous Games
Team
Staff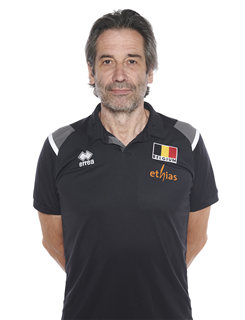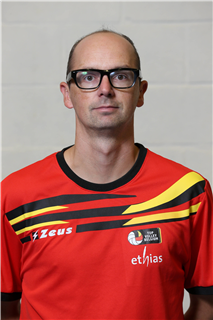 Highlights
Spike of Lukas VASINA
---
Highlights
Detail of Czech Republic's block
---
Highlights
Wout D'HEER looking at the Video Challenge result
---
Highlights
Belgium celebrate
---
Highlights
Jolan COX celebrates
---
Gallery
Disclaimer
Photos featured on the CEV Photo Galleries are downloadable copyright free for media purposes only and only if CEV is credited as the source material. They are protected by copyright for all other commercial purposes. Those wishing to use CEV Photo Gallery photos for other commercial purposes should contact press@cev.eu
Match Report
Germany on to semis as Belgians and Czechs play five sets

Article
Germany became the first team to secure a spot in the semifinals of the men's continental Olympic qualifier, after Belgium defeated Czech Republic in five sets – 3-2 (21-25, 28-26, 25-20, 22-25, 19-17) – with captain Sam Deroo and main setter Stijn D'Hulst resting, while Jolan Cox hammered out a fantastic 41 points, including five aces. Their team finished the tournament on a 1-2 win-loss record without a shot at making the semis.
The Czech serving made the difference in the first set, contributing as many as four aces towards the 25-21 win, shaped up with an off-the-block spike by Lukas Vasina for the winning point. The Belgians recovered from a six-point gap, which the Czechs maintained for a while during the second set, to prompt an exciting epilogue. With Jolan Cox spearheading the offence, Belgium caught up at 20-20 and pushed the set deep into overtime. Wout D'Heer brought the set to an end with an ace for 28-26. In the third set the lead changed hands several times. After 20-20, however, the Belgians were unstoppable. On D'Heer's serving, they scored five in a row, crowned by a mega rally, in which they defended a number of powerful Czech attacks before Kevin Klinkenberg finished it off with a kill block for 25-20. In the money time of a very tight fourth set, Czech Republic proved more focused and levelled the match after 25-22.
The fierce battle continued in the tie-breaker. The Czechs recovered from a six-set deficit to take a 13-11 lead, but the Belgians denied all four of their match points before dramatically stepping ahead again with Tomas Rousseaux spiking for the 19-17 close.
Read more
Points
The combined total number of points scored by both teams throughout the entire match.
Duration
The total length of the match, from the first serve through until the last point has ended.
Spectators
Total number of people in attendance at the venue – taken at the end of the second set.
Match Spikes
The combined total number of successful spikes achieved by both teams throughout the entire match.
Reception Level
An average of the two team service reception percentages from the complete match.
Net Domination
The number of successful point winning blocks of BELGIUM compared to CZECH REPUBLIC.
Ace Count
BELGIUM number of service aces compared to CZECH REPUBLIC
Error Difference
Errors leading to points of BELGIUM, next to those from CZECH REPUBLIC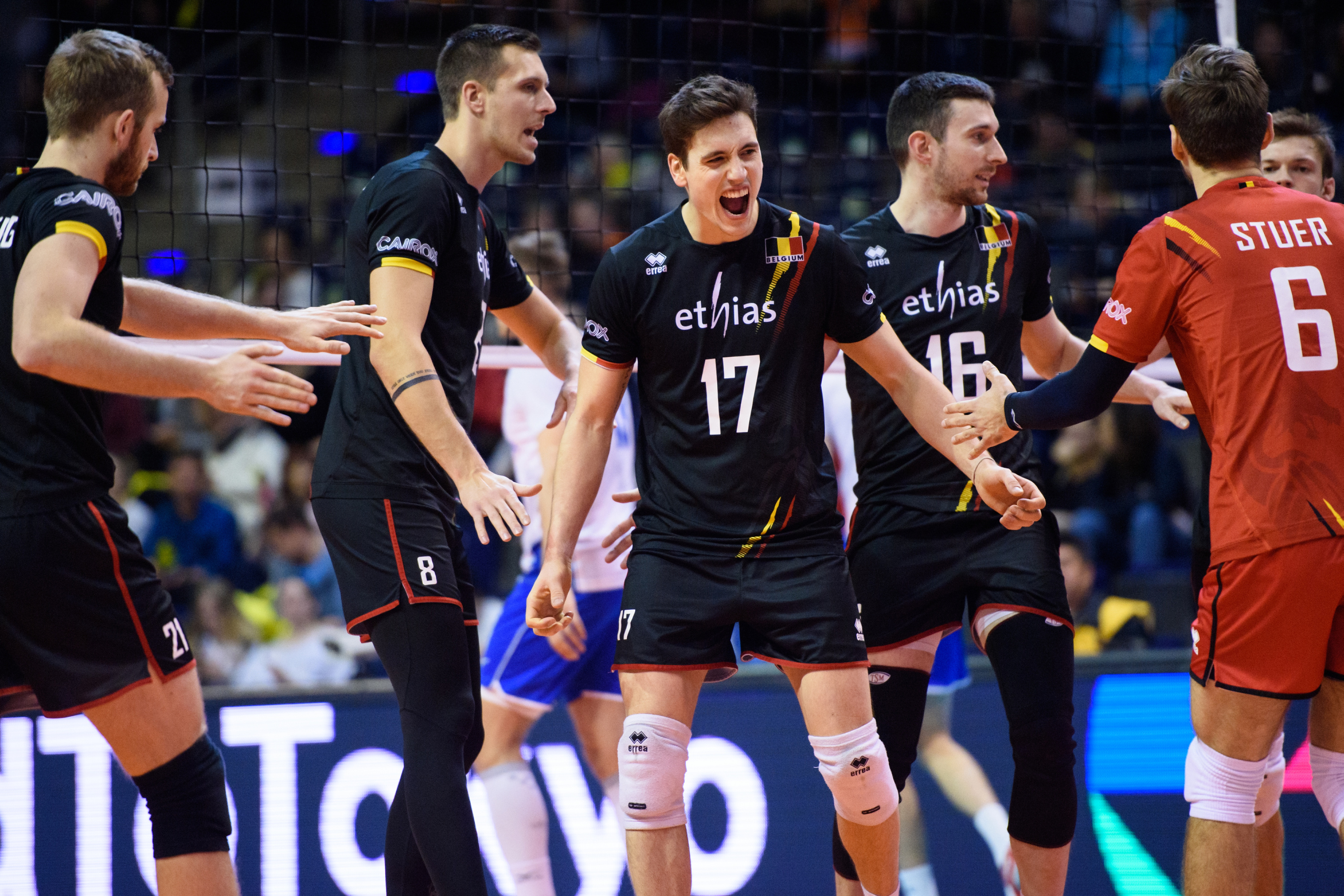 Team Belgium celebrate the victory
Jakub Janouch, Czech Republic Captain: "The image of the game was more or less the same like yesterday even if we did win two sets but we were not able to finish the second one we were winning four/five points difference and you could see how we finished the fifth one. We had some chances but we didn't take it. Of course we have a young team and all of this, but today I am maybe more disappointed than yesterday. On this tournament every match is hard, every opponent. We have to improve our skills, our whole things to bring on the court, to take some risk in the good moment, to be patient in some moments, to fight the way how to play because these young players, sometimes they don't know at these moments. In this case maybe we can apologize them but sometimes we have to be also critical."
Dominique Baeyens, Belgium Head Coach: "I am happy for today. I'm not happy with the tournament of course. But today yes because indeed, I started with some new players. We talked with the players last evening and some are injured, like they were already all the tournament so we didn't any risks in this case. Others they told me that they were really tired, then I said okay maybe it's in our game to play with other players, with younger players. Maybe they have to show now what they can do with the future with the Belgian national team. And I think it was quite good. The last set was incredible. I mean we were leading all the time… And then in one rotation we couldn't score, it was crazy. They were leading 13-11 and then in the end, okay, we win…. It was really insane."