Overview
Head-to-Head
Slovenia and Czech Republic will meet for the first time in a European Olympic Qualification tournament.

These nations' only meeting in a world level major competition (World Championship, World League, Olympic Games, Grand Champions Cup, World Cup and Volleyball Nations League) came in the 2017 World League, where Slovenia beat Czech Republic 3-1 in the preliminary round. Alen Šket scored 21 points, at least six more than any other player on the court.

Czech Republic beat Slovenia 3-1 in the 2001 European Championship group phase, these teams' only meeting in the history of the competition.
Facts & Figures
---
Slovenia
Slovenia followed up a straight-set win against Belgium in their opener on Sunday with a five-set victory over Germany in their second CEV Tokyo Volleyball Olympic Qualification 2020 match on Tuesday.

Slovenia are hoping to qualify for their first ever Olympic Games.

Toncek Stern scored a total of 40 points in Slovenia's opening two matches in Berlin, more than any of his teammates.

Only Klemen Cebulj (25) scored more points in Slovenia's 3-2 win over Germany than Toncek Stern (20).

Klemen Cebulj (4) and Tine Urnaut (4) combined for eight of Slovenia's 10 aces against Germany.
Czech Republic
Czech Republic lost 3-2 against Belgium on Tuesday, after losing 3-0 against hosts Germany in their opener.

Czech Republic's only victory in a European Olympic Qualification match came in 2000 against Latvia (3-2).

Patrik Indra was Czech Republic's top scorer in both their opening two CEV Tokyo Volleyball Olympic Qualification 2020 matches - 13 points against Germany and 28 points against Belgium.

Lukas Vasina (13 & 16) and Jan Galabov (12 & 23) also reached double figures for Czech Republic in both matches in Berlin.

Jakub Janouch (3) and Galabov (3) combined for six of Czech Republic's eight aces against Belgium.
Team
Team Profile
SLOVENIA
Address
Črnuška cesta 9 Ljubljana - Črnuče
Team Schedule
Previous Games
Team
Staff
Highlights
National anthem of Czech Republic
---
Highlights
National anthem of Slovenia
---
Highlights
Defence of Jani KOVACIC
---
Highlights
Lubos BARTUNEK attempt to save a ball
---
Highlights
Tine URNAUT serving
---
Highlights
Powerful spike of Mitja GASPARINI
---
Highlights
Ziga STERN monster block
---
Highlights
Rok MOZIC (17 y.o.) at his first appearance with the Senior team of Slovenia
---
Highlights
The "traditional" selfie of Slovenia at the end of the match
---
Gallery
Disclaimer
Photos featured on the CEV Photo Galleries are downloadable copyright free for media purposes only and only if CEV is credited as the source material. They are protected by copyright for all other commercial purposes. Those wishing to use CEV Photo Gallery photos for other commercial purposes should contact press@cev.eu
Match Report
Slovenia snatch third win to top Pool A

Article
Slovenia finished their Pool A campaign undefeated, topping the final standings after a 3-1 (25-12, 28-26, 19-25, 28-26) win over Czech Republic on the way to the semifinals of the continental Olympic qualifier in Berlin.
The EuroVolley runners-up entered the match in full force and completely dominated the first set on the way to a 25-12 landslide. Coach Alberto Giuliani made several changes to his squad for the start of the second set.
Slovenia quickly recovered from an early four-point deficit and soon themselves gained a four-point lead. It was Czech Republic's turn to catch up, which they did at 20-20 to prompt an interesting ending. The set went into overtime, the Slovenes denied three Czech set points before Mitja Gasparini aced for a set point of their own and Ziga Stern converted it to a 28-26 win with a powerful spike.
With Petr Michalek spearheading the offence, the Czechs were well in control of the third set. Greatly reducing the number of unforced errors, they made their way to a 25-19 win.
Coming in as a sub, Toncek Stern took charge of the Slovenian offence in the fourth set, nicely assisted by 17-year-old newcomer, outside spiker Rok Mozic, enough to make up for the improved blocking effort of the Czechs. Similar to the second set, Slovenia denied three set points for the Czechs before Toncek Stern finally closed the match at 28-26 with a successful attack. Czech Republic's Patrik Indra was the best scorer of the game with 19 points to his name. Jan Kozamernik scored 15 times for the winners.
Read more
Points
The combined total number of points scored by both teams throughout the entire match.
Duration
The total length of the match, from the first serve through until the last point has ended.
Spectators
Total number of people in attendance at the venue – taken at the end of the second set.
Match Spikes
The combined total number of successful spikes achieved by both teams throughout the entire match.
Reception Level
An average of the two team service reception percentages from the complete match.
Net Domination
The number of successful point winning blocks of SLOVENIA compared to CZECH REPUBLIC.
Ace Count
SLOVENIA number of service aces compared to CZECH REPUBLIC
Error Difference
Errors leading to points of SLOVENIA, next to those from CZECH REPUBLIC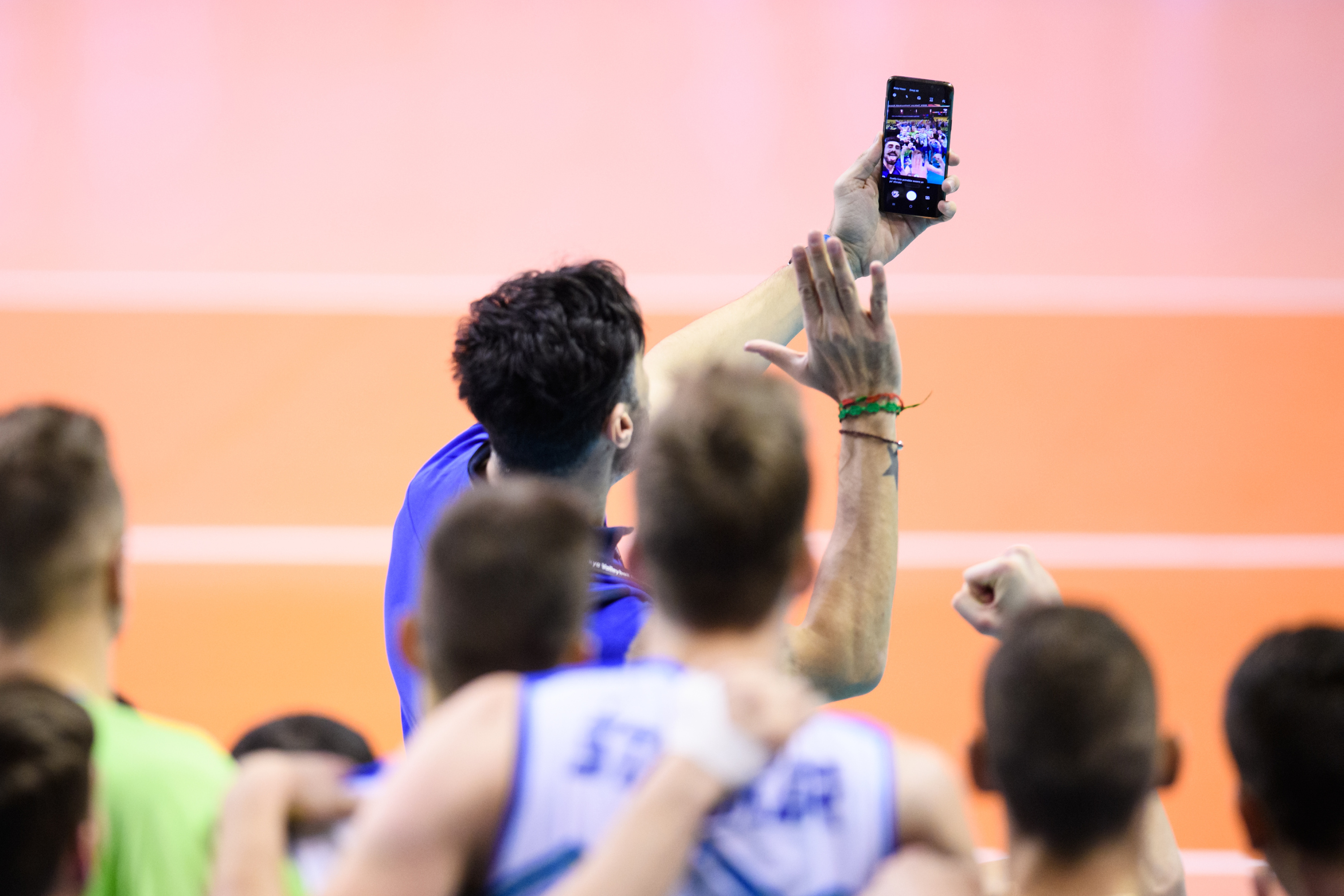 The "traditional" selfie of Slovenia at the end of the match
Tine Urnaut, captain of Slovenia: "Today we went to win the match and that's the most important thing. We changed a little bit the start-up, we changed during the match. But the most important thing was to win. Tomorrow will be a very tough match against France. They are the favourites of the semi-final, maybe also the whole tournament. And we know that we need to play quality Volleyball if we want to win."