Overview
Head-to-Head
This century, Slovenia and France will meet for the first time in a European Olympic Qualifying Tournament.

Slovenia and France also met in the round robin of the Intercontinental Olympic Qualifying Tournament for Tokyo 2020 in Gdansk, Poland. On 9 August 2019, France won 3-0.

Slovenia and France met twice in European Championships, most notably in the final of the 2015 tournament (pictured). In Sofia, France won in straight sets to claim the title.

The other European Championship match between France and Slovenia took place in 2007, in Saint Petersburg. France won that match also by a 3-0 scoreline.
Slovenia
Slovenia advanced to the semi-finals as the winner of Pool A. They beat Belgium 3-0, Germany 3-2 and Czech Republic 3-1.

Slovenia have never been present at Olympic Games. In their last European Qualification Tournament, in 2012, they lost all three of their matches.

Toncek Stern was Slovenia's top scorer in the group phase, on 53 total points.

Slovenia have the three top receivers of CEV Tokyo Volleyball European Qualification 2020 in their ranks – Klemen Cebulj (31.82%), Jani Kovacic (31.67%) and Tine Urnaut (28.00%).
France
France reached the last four after winning only one of their three matches: 3-0 against Serbia. They lost five-setters against Bulgaria and the Netherlands.

After coming in joint-ninth place at Rio 2016, France could qualify for back-to-back Olympic Games. They did this on one previous occasion – Seoul 1988 (8th) and Barcelona 1992 (11th).

Jean Patry is France's top scorer this tournament, totalling 49 points in three matches (10 sets).

Barthélémy Chinenyeze won seven points from stuff blocks in the group phase, only trailing Czech Republic's Adam Zajicek (10) and Bulgaria's Viktor Yosifov (9).
Team
Team Profile

SLOVENIA

Address
Črnuška cesta 9 Ljubljana - Črnuče
Team Schedule
Previous Games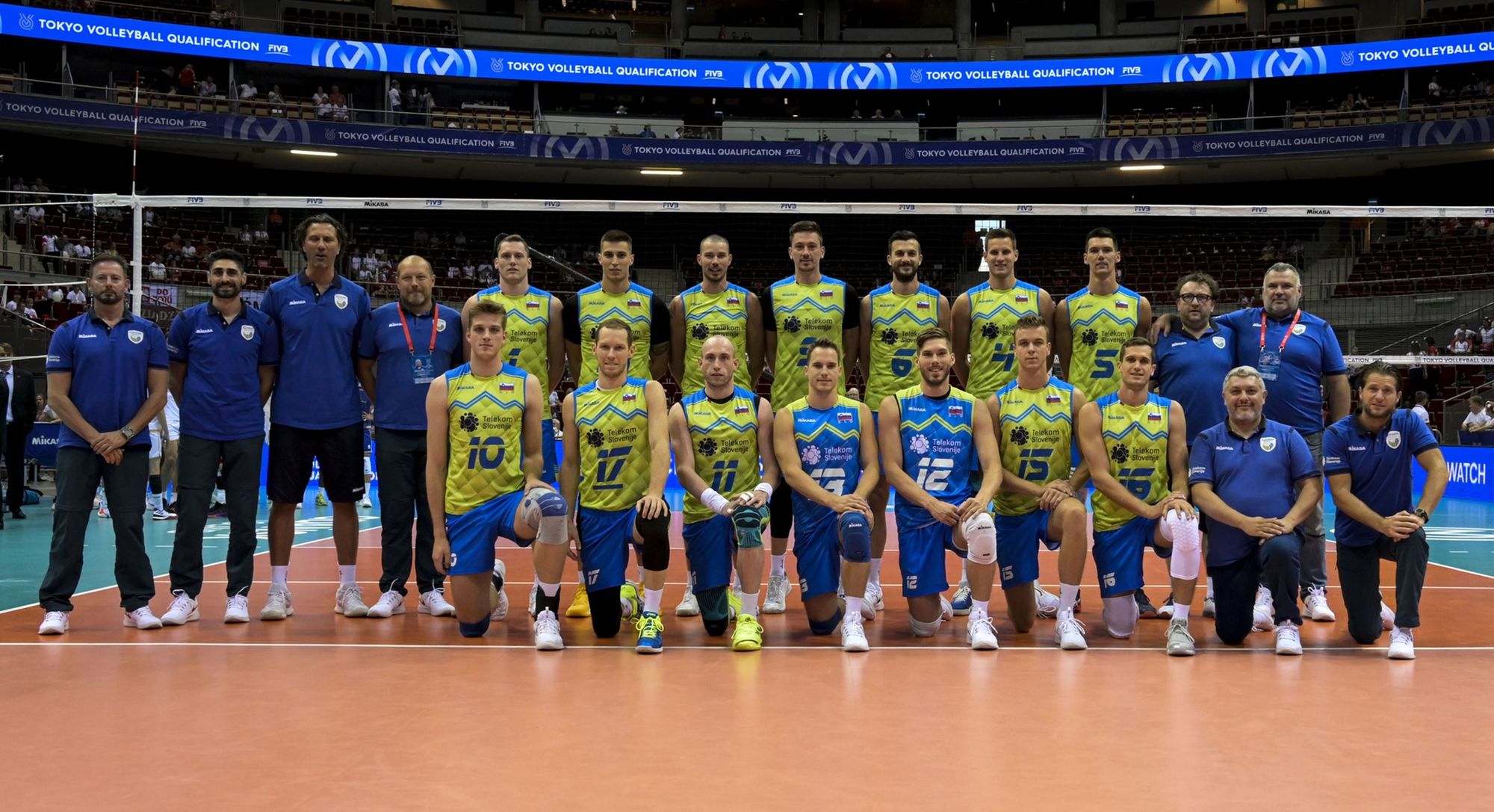 Team
Staff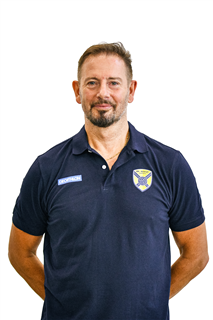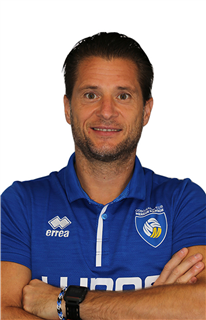 Highlights
Match official volleyballs
---
Highlights
Aerial view during the National anthem of France
---
Highlights
Aerial view during the National anthem of Slovenia
---
Highlights
France starting-six presentation
---
Highlights
Slovenia starting-six presentation
---
Highlights
Benjamin TONIUTTI, Setter of France
---
Highlights
Super spike of Toncek STERN
---
Highlights
Fans at the Max-Schmeling-Halle
---
Highlights
Super spike of Jean PATRY
---
Highlights
Celebration of Yacine LOUATI
---
Gallery
Disclaimer
Photos featured on the CEV Photo Galleries are downloadable copyright free for media purposes only and only if CEV is credited as the source material. They are protected by copyright for all other commercial purposes. Those wishing to use CEV Photo Gallery photos for other commercial purposes should contact press@cev.eu
Match Report
France resurrect from two sets down to make Berlin final!

Article
France accomplished a phenomenal comeback from two sets down in their semifinal against Slovenia to emerge with a 3-2 (13-25, 22-25, 25-14, 25-21, 15-9) victory and a spot in Friday's crucial final of the men's continental Olympic qualifier in Berlin.
With Toncek Stern leading the way with eight points, Slovenia left France no chance to properly enter the match in the first set and completely outplayed the opponents. They stormed in on an 8-2 run and continued to expand the gap towards a 25-13 landslide.
The second set was less one-sided, but Stern continued to spike away to keep his team in control. He nailed eight points in attack including the one that ended the set at 25-22 to double Slovenia's lead.
The Slovenes maintained a slight lead for a while in the beginning of the third set, but after 10-8, the French resurrected for their spectacular comeback with a 13-1 run to break away with a 21-11 advantage and then cruise on comfortably to a 25-14 close.
With four in a row, France went 10-7 ahead in the fourth set and took control of the scoreboard for good. They piled up as many as eight kill blocks towards the 25-21 win, with Jean Patry spiking the last point, to level the match.
Antoine Brizard exploded with three aces within a five-point run, which gave France an 8-3 advantage in the tie-breaker. Through the end, the French were unstoppable. Nicolas Le Goff hit the winner for 15-9 to complete the incredible turnaround. Jean Patry's 22 points made him the best scorer of the match. Toncek Stern accounted for 20 on the Slovenian side.
Read more
Points
The combined total number of points scored by both teams throughout the entire match.
Duration
The total length of the match, from the first serve through until the last point has ended.
Spectators
Total number of people in attendance at the venue – taken at the end of the second set.
Match Spikes
The combined total number of successful spikes achieved by both teams throughout the entire match.
Reception Level
An average of the two team service reception percentages from the complete match.
Net Domination
The number of successful point winning blocks of SLOVENIA compared to FRANCE.
Ace Count
SLOVENIA number of service aces compared to FRANCE
Error Difference
Errors leading to points of SLOVENIA, next to those from FRANCE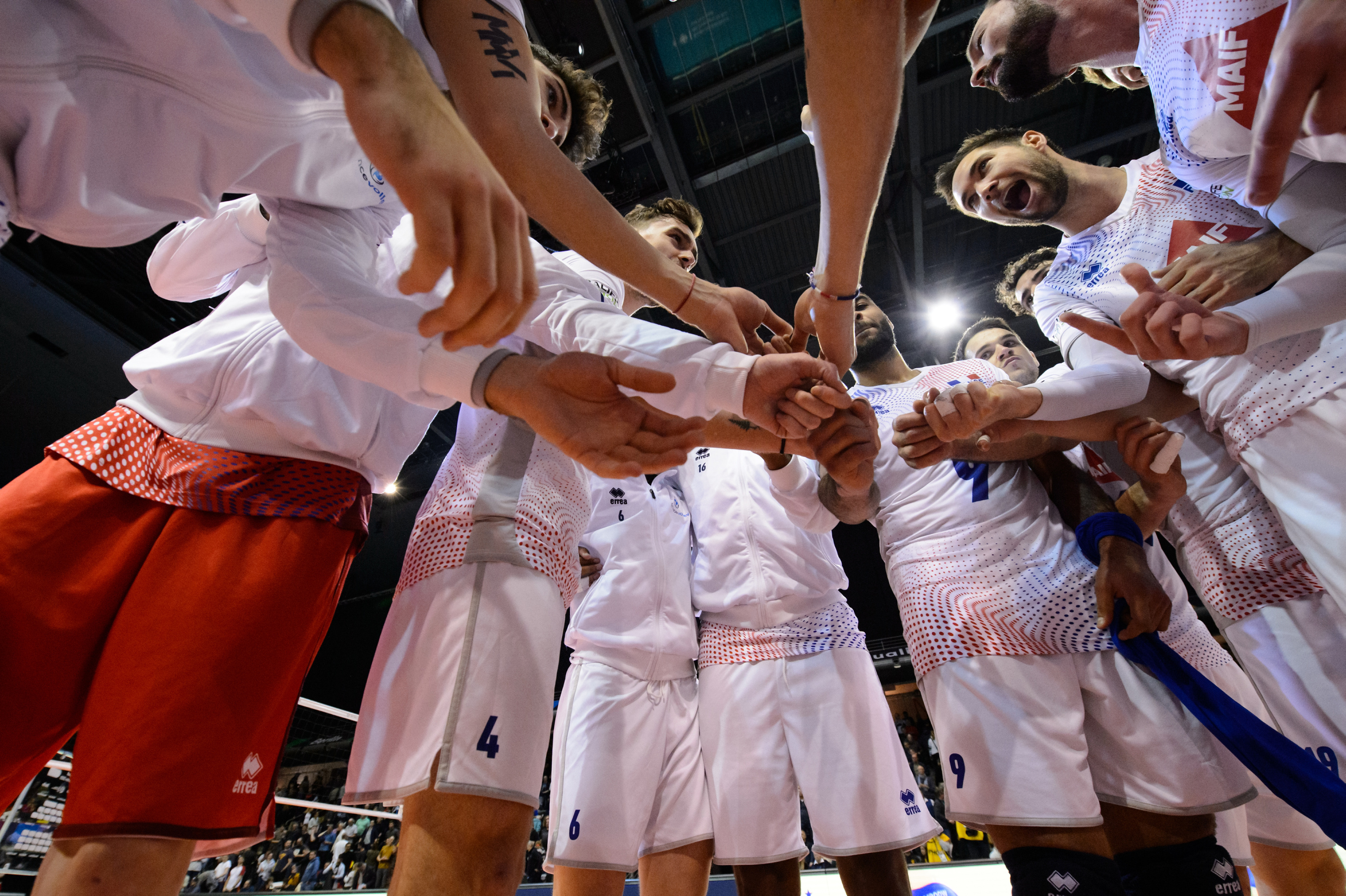 Post-match celebrations of Team France
Laurent Tillie, Head Coach of France: "Incredible game. I think we are patient. Slovenia was playing so well, physically with a strong service, strong blocks, strong attack. They received very well too. So we had no solution, only just trying to stay on the court, just spending time waiting, waiting, waiting. And then the two entries like Louati and Brizard brought a lot of energy and changed the beat. And I think the situation changed and Slovenia had a lot to lose and we had nothing to lose."
Tine Urnaut, Captain of Slovenia: "We were dominating the first two sets, we were dominating on the court and the third set we lost some opportunities for the defence, for counter-attack. We did not lose in the first two sets and France started to play much better. They were doing side-outs easy and they were serving really good. They played better in the last three sets."