Overview
Head-to-Head
Germany and Slovenia will meet for the first time in a European Olympic Qualification Tournament.

Slovenia beat Germany 3-1 in the World League in 2016 in their only meeting in a world level major tournament (World Championship, World League, Olympic Games, Grand Champions Cup, World Cup and Volleyball Nations League).

That meeting was the World League final in Group 3 in Frankfurt. Tine Urnaut scored a match-high 17 points in that match (including 16 from spikes).
Facts & Figures
---
Germany
Germany started their CEV Tokyo Volleyball Olympic Qualification 2020 campaign on home soil with 3-0 wins over Czech Republic and Belgium.

György Grozer was the top scorer in Germany's matches against Czech Republic (21 points) and Belgium (22). Christian Fromm (16 and 10) and Denys Kaliberda (12 and 10) also reached double figures in both encounters.

Against Belgium, Grozer also was Germany's most prolific server (2 aces) and blocker (3 stuff blocks, Tobias Krick also 3).

Coach Andrea Giani was in charge of Slovenia between 2015 and 2016. He guided Slovenia to the 2015 European Championship final (3-0 defeat against France). Two years later, he helped Germany reach the gold medal match of the European Championship – where they lost to Russia 3-2.
Slovenia
Slovenia beat Belgium 3-0 on Sunday in their opening match of CEV Tokyo Volleyball Olympic Qualification 2020.

Slovenia are hoping to qualify for the Olympic Games for the first time.

Toncek Stern scored 20 of Slovenia's 51 points (excl. opponent errors) against Belgium. Tine Urnaut had 10.

Stern's 20 points included three aces on Sunday, as many as the whole Belgian team combined.
Team
Team Profile
GERMANY
Address
Otto-Fleck-Schneise 8 FRANKFURT AM MAIN
Team Schedule
Next Game
Previous Games
Team
Staff
Highlights
Slovenia National Anthem
---
Highlights
Germany National Anthem
---
Highlights
Slovenian fans at the Max-Schmeling-Halle
---
Highlights
Team Slovenia celebrate
---
Highlights
Andrea GIANI, head coach of Germany
---
Highlights
Lukas KAMPA give instructions to his teammates
---
Highlights
Slovenian fans
---
Highlights
CEV President, Mr Aleksandar Boričić
---
Highlights
Reception of Ruben SCHOTT
---
Highlights
Stefano CESARI, first referee of the match
---
Gallery
Disclaimer
Photos featured on the CEV Photo Galleries are downloadable copyright free for media purposes only and only if CEV is credited as the source material. They are protected by copyright for all other commercial purposes. Those wishing to use CEV Photo Gallery photos for other commercial purposes should contact press@cev.eu
Match Report
Slovenia beat Germany to join them into semis

Article
Slovenia battled it out for a 3-2 (32-34, 25-20, 19-25, 25-21, 15-12) victory over Germany to join the home team into the semifinals of the continental Olympic qualifier in Berlin. The two teams are unreachable in the top two positions of the Pool A standings.
Without injured Gyorgy Grozer in the starting line-up, the Germans stormed into the match on a 7-1 run, decorated with two aces by Christian Fromm, but the Slovenians stepped up their blocking efforts to gradually catch up at 20-20 and prompt an epic conclusion. They were the first to reach set point, but it was only one of many. Slovenia missed out on a total of seven opportunities to win the set. Germany did it on their third set point off of a mishit by Toncek Stern for 34-32.
It was Stern again who closed the second set, but this time in favour of his own team with a successful back-row hit for 25-20, after Slovenia had dominated the second half of the set led by some great work from their setter Dejan Vincic.
With substitute setter Jan Zimmermann doing a fabulous job on the court in the third set, the home side was well in control and cruised to a 25-19 win, shaped up with a blistering ace by Ruben Schott. With many of the German starters now off the court, Slovenia took control of the next two sets.
With Klemen Cebulj and Toncek Stern spearheading their offence, they pushed on to turn things around to a 3-2 win after 25-21 and 15-12. Cebulj was the best scorer of the match with 25 points, including four aces, to his name.
Read more
Points
The combined total number of points scored by both teams throughout the entire match.
Duration
The total length of the match, from the first serve through until the last point has ended.
Spectators
Total number of people in attendance at the venue – taken at the end of the second set.
Match Spikes
The combined total number of successful spikes achieved by both teams throughout the entire match.
Reception Level
An average of the two team service reception percentages from the complete match.
Net Domination
The number of successful point winning blocks of GERMANY compared to SLOVENIA.
Ace Count
GERMANY number of service aces compared to SLOVENIA
Error Difference
Errors leading to points of GERMANY, next to those from SLOVENIA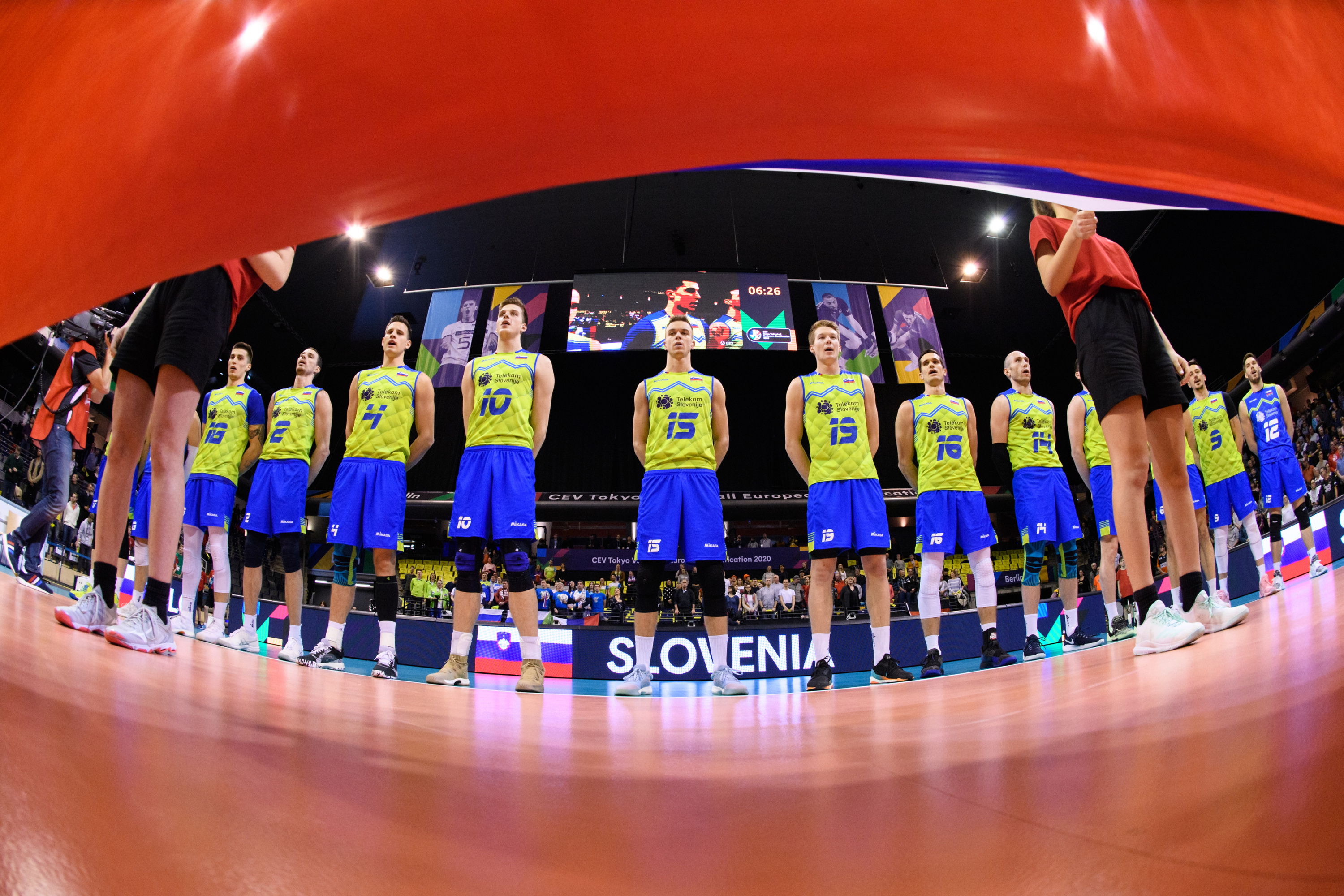 Team Slovenia during the National Anthem
Lukas Kampa, Captain of Germany: "Of course it was our goal to win but it was still a good performance from us. It was really hard work to reach the semis here and that´s the most important fact. So it is not important to finish it on the first place because of the do or die games in front of us. If you want to get the ticket you have to beat all teams and we made just the first step. We will use Wednesday to have a little rest to be in a good shape on Thursday."
Alberto Giuliani, Coach of Slovenia: "About this match I save the results, because it's important qualify for the semi-finals, but I don't like the play. We played very bad. We played without concentration. We played without attitude. I don't like this. I think it's difficult to play all the matches in the same level, because we got to stay together for a long time. I think this is the problem."