Overview
Head-to-Head
These nations will meet for the second consecutive time in the European Olympic Qualification tournament. On 5 January 2016, Germany claimed a 3-0 group stage victory over Belgium in Berlin. György Grozer scored a match-high 19 points.

Belgium beat Germany in five sets in last year's European Championship group stage match in Brussels. Germany's Christian Fromm (27) and Belgium's Sam Deroo (19) finished as their team's leading scorer.

Belgium have lost all their four matches against Germany (including East and West) in world level major competitions (World Championship, World League, Olympic Games, Grand Champions Cup, World Cup and Volleyball Nations League), including three in straight sets.
Facts & Figures
---
Belgium
Belgium began their CEV Tokyo Volleyball Olympic Qualification 2020 campaign with a 3-0 defeat against Slovenia.

Belgium competed in one Olympic Games, in 1968 (8th). Belgium received a wildcard for those Games after Romania withdrew from the competition.

Belgium have now lost all four of their matches in European Olympic Qualification tournaments. Their only set win came in a 3-1 loss against Serbia in 2016.

Jolan Cox was Belgium's top scorer against Slovenia – 19 points, while Sam Deroo added 17 points and Tomas Rousseaux nine. These three were the only Belgians to score more than three points.

Sam Deroo had four stuff blocks for Belgium on Sunday, as many as all Slovenia players combined.

Germany
Germany started their CEV Tokyo Volleyball Olympic Qualification 2020 campaign on home soil with a 3-0 win over Czech Republic.

Germany competed in each of the last four European Olympic Qualification tournaments (2004-2016), but failed to secure an Olympic ticket on all four occasions.

György Grozer was the top scorer in the match between Germany and Czech Republic on Sunday, scoring 21 points. Christian Fromm (16) and Denys Kaliberda (12) also reached double figures.

Grozer hit eight of Germany's nine aces against Czech Republic.
Team
Team Profile
BELGIUM
Address
p.a. HIVE5 Cours St Michel 30 A, 2° étage Etterbeek
Team Schedule
Previous Games
Team
Staff
Highlights
Celebration of team Germany
---
Highlights
Serve of Sam DEROO
---
Highlights
Dominique BAEYENS, head coach of Belgium
---
Highlights
Injury of Gyorgy GROZER
---
Highlights
Team Germany celebrate with ACE
---
Gallery
Disclaimer
Photos featured on the CEV Photo Galleries are downloadable copyright free for media purposes only and only if CEV is credited as the source material. They are protected by copyright for all other commercial purposes. Those wishing to use CEV Photo Gallery photos for other commercial purposes should contact press@cev.eu
Match Report
Germany one set away from the semis after second straight-set win

Article
Germany achieved their second straight-set victory in Pool A of the CEV Olympic qualifier in Berlin, this time producing a 3-0 (25-18, 25-23, 26-24) shutout of Belgium, who have yet to win their first set. Lukas Kampa delivered plenty of good spiking opportunities for the German attackers in the first set. Opposite Gyorgy Grozer kept the momentum from his performance against Czech Republic and contributed nine points towards the 25-18 win, including two kill blocks in the concluding moments of the set. Belgium were in control of the scoreboard through the most part of the second set, but with four consecutive points on Kampa's serving, the home team changed the course of the set to take a 21-19 lead. Grozer stayed on fire, delivering two aces towards a set total of 10 points, and himself put the ball on the floor for the 25-23 close. In the epilogue of a rollercoaster third set, Grozer sustained a calf injury upon landing after a jump serve and stepped off the court leaving Belgium with a double set point. With some great performance in defence, the Germans persevered through the next four rallies, as Denys Kaliberda brought them to match point with a precision shot and converted it with a kill block to a 26-24 win. Grozer's 22-point tally placed him on top of the match scorers, while Belgian captain Sam Deroo came next in 19 points.
Read more
Points
The combined total number of points scored by both teams throughout the entire match.
Duration
The total length of the match, from the first serve through until the last point has ended.
Spectators
Total number of people in attendance at the venue – taken at the end of the second set.
Match Spikes
The combined total number of successful spikes achieved by both teams throughout the entire match.
Reception Level
An average of the two team service reception percentages from the complete match.
Net Domination
The number of successful point winning blocks of BELGIUM compared to GERMANY.
Ace Count
BELGIUM number of service aces compared to GERMANY
Error Difference
Errors leading to points of BELGIUM, next to those from GERMANY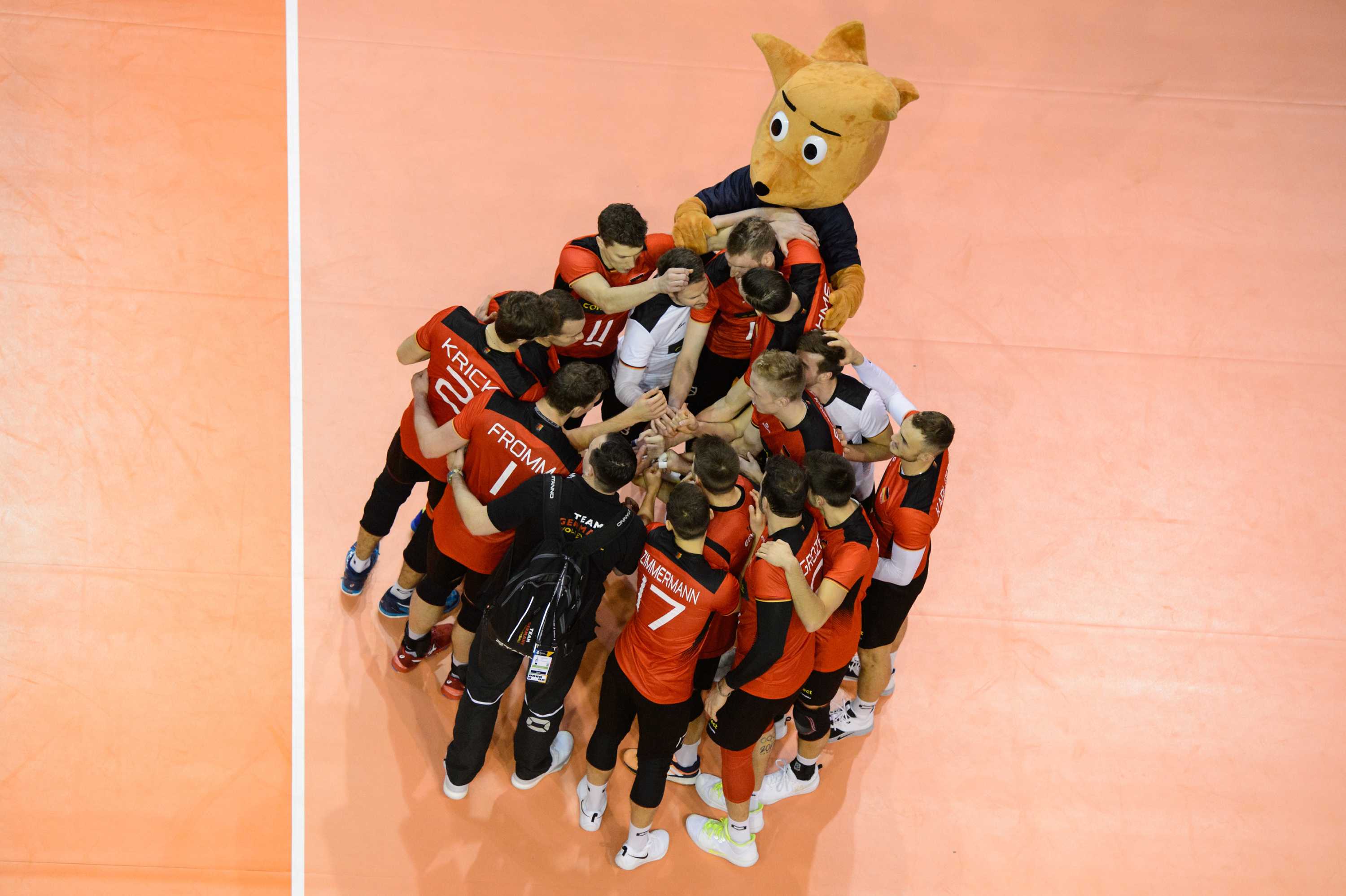 Lukas Kampa, Germany's Captain: "We are very satisfied because we are almost in the semis. The challenge against Slovenia tomorrow will be the toughest one so far. We want to reward all fans who come tomorrow to see us on a Tuesday evening but of course to win the group has to be our goal here."
Dominique Baeyens, Head Coach of Belgium: "I feel frustration. It´s almost the same story like yesterday. We lost 3:0 but we were really close to win one or two sets. Again we didn't do it which is quite hard. I cannot blame any of my players because we have a lot of injuries. We still expected more to reach here and had the dream to go to Tokyo. I feel frustration that it is already over."