Overview
Head-to-Head
These nations last met in a European Olympic Qualification tournament in 2004, when the Netherlands beat France in straight sets in Leipzig.

On 27 July 2000, the Netherlands claimed a 3-1 round robin win over hosts France in the 2000 Intercontinental Olympic Qualification tournament in a winner takes all match for the final Olympic spot. Reigning Olympic champions the Netherlands almost missed out on qualification for the 2000 Olympics.

France's last win over the Netherlands in a world level major tournament (World Championship, World League, Olympic Games, Grand Champions Cup, World Cup and Volleyball Nations League) came in 2002, when they won 3-0 in the World Championship in Argentina.

The Netherlands beat France in the 2018 World Championship 3-2, after a 2-0 deficit. Nimir Abdel-Aziz (31, the Netherlands) scored 10 or more points than any other player that match.

France beat the Netherlands in five sets in the 2017 European Championship group phase. Abdel-Aziz (24, the Netherlands) and Stephen Boyer (23, France) finished as their team's leading scorer.
Facts & Figures
---
France
After beating Serbia in straight sets in their opener, France suffered a five-set defeat against Bulgaria on Monday. France outscored Bulgaria 103 to 101 points.

France managed to score only four points (excl. opponent errors) in the fifth set against Bulgaria.

Jean Patry was France's top scorer against both Serbia (22 points) and Bulgaria (20). Earvin Ngapeth (14 v Serbia, 17 v Bulgaria) was the team's second-most prolific scorer on both occasions.

Patry has scored 42 points this far, at least six more than any other player in Pool B of the CEV Tokyo Volleyball Olympic Qualification 2020.

Barthélémy Chinenyeze produced five of France's 11 stuff blocks against Bulgaria.
The Netherlands
The Netherlands have lost their two CEV Tokyo Volleyball Olympic Qualification 2020 matches without claiming a single set. They lost their opener against Serbia before losing against Bulgaria on Tuesday.

The Netherlands had 11 serve errors against Bulgaria on Tuesday, compared to only two aces.

The Netherlands have not yet scored more than 19 points in a single set at the CEV Tokyo Volleyball Olympic Qualification 2020.

Nimir Abdel-Aziz scored 15 of the Netherlands' 30 points (excl. opponent errors) against Bulgaria. He was the only Dutch player on more than four points.
Team
Team Profile
FRANCE
Address
17, rue Georges Clémenceau CHOISY LE ROI - Cedex
Team Schedule
Next Game
Previous Games
Team
Staff
Highlights
Barthelemy CHINENYEZE just before spiking
---
Highlights
Block of Benjamin TONIUTTI
---
Highlights
Dink of Nimir ABDEL-AZIZ blocked by Earvin NGAPETH
---
Highlights
Official final handshake
---
Highlights
Post-match of team France
---
Gallery
Disclaimer
Photos featured on the CEV Photo Galleries are downloadable copyright free for media purposes only and only if CEV is credited as the source material. They are protected by copyright for all other commercial purposes. Those wishing to use CEV Photo Gallery photos for other commercial purposes should contact press@cev.eu
Match Report
France move to semis after five-set loss to Netherlands

Article
Points
The combined total number of points scored by both teams throughout the entire match.
Duration
The total length of the match, from the first serve through until the last point has ended.
Spectators
Total number of people in attendance at the venue – taken at the end of the second set.
Match Spikes
The combined total number of successful spikes achieved by both teams throughout the entire match.
Reception Level
An average of the two team service reception percentages from the complete match.
Net Domination
The number of successful point winning blocks of FRANCE compared to THE NETHERLANDS.
Ace Count
FRANCE number of service aces compared to THE NETHERLANDS
Error Difference
Errors leading to points of FRANCE, next to those from THE NETHERLANDS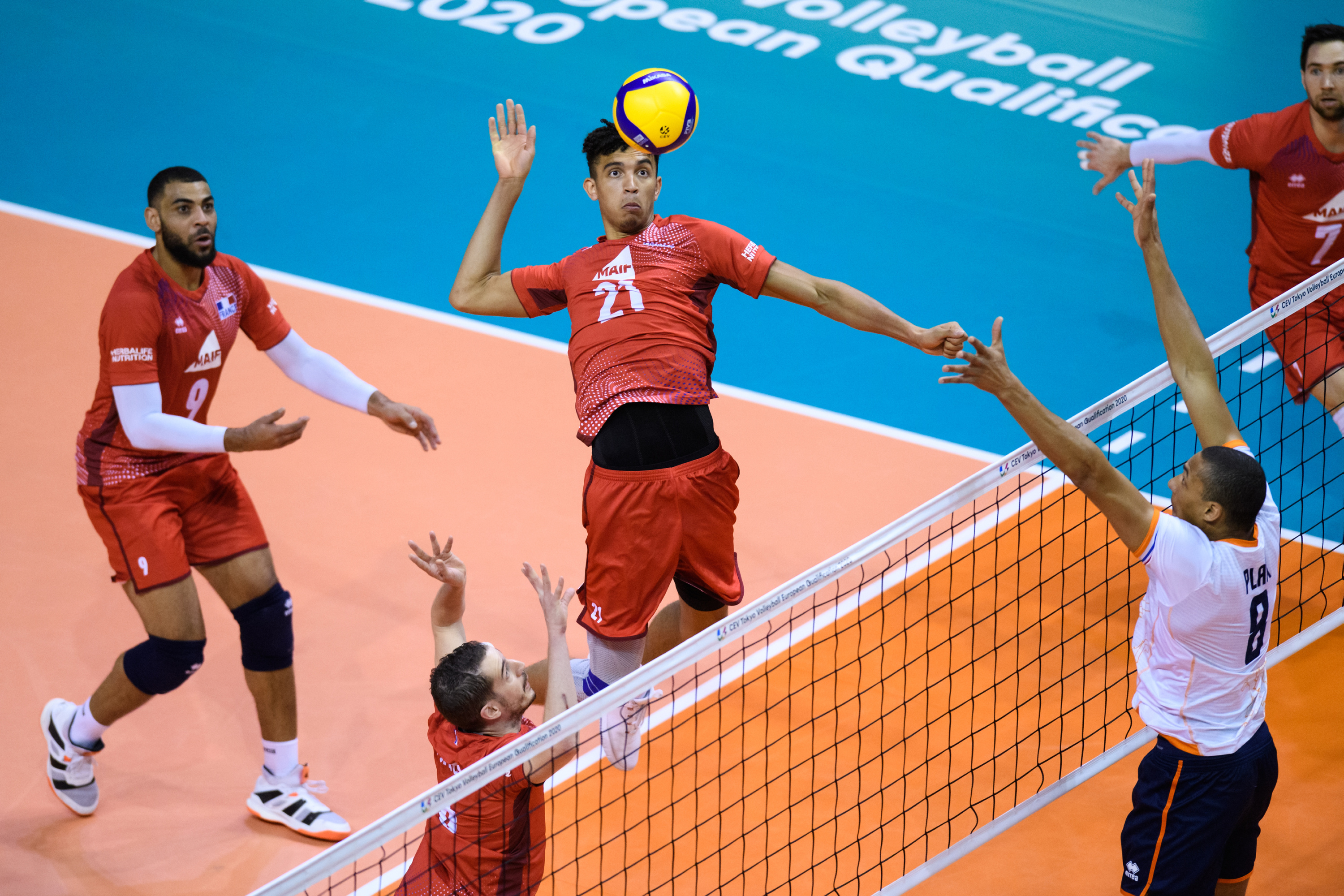 Barthelemy CHINENYEZE just before spiking
Nimir Abdel-Aziz, Captain of The Netherlands: "At least we have a win. We took some sets and that's it. We go home with a win, that´s ok. Still, the level wasn't that good, but I think the guys who played today, the guys who came in, they showed a good level and we're happy because of that."